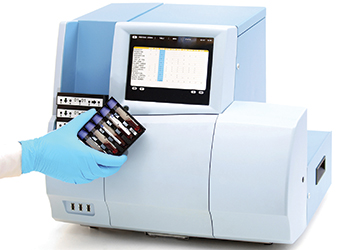 Sabic's blood haematology analyser
Sabic offers a broad healthcare materials portfolio spanning from polyolefins to high-performance plastics and a variety of speciality compounds
Sabic displayed an impressive array of innovative healthcare materials and applications on Stand D42 in Hall 6 at the K 2016 trade show in Düsseldorf from October 19 to 26.
"With the underlying theme of 'Chemistry that Matters we demonstrated at K 2016 how Sabic collaborates with strategic healthcare partners, develops new technologies and materials, and delivers solutions with a dedicated team that is focused on servicing customers in every region," says Cathleen Hess, Healthcare business leader for Sabic.
Some of Sabic's recent developments address important healthcare trends, including the need for portable technologies, the reduction of HAIs, and increased affordability and accessibility.
Sabic offers a broad healthcare materials portfolio spanning from polyolefins to high-performance plastics and a variety of speciality compounds. It also has an established Healthcare Product Policy that covers more than 70 materials, designed to help customers meet global safety standards and achieve regulatory compliance.
The company showcased a number of innovative medical applications at the K Show, including:
Idexx Catalyst One Chemistry Analyser: Idexx, a leader in pet healthcare innovation, required a number of materials for its Catalyst One Chemistry Analyser. As a portable device for use in veterinary offices, it needed to be small, lightweight and aesthetically pleasing. Idexx selected a high-modulus, 40 per cent glass/mineral-filled Noryl resin as a metal replacement for the chassis.
This afforded significant part consolidation – from 13 parts to one, a 63 per cent weight reduction and a 77 per cent material/assembly cost reduction. Idexx chose Cycoloy resin for the enclosure for its good chemical resistance, aesthetics and processing, and an FR-rated Lubriloy compound for the drawer and lift door, enabling inherent lubrication for better wear resistance and less squeaking between surfaces. They also selected tough, dimensionally stable Lexan resins for the robot base, and Ultem resins for the pusher component.
Nihon Kohden AED: Nihon Kohden, a leading maker of medical electronic equipment, selected Cycoloy PC/ABS resin for the enclosure material of its Cardiolife automated external defibrillator (AED). As a device available to both medical and non-medical users in multiple types of facilities, it was important for the enclosure material to offer good impact and chemical resistance, and perform reliably long-term in various indoor/outdoor environments, including high humidity.
Aesthetics were also important to Nihon Kohden, to create a stylish, non-threatening device that could easily be used to perform successful defibrillation. Cycoloy resin typically offers an excellent balance of impact and flow, improved hydrolysis stability, flame retardance and less residual stress, which can mean less cracking – important for effective disinfecting.
Novosanis VAX-ID: Novosanis, a device developer and producer active in the prevention, detection and treatment of infectious diseases and oncology, turned to Sabic for support when it created the VAX-ID vaccination device.
It selected Sabic PCGR40, a polypropylene resin, as the housing material for a short, thin, almost invisible needle that can be used to administer vaccinations that penetrate only 1 mm under the skin, lessening the stress of receiving a shot.
The ultra-clear material with enhanced flow provides an extra level of patient safety due to its transparency and is compliant with EU and US medical regulations. The easy-to-use device is dose-sparing, with only 10 per cent of the dose needing to be injected compared to regular flu shots in the muscle, which means more people can be vaccinated using the same amount of antigen. Indusbello sterilisation tray: Brazilian medical device maker Indusbello, in an effort to help reduce healthcare-associated infections (HAIs), looked for a material for its sterilisation trays that could provide design flexibility, enhanced productivity, and the ability to withstand the harsh demands of multi-sterilisation environments, such as high-temperature steam autoclave and gamma irradiation.
It opted for Sabic's Ultem HU1004 resin, which also meets biocompatibility standards, is FDA-approved, and typically offers both transparency and good aesthetics. Sabic continues to work closely with its customers and the industry to understand the evolving sterilisation technologies, such as hydrogen peroxide gas, in order to develop high-performance material solutions that can withstand those processes while retaining mechanical integrity. This can be a significant factor in prolonging the life of expensive medical equipment.
Sabic's hospital room heart monitor
Beyond those applications being specifically highlighted at the K fair, Sabic also has a vast range of other healthcare-related materials and technologies that it can offer to that industry.
Sabic and PDI, a leader in infection-prevention products and solutions for the healthcare industry, have collaborated on a joint study on the environmental stress cracking resistance (ESCR) of Sabic's materials used for medical device enclosures.
The two companies evaluated how well Sabic's industry-leading thermoplastics withstand repeated exposure to PDI's Super Sani-Cloth wipes , one of the leading surface disinfectants widely used in the healthcare environment to help prevent HAIs. Using a testing procedure following ASTM D543 guidelines, the study revealed that several of Sabic's product technologies – including Lexan EXL (PC) resin, Xylex (PC/polyester blend) resin and Valox (PBT) resin – deliver improved compatibility with PDI's leading healthcare-grade disinfectant.
These and other products in Sabic's robust portfolio of chemically resistant healthcare materials give manufacturers new options for designing medical applications that maintain outstanding performance, while also addressing the disinfection demands of today's healthcare environment.
Xenoy resin, as an example, is an excellent candidate for high-touch healthcare applications that also require strength and rigidity, from portable electronic device housings to hospital bedside rails and footboards. Evolving global fire safety regulations and compliance with sanitation standards are driving designers and maintenance managers to identify solutions to enhance building safety.
Lexan Cliniwall sheet can be an excellent candidate for cleanroom surfaces and interior wall claddings in public facilities and hospitals where aesthetics and hygiene are both paramount. Compared to high-pressure laminates, ceramics and steel, the lightweight product may help significantly lower system costs through consolidation of parts to streamline production, and avoidance of secondary operations such as painting and coating, machining and polishing.
It typically also offers high impact and scratch resistance, is virtually unbreakable, and can withstand the rigours of harsh chemical cleaning agents typically used in medical environments.
The move toward greater outpatient care and home administration of medication has created the need for improved safety in the home healthcare environment. Drug-delivery device manufacturers are looking for solutions that can make it easy and safe for patients to accurately administer their own medication.
Sabic's Xenoy resin which can be used for portable insulin pump housings, provide impact resistance and improved chemical resistance to common cosmetic chemicals such as bug sprays and sunscreens. Lexan HP resins used for the lens can provide excellent clarity and bonds well with the Xenoy resins to provide water tightness.
Cycoloy HCX1640 resin, which meets standard healthcare regulations and can enable the design of robust, light and attractive drug delivery devices, such as insulin pens, help manufacturers achieve thin walls and dimensional stability, as well as improved weld-line performance and impact resistance. The wide range of color options available with Cycoloy resin helps to create an attractive design that appeals to patients.
Lubricomp DCI06APH compound, a 30 per cent carbon fiber-reinforced polycarbonate resin, combines the benefits of high-modulus carbon fiber with a high-flow, ductile polycarbonate, making it a great candidate for applications with complex part designs that require high strength and stiffness, internal lubrication and good processability.
Sabic is dedicated to the continued expansion of material offerings for the healthcare industry. Recent product introductions have included PET and PVC. Specifically, the PET offering includes Sabic PCG PET80 and Sabic PCG PET84 which can be used in pharma bottles for syrups and tablets, and can provide a safer alternative to glass with its shatter resistance, light weighting and glass-like transparency.