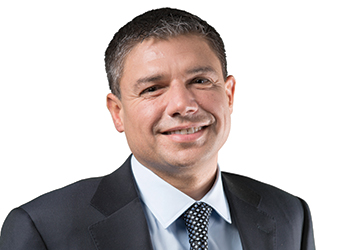 Simonelli ... optimistic about prospects
The company has for more than 80 years been working with Middle East governments and customers to build capacities, train talent, provide advanced technologies and co-create innovative solutions that continue to fuel the region's growth
Being a global company driving industrial innovation isn't the only determinant of success in Middle East countries where 'localisation' is becoming a strategic priority, according to Lorenzo Simonelli, President and CEO of GE Oil & Gas.
'As a global company, you have to know how to act locally,' he tells OGN on the sidelines of the Abu Dhabi International Petroleum Exhibition and Conference (Adipec) in the UAE capital. 'National oil companies must serve their local communities, create jobs and provide training. We look to play a part in that ecosystem.'
GE has for more than 80 years been working with Middle East governments and customers to build capacities, train talent, provide advanced technologies and co-create innovative solutions that continue to fuel the region's socio-economic growth. In recent years, GE has aligning even more closely with national strategic objectives. A good example of that approach is in Saudi Arabia, which earlier this year laid out its Vision 2030 economic blueprint and where GE is in the midst of a multi-billion dollar investment programme to support oil and gas localisation initiatives and create skilled jobs.
Saudi Aramco's IKTVA (In-Kingdom Total Value Add programme), which seeks to drive domestic value creation, is one such initiative which GE is supporting in Saudi Arabia, with excellent results. In early 2016, the GE Manufacturing and Technology (Gemtec) facility in Dammam (a centre of excellence for gas turbine service and manufacturing supporting customers in more than 30 countries) assembled for the first time in Saudi Arabia six high-efficiency gas compression trains for the first phase of Saudi Aramco's Master Gas System Expansion Project, a significant milestone for the facility where 70 per cent of the workforce are Saudi nationals.
Earlier this year, the company also broke ground on a new 18,000 sq m Multi-Modal Manufacturing Centre at Modon in Dammam, which will have the capability to manufacture and service the entire range of GE's oil and gas portfolio, including Artificial Lift, Digital Solutions, Downstream Technology Solutions, Turbomachinery Solutions and Subsea Systems. This follows the late 2015 inauguration of a 10,500 sq m expanded Gas Pressure Control facility at the Modon site, which serves as a centre for the supply of 'Made in Saudi' equipment for the kingdom and regional markets, manufacturing the full range of GE Oil & Gas' pressure control solutions including wellhead systems and advanced flow control solutions that are critical components in driving productivity and operational efficiency.
'We're seeing the same [localisation] push in other GCC countries,' Simonelli notes.
The GE Oil & Gas chief is optimistic about oil market fundamentals and the company's prospects in this region.
'Are we out of the bottom [of the cycle] yet? We have to wait and see what happens in the last quarter [of 2016] and the first quarter of 2017 to know but, based on population increases and the shift from coal to cleaner hydrocarbons we are positive about the longer-term,' he says.
'And GE is fortunate that we have the full energy ecosystem - renewables, oil and gas and power generation, transmission and distribution.
'So we focus on what we can control, and provide our customers with the 'say do' approach that is required from a top tier company - whether that's executing projects on time at the right cost, providing innovative technology and new products, or being able to apply data analytics to help reduce costs.'
Certainly, the era of big data plays to GE's strengths as 'the digital industrial company' which is helping drive the Industrial Internet agenda.
'We provide the industrial operating systems that allow big data to provide better outcomes for our customers,' Simonelli summarises. 'You can see it across the GE businesses and oil and gas is very well suited to big data, because you already have a lot of information coming from the reservoir and then from the drilling of the well. So it is about harnessing that to provide a better outcome.'
Regional oil and gas companies are already realising better outcomes thanks to GE innovation in this respect. Kuwait Oil Company (KOC), for example, has reported an average five per cent output increase on each well thanks to GE's Field Vantage data analytics software, one of many Predix-based apps which are unleashing new levels of performance for oil and gas assets. Predix is GE's operating system for the Industrial Internet.
'Such improvements benefit the bottom line,' says Simonelli.
The recent decision by GE to acquire oilfield services company Baker Hughes also propels GE Oil & Gas further along the big data cycle.
'We're very happy to merge two great brands,' Simonelli says of the move.
'The deal gives us the whole 'below-the-mudline' capability from an oilfield services standpoint, and we can marry it to what we have on the surface. It is another opportunity for us to emerge from this downcycle stronger.'
The GE Oil & Gas executive is clearly proud of how the company's localisation strategy is paying off around the region, and insists the Middle East will remain a central part of GE Oil & Gas' strategy with new investments and partnerships set to reinforce ties.
Typical of its ongoing commitment to its partners in Saudi Arabia, in mid-2016 GE signed a memorandum of understanding with Aramco to build the first high-end forging and casting manufacturing facility of its kind in the kingdom. The $400-million plant, which will serve the maritime and energy sectors, will be located at Ras Al Khair in the Eastern Province. Set for start-up in 2020, Aramco says it has the potential to create 2,000 quality jobs while catalysing the growth of Saudi small and medium enterprises (SMEs).
Simonelli says GE's big focus, in an era of declining oilfield production levels and increased investment in new fields, will also be on what he calls 'cost-per-barrel'.
'We know resources are abundant, we know that the technology requirements are becoming more challenging, and we know the regulatory environment is emerging. We have got to help our customers, and the focus has to be on cost-per-barrel and to be a partner to the local players.'
Given GE's track record of successful, enduring partnerships in the region, Middle East oil and gas companies can therefore look forward to real performance improvements going forward.