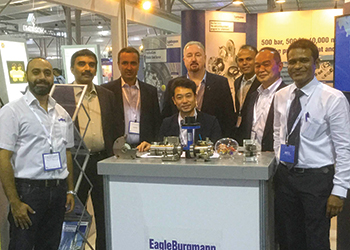 The EagleBurgmann team at STC-12a
The firm participated as an exhibitor in the 12th Sabic Technical Conference and Exhibition held at the Jubail Industrial City
Although EagleBurgmann Saudi Arabia Co Ltd has been doing business in Saudi Arabia for over 30 years, it was in late 2009 that the company moved to a new manufacturing, sales and service facility in Al Khobar, and since then, the company's turnover has grown nearly six-fold as it continues to increase its presence in the kingdom.
Key to this growth was the gaining of local manufacturer status (9COM) in 2010 with Saudi Aramco for its range of high end mechanical seals, vital to the smooth operating of highly critical pumps and compressors on Aramco's many sites. In 2011, Aramco also issued a 9COM to EagleBurgmann for the manufacturer of industrial gasket products in the kingdom, says a spokesman.
In addition, EagleBurgmann also gained recognition as a local manufacturer and service supplier to Saudi Basic Industries Corporation (Sabic), which can be measured by equipment supplied as well as local projects completed on many Sabic affiliate sites such as Safco, PetroKemya, Ibn Rushd, Saudi Kayan, Ibn Sina, Kemya, Yansab, Sharq amongst many others.
Further development to meet growing customer needs came with the opening of two regional sales and service operations in 2011, in Jubail and Yanbu respectively. A sales office was also opened in Jeddah.
EagleBurgmann Saudi Arabia recently participated as an exhibitor in the 12th Sabic Technical Conference and Exhibition held at the Jubail Industrial City from November 6 to 9, 2016.
The Sabic Technical Meeting is a biannual event and is the largest of its kind in the kingdom. It is a vital route to the market in Saudi Arabia, and acts as a technology and innovation platform that has become a prominent event in the Gulf region, giving a unique opportunity for companies such as EagleBurgmann to build on their cumulative experience."