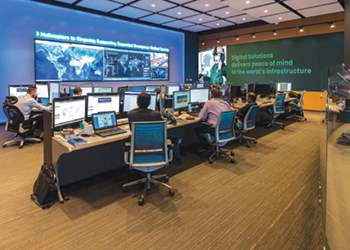 The Bently Nevada Remote Monitoring Centre
Through enterprise AI solutions, the alliance aims to address the needs related to assets reliability, production optimisation, safety and sustainability, and the supply chain for the energy industry, Uwem Ukpong from Baker Hughes tells OGN
Artificial intelligence (AI) deployment offers the oil and gas industry a massive potential of solving problems related to efficiency, productivity and safety, and put it on the essential path to sustainability.
Baker Hughes has partnered with C3.ai to form a strategic alliance that brings together the technology expertise and full stream portfolio of Baker Hughes with C3 AI's unique AI software for enabling digital transformation of the oil and gas industry.
In this interview, Uwem Ukpong, Executive Vice-President, Regions, Alliances & Enterprise Sales for Baker Hughes, runs us through the alliance and how it's significant for the energy industry.

What is Baker Hughes' digital offering and what is the benefit of creating an alliance with C3.ai?
Baker Hughes has an extensive digital offering that leverages foundational capabilities across data management, secure and flexible edge and compute, advanced analytics, and a unified user experience. Our portfolio of products and services are supercharged by digital to serve complex energy and industrial use cases, such as large remote operations and AI-enabled asset reliability.
The BakerHughesC3.ai (BHC3) alliance is one example of how we are leading in digital. BHC3 accelerates the delivery of enterprise artificial intelligence (AI) for the energy industry, simplifying the complexities of integrating large data sets and building and deploying AI applications that scale across the enterprise.

What are some of the solutions offered by Baker Hughes and how do they impact cost savings, asset management, performance optimisation, productivity, efficiency?
Ukpong ... solving problems with AI
Baker Hughes is leading in digital that addresses the needs for efficiency, productivity, safety, and sustainability.
In the past year, the industry increased its reliance on remote operations. We drew on our digital capabilities to analyse operational data sets to improve upstream productivity and safety and deliver large-scale remote operations deployments.
In the asset management space, Baker Hughes recently announced the expansion of our Asset Performance Management (APM) offering with the acquisition of ARMS Reliability. ARMS Reliability will integrate into our Bently Nevada System 1 software. This will extend our industrial software platform for the improved reliability and efficiency of assets across mining, oil and gas, power, manufacturing, and utilities.
Our BHC3 alliance delivers enterprise AI across a number of these areas as well; including reliability of assets, optimisation of production, and simplification and improved performance of manufacturing and the supply chain for the energy industry. BHC3 Reliability, for instance, can reduce maintenance costs and improve asset uptime across energy use cases for a direct impact on operational productivity and efficiency.

What about its impact on reliability and predictive maintenance?  
Reliability and predictive maintenance continues to be a common use case for digital in the energy industry. Adoption of AI and machine learning (ML) at scale is the next step for the energy industry to more holistically address system downtime and unplanned maintenance.
Traditional digital approaches to reducing downtime relied on domain expertise and original equipment manufacturer (OEM) understanding of physical assets. When we augment these existing software systems with AI, we can deliver insights and improvements for entire systems rather than individual assets. This drives significant improvements in reliability and predictive maintenance.

Can you share any global case studies with NOCs on their adoption of these technologies?
OAI ... an open ecosystem that provides a framework for building
interoperable solutions
The breadth of our digital portfolio can be deployed to meet needs from industrial asset management and secure operations to reduced carbon and methane emissions. For example, in January 2021, Baker Hughes announced an order from Petrobras in Brazil to deliver digital solutions across the business. This included System 1 software, the Flare.IQ advanced flare gas monitoring and optimisation systems, and Nexus Controls distributed control systems.
In terms of AI, the BHC3 alliance, Microsoft and Shell announced the Open AI Energy Initiative (OAI) in February 2021. The OAI is an open ecosystem of AI-based solutions that provides a framework for building interoperable solutions, which simplifies the process of adopting domain-specific AI solutions. The Reliability solutions from the OAI are in use today.

What can you share about the rate of digital adoption by NOCs in the Middle East?
The Middle East has always been a leader in the adoption of digital transformation technologies that are rooted in strategic frameworks for growth. These programs are comprehensive and consider not just the technology, but the people and processes that make true transformation possible. R&D and pilots of new technology are prioritised, but so are scaled deployments.
For example, Baker Hughes recently announced a large-scale remote operations deployment across all Saudi Aramco drilling sites. The scale and complexity of the deployment rely heavily on our core digital capabilities, including data aggregation, real-time data streaming and visualisation, data management, and software development.

How did the pandemic impact the journey towards digital transformation?
The past year certainly cemented the fact that necessity will drive digital adoption. However, the industry is not solely focused on deploying digital to further productivity and efficiency for economic reasons. Digital is also a strategic lever to enable decarbonisation and the path to net-zero. There will be an increase in adoption of scalable, flexible digital solutions that enable leaders to meet both needs.

HSE is a key pillar in our industry; how do digital technologies help improve HSE standards in the energy sector?
The application of AI in energy operations does not replace institutional knowledge and culture. However, it augments the ability of experienced teams to intake and understand massive volumes of data which can be of benefit to HSE standards. The power of AI is in integration and persistence capabilities to manage large volumes of data, analyse the information, reduce unnecessary alerts, and provide alerts and recommendations so that skilled workers can make better decisions. Data-informed decisions reduce errors and the likelihood of unnecessary maintenance that puts teams at safety risk.

As an energy technology company, how do you see the role of digital technology in driving the energy transition?
As an energy technology company, we aim to lead in energy transition and digitalisation. Digital will play a key role in the energy transition as we find ways to detect, mitigate, and reduce emissions across the energy industry and other carbon intensive industries.
For example, our Flare.IQ platform uses a data-based approach to reducing methane emissions and meeting regulatory requirements. Similarly, our Avitas technology has been deployed across Shell's nonconventional assets in the Permian to improve methane leak detection and repair. Avitas uses optical gas imaging, laser-based detection, and advanced analytics of data to meet these needs.
AI will also play an increasing role in the energy transition. Today, BHC3 offers the BHC3 Energy Management application to reduce energy use and improve reporting for sustainability managers. BH3C is continuing to develop additional capabilities to utilise available data to help operators reduce their environmental impact.

* A 27-year industry veteran, Ukpong has a wealth of global experience, having directly managed global oil and gas operations across multiple regions, including North America, Europe, Sub-saharan Africa, North Africa and Latin America; and having served as Baker Hughes' Chief Global Operations Officer. Formerly the Vice President of Baker Hughes Integration at GE Oil & Gas, Uwem oversaw the successful integration of the $32 billion merger between GE Oil & Gas and Baker Hughes.
In his current role, Ukpong is responsible for identifying and realising growth opportunities through deep customer relationships around the world and market-backed strategic partnerships.
Ukpong earned a Bachelor of Science degree in mathematics and computer science from the Federal University of Technology, Owerri, Nigeria, and a master's degree in petroleum engineering from Heriot-Watt University, Edinburgh, UK.