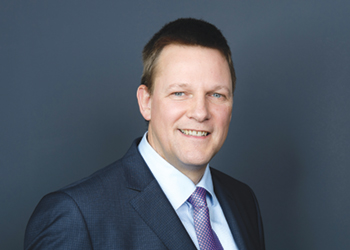 Wintergerste ... data-driven strategies
The implementation of data-driven strategies has helped the oil and gas processing industry move from conventional batch to continuous flow operations, improving the efficiency of plants, says Torsten Wintergerste, Division President of Sulzer Chemtech
There is a picture of the future that is fast becoming a reality for industry: one of factory floors populated by machines and process systems that can exchange information between themselves while self-regulating their operations to ensure efficiency, productivity and quality. What does this mean for the oil and gas processing industry, and have we embarked on a journey towards Oil and Gas 4.0 already?
The oil and gas processing industry contributes to the creation of almost every manufactured product, be that in terms of additives, raw materials, coatings or consumables. As a result, changes in this sector are likely to have a ripple effect on downstream industries, says Torsten Wintergerste, Division President at Sulzer Chemtech.
Many businesses in the oil and gas sector adopted advanced process automation tools now enshrined in the definition of Industry 4.0 well before this concept was first introduced. Even more, they have been helping to steer the digital transform of industry both before and since.
For example, the oil processing and petrochemical sectors are considered among the first to have adopted advanced analytics as well as process control schemes to monitor in-process specifications and support quality control/assurance strategies. These solutions have been helping businesses considerably in maintaining optimum operating conditions to maximise product quality, efficiency and overall plant productivity while cutting unnecessary costs.
Furthermore, by implementing data-driven strategies, businesses in the oil and gas processing industry have been able to move from conventional batch to continuous flow operations. This transition has been crucial to further improving the plants' efficiency by optimising energy usage and production times.

THE FUTURE
As digital technologies have evolved, so have refineries and similar processing plants. Many of them already have robust systems for the collection, management and advanced utilisation of process data, demonstrating the Industry 4.0 design principles of interconnection, information transparency and decentralised decisions.
Now, this evolution is continuing with the development of futureproof strategies leveraging data science, artificial intelligence (AI), cyber-physical systems, Cloud and Edge computing as well as the Industrial Internet of Things (IIoT).
One of the key benefits of these data-driven technologies and solutions in refineries is the possibility to leverage advanced predictive tools to further optimise processes and enhance quality assurance strategies while supporting continuous improvement.
More precisely, businesses can combine smart sensors and analytical instruments across their production lines to measure quality in real-time and set up closed-loop control strategies to automatically adjust process parameters, creating the optimal conditions to deliver high-quality materials.
When it comes to improving maintenance activities, the same principles are valid. By turning key pieces of equipment into smart devices, businesses in the oil and gas sector can monitor their condition in real-time, facilitate the early detection of potential failure and schedule highly effective servicing, maintenance and repair schedules.

BEYOND DATA ANALYTICS
Oil and gas processors that are embracing the latest data and control technologies are also in a position to create digital twins of their physical machines and processes. These can help simulate the best set-up to deliver products of consistently high quality in a highly efficient and productive environment. Further, it can support training, maintenance and remote monitoring tasks.
Digitalisation is also enhancing traceability within factories, enterprises and, if applied to downstream processes, the whole supply chain. As a result, the entire sector can benefit from highly connected manufacturing systems. In effect, data integration and information sharing across the value chain can adjust production activities in real-time enabling the creation of flexible and agile frameworks.
In the long term, as the volume of data generated grows and ever-more accurate actionable insight is available, businesses in the oil and gas sector can continue to fine-tune their operations. By doing so, they can futureproof their facilities and activities in a way that ultimately strengthens the competitive edge of the entire company.

SEPARATION & MIXING 4.0
The benefits of digitalisation in oil and gas processing plants can extend even further. In fact, similar considerations can be applied to the design and development of cutting-edge equipment.
More precisely, the unique insight offered by innovative technologies, such as Big Data, AI, digital twins, the Cloud, Edge computing and the IIoT can be leveraged to create state-of-the-art heat and mass transfer equipment.
When it comes to key processing units in refineries, such as separation towers and mixers, as well as the components within them, including column internals and pumps, businesses can benefit from increasingly advanced systems. These can be designed to address application-specific requirements and feature cutting-edge, data-oriented capabilities.
In order to take advantage of these opportunities, it is important to select a heat and mass transfer specialist that regularly invests in developing new high-performance, efficient and robust solutions.
Sulzer Chemtech, a global leader in separation and mixing technology, is actively supporting businesses in the oil and gas processing industry in the implementation of key technologies and tools for Industry 4.0 applications. The company offers a continuously evolving portfolio of licensed technologies for the oil and gas sector including mass transfer components, system skids and fully integrated processing plants.
Among its latest innovations is the GT-Styrene20 technology, which uses extractive distillation to enable the direct recovery of high-purity styrene from the Pyrolysis gasoline (pygas), thus offering a new, profitable revenue stream for refineries.
The company is also active in the development of advanced control and monitoring software solutions for pumps and other systems. Thanks to its commitment to the creation of new and advanced processing solutions, businesses in the oil and gas sector that partner with Sulzer can enhance and futureproof their operations.