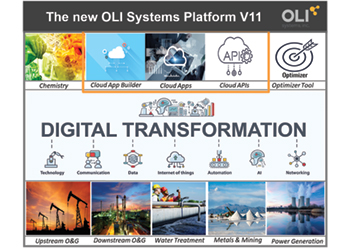 The new cloud platform allows electrolyte simulation data to be propagated across customer organisations thus enabling automation and simplifying digital transformation projects, say Lisa Williams and Ezequiel Vicent from OLI Systems
Process simulation departments are often tasked with servicing large customer groups across their enterprise. Access to on demand results is limited, model run data is often siloed and not available to a broader audience.
Getting into, setting up, and running any traditional simulation software requires training and expert knowledge to optimise.
OLI Systems' OLI V11 Platform Cloud Apps and Cloud APIs remove these barriers to accessing rich simulation insights. Operations can now view a published model dashboard in the Cloud Apps, update parameters, and run the simulation repeatedly from any connected device.
In an interview with Abdulaziz Khattak of OGN, Lisa Williams, Vice-President of Operational Excellence Solutions, OLI Systems, tell us how Cloud Apps puts the power of executing the run-only simulation into the hands of the operations staff while the process simulation staff continue to maintain the integrity of the model.
"No more waiting for fresh model updates, enhancements to scaling and corrosion programs can be incorporated into standard operating procedures (SOPs), and operations can shorten the time between finding a problem and diagnosing it."
Williams joined OLI Systems in March 2021 to lead all digital transformation initiatives. She drives the company's digital transformation client engagements and focuses on creating appealing solutions with customers that deliver compelling business outcomes.

OLI has drawn up an aggressive cloud and digital transformation roadmap to help its customers. What new developments are we expecting this year?
OLI is releasing an exciting new cloud platform that will allow electrolyte simulation data to be propagated across customer organisations. Our strategy is to enable automation and simplify digital transformation projects with our new cloud capabilities.
As such, we are breaking the data silos with the introduction of our Cloud APIs and Cloud Apps offerings. Both of these enabling technologies will facilitate a dramatic increase in the visibility of the rich simulation data with an automated approach to integration that goes way beyond the traditional curating in organisations.
Our OLI Engine and Corrosion Cloud APIs allow swift integration using modern technology into clients' central data repositories. Cloud API enablement for automated execution of simulations with customer process data is a shift compared to how the OLI simulation engines have been used in the past.
With the Cloud APIs, customers can add the chemistry simulation results into their digital twins to further enhance the value of their asset based digital monitoring capabilities.
Additional APIs coming in the next year include ScaleChem and Process Cloud APIs.
The Cloud App offering allows users to publish OLI Flowsheet: ESP desktop-based process simulations into an easy to consume, web-based dashboard for use across the enterprise from any connected device. While the model continues to be curated by the simulation experts, running "what-if" cases moves into the hands of operations with a web-based dashboard that produces actionable results, promptly.
Williams and Vicent (right) ... No more waiting for fresh model updates
The possibilities created by merging customer process data with valuable OLI simulation insights create compelling transformational opportunities for organisations to make impactful, value added decisions. You can expect to hear more in the near future about new product capabilities in our roadmap that will leverage the Cloud APIs to integrate with the popular, existing data storage and visualisation tools.

In March 2021, OLI Systems launched the V11. What are the new features?
In terms of digitalisation, the Cloud APIs and Cloud Apps are the major elements in the V11 release.
We've created the OLI Cloud APIs to allow automation of chemistry simulation results with all your favorite tools and platforms. The API uses the OLI trusted Engine and databases in concert with your curated model to return results to a plethora of tools - MS Excel, Historians, Data Lakes, Custom Solutions, and on! OLI Systems has also extended these APIs into an offering to automate the use of OLI Flowsheet: ESP models across the enterprise.
The model can be published to be viewable, and subsequently run and rerun with adjustable variables by operations and maintenance teams, schedulers, etc.
The Cloud App Builder is where customers "Build" the dashboards and publish them as Cloud Apps viewable in a "Run" mode. Both technologies are currently running on the robust AWS platform bringing you regular updates and all the cloud benefits as an OLI Systems managed Software as a Service (SaaS).
Platform V11 also boasts around 40 new and enhanced capabilities. OLI has added 28 new chemistry and model parameters, the 2 new cloud platform offerings, a new desktop tool, and several software enhancements. The new Optimizer tool as part of V11 works with Flowsheet: ESP desktop product to optimise customer designs and operating windows.
The new capabilities in V11 are designed to deliver tangible benefits to our clients - democratisation of electrolyte simulations, enhancement of sustainability, boosting of asset and operations performance, and acceleration of process yields.
From fueling digital transformations, to mitigating scaling damage, enhancing corrosion protection, improving water treatment effectiveness, optimising operations with optimal windows, and eliminating toxic contaminants, OLI Platform V11 has a lot to offer clients across a broad range of industries including oil and gas, chemicals, water treatment, energy storage, battery recycling, mining and related markets.
V11 is a game-changing release for OLI. The revolutionary cloud platform combines 50 years of electrolyte technology innovation with the advantages of the cloud delivery model to provide anytime, anywhere access to fuel digital transformation. Any user or department can now leverage the power of electrolyte simulations to enhance their operations.
The V11 cloud platform leverages the latest technology trends with APIs that utilise Python scripting language, REST APIs and related technologies to integrate directly into existing customer tools. Data scientists can make quick work of pairing the curated model with process data to generate on demand simulation results that can be stored in local data historians, data lake or data warehouse.
Data scientists and software developers will find the Cloud APIs extremely useful to deliver predictive insights from the OLI Engine; the strong integration possibilities with them can enable compelling customer transformations.
Vicent: According to Ezequiel Vicent, Senior Applications Engineer and Consulting Lead at OLI Systems, when it comes to the OLI Computation Engine and the desktop platform – OLI Studio and OLI Flowsheet: ESP - V11 is a natural progression that builds on our consistent track record of innovations in chemistries, thermodynamic models and new software features.
The new Optimizer Tool for Flowsheet: ESP enables the creation of optimal designs, definition of optimal operating windows and calibration of asset performance with simplicity and ease. These desktop enhancements are encased in the traditional OLI tools. Thus, no major changes in how you interact with these tools today.
Many of the new chemistries in V11 are unique to the OLI platform and deliver significant value to a broad range of applications in upstream and downstream operations to mitigate scaling and corrosion damage, enhance carbon capture processes, eliminate toxic contaminants and improve asset performance. New thermodynamic model enhancements help to improve inefficient, sub-optimal, and costly operations. V11 is built on the long 50-year history of OLI and the continuous product improvement based on client feedback to delight our clients.
Simply put, the OLI model predictions can be automated to run every time a new dataset is entered into a central data store with results returned to the data store for trending, reporting, and storage! This enables our clients to accelerate their digital transformation and deliver impactful business outcomes by mitigating scaling and corrosion damage, enhancing sustainability and boosting asset and operations performance.
The Cloud APIs bring in the OLI chemistry results to customer Digital Twins adding a new dimension to dashboards and alerting. Knowing which heat exchanger is starting to foul and when this starts to happen as well as what species are the likely culprits with the help of OLI simulations enables prompt action before an outage or failure. Customers are quickly able to treat the heat exchanger with the appropriate chemicals in the optimal amounts. Downtime is reduced increasing production throughput, asset integrity is increased reducing cost, and sustainability is achieved with more responsible use of chemical products.
Last year, OLI made available the OLI Engine integration for the KBC Petro-SIM simulation software. Briefly talk about how the OLI Engine integration with process simulation software products has helped customers.
The integration of the OLI Alliance Engine into the most popular simulator software products in the industry has resulted in one of the most immersive experiences for customers. The users can directly access OLI's Chemistry Wizard (which creates the component list and all associated thermodynamic interactions to be used in models) directly from the base environment.
Users now have the ability to "turn-on" electrolyte thermodynamics and assess the health of their tower overheads (atmospheric and vacuum crude towers, FCC and coker main fractionators, sour water strippers, etc.) and calculate salt points, water dew points, optimise wash water rates, and even study the effects of neutralising amine selection and injection rates on their assets.
Users are also taking advantage of OLI's thermodynamic engine to calculate salt formation (NH4Cl/NH4HS) for hydrotreaters and hydrocrackers while monitoring fouling and corrosion in these units.


CONCLUSION
The OLI Digital Transformation Strategy around Platform V11 is not to reinvent all the tools but rather add tools that enable the chemistry to be accessible to all organisations from any connected device or application.
Democratising the electrolyte insights with the Cloud APIs allows organisations to bring chemistry results into their existing company tools. This accessibility also allows deeper technology integrations to create digital twins, enhance tools such as augmented reality, and move into hybrid simulation models with Artificial Intelligence (AI) and Machine Learning (ML).
In addition, the Cloud App Builder and published Cloud Apps bring exciting simulation technology into a simplified format easily consumable across the enterprise including operators and field engineers. By freeing the data from its simulation silo, OLI is making digital transformation happen for customers.