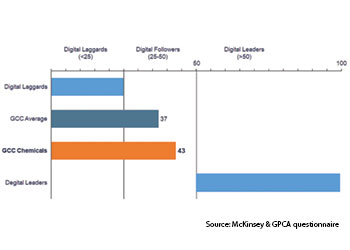 Current state of digital maturity of the GCC chemical industry
Current challenges require chemical companies to develop a new way of thinking to survive and thrive in the new reality defined by the digital revolution, says a GPCA spokesman
Unlike the other industry downturns that were primarily cyclical in nature, chemical companies are now experiencing significant changes in how they operate and the way they serve customers.
The trend across all industries to move towards digitalisation was already apparent before the Covid-19 pandemic, but it is now accelerating even further. Customer behaviour changes during the pandemic are likely to continue beyond the immediate crisis, requiring companies to build lasting digital capabilities.
This article explores the current state of Industry 4.0 deployment in the region and globally and provides the latest developments and challenges in the GCC chemical industry.

Current state of Industry 4.0 deployment
Most industries globally recognise the enabling role of digital technologies in innovation, improving efficiency, and igniting growth. Digitalisation provides opportunities for transformation across multiple business functions, but more importantly, it builds a foundation for further value creation.
While digitalisation is transforming most industries today, the pace of transformation varies depending on the sector at which it is being deployed.
Global digital maturity of the manufacturing industry in 2020 was 39 per cent (where 100 per cent indicates that all digital capabilities are being deployed and rolled out). According to consultancy firm Accenture, most manufacturing companies, including chemical companies, have passed the proof-of-concept stage and are now in a pilot stage or partial scaling up. Among all industries, those which made better progress include upstream oil and gas, aerospace and defense, chemicals, and high-tech companies.
The digital maturity for the global chemical industry is 42.2 per cent, which is above manufacturing's 39 per cent overall, which means most of the chemical producers worldwide are in the stage of scaling up pilots and deploying digital solutions on various sites or functions of the company.

IR4.0 DEPLOYMENT IN GCC CHEMICAL SECTOR
In the GCC region, companies are increasingly using digital technologies to unlock new sources of competitive advantage, growth, and value. On a macro-level, governments in the GCC region have acknowledged the economic and social benefits that going digital can bring and have developed ambitious plans and strategies. These include but are not limited to Saudi Arabia's Vision 2030 and National Transformation Plan 2020, Smart Dubai, Qatar's Connect 2020 ICT Policy, and Oman's digital strategy (e-Oman).
The development of digital capabilities is becoming more and more urgent in various industries in the region, including chemicals.
Even prior to the Covid-19 pandemic, the GCC chemical industry's digitalisation score was higher compared with the overall score of the region, although the sector was still considered a 'digital follower'. This means companies were mostly implementing proven technologies and digital models, which still lead to incremental benefits. About 80 per cent of GPCA member companies have deployed targeted digital solutions, especially in the manufacturing function, which were developed by external parties such as digital technology developers and providers.
With the emergence of the novel coronavirus at the end of 2019, the digital transformation has been accelerating even faster. For the GCC chemical industry, shocks related to product and service demand, supply chain disruption, as well as changes in workforce and customer interactions, have emphasised the need for a digital transformation.
The pandemic made digitalisation a critical asset. Data is the new fuel for the chemical industry and digitalisation is a competitive advantage. Over the past year, we saw several milestones in the GCC region by giant producers.
• Adnoc and Group 24 formed a joint venture to develop and commercialise artificial intelligence (AI) products and applications for the energy industry in the UAE.
• Saudi Aramco and Google Cloud signed an agreement to set up a new cloud in Saudi Arabia and roll out cloud services.
• Saudi Aramco and Cognite formed a joint venture to develop digitalisation solutions for industries in Mena.
• Saudi Aramco and SAP formed an alliance to expand the digitalisation system.
• SABIC won 'Best Fintech Solution' award in 2020 for its fully digitised trade transaction solution and its efforts in corporate digitisation in supply chain management.

Additionally, GCC chemical players are opening centres to boost their acceleration towards Industry 4.0:

• Saudi Aramco - Dhahran to 4IR (Fourth Industrial Revolution) Center: Saudi Aramco has converted its office complex in Dharan to 4IR (Fourth Industrial Revolution) Center, implementing technological and digital innovation. This will develop the technical skills of the company's workforce to help it achieve its digital transformation vision, leading to improved efficiencies and cost savings. The centre is designed to support conception of new ideas, prototyping, piloting, and full-scale deployment.
• SABIC and High Throughput Experimentation (HTE) - Digital R&D Centre: SABIC and HTE extended their collaboration to increase efficiency through digitalisation and high throughput technologies in catalysis research and development (R&D) in petrochemicals. HTE will maintain the operation of SABIC's satellite laboratory for high throughput experimentation in Heidelberg, Germany, and will install and operate a new high throughput experimentation laboratory at SABIC's Corporate R&D (CRD) site at King Abdullah University of Science and Technology (KAUST).

CHALLENGES TO DEPLOYING IR4.0
While it is recognised that digitalisation is a source of positive changes and growth, there are a number of challenges in the realisation of the full potential offered by Industry 4.0. The biggest challenge faced by manufacturers globally, including the chemical industry, is identifying opportunities and benefits of Industry 4.0.
This is hardly a surprising fact, as nearly half of manufactures globally (49 per cent) identified this as their top challenge. The trend echoes regional dynamics within the chemical industry in the GCC. Only 38 per cent of GPCA member companies believe that their organisation has a solid understanding of how the digital revolution is influencing the chemical industry, including what opportunities and benefits it brings, while the remaining 62 per cent have only some understanding of the impact from digitalisation on their firms.
Another widespread challenge is incorporating smart devices and/or embedded intelligence into products or services. A significant portion of global manufactures (38 per cent) are finding this aspect of the adoption of Industry 4.0 challenging and it is understandable why.
Smart devices and embedded intelligence are very expensive. And it is even more expensive to employ data scientists to make sense of newly available data and communicate it to the rest of the team. This reflects the realities of the chemical industry as well – chemical companies need to develop new competencies to deal with smart products, create new processes, build new service models, and understand how to leverage newly available data.
Within the GCC chemical industry, companies also believe they need to improve their advanced analytics capabilities and data driven decision making.
In most of the manufacturing companies, making the transition to Industry 4.0 means major shifts in their organisation's platforms, including new forms of IT architecture and data management. Recent data shows that more than one third of global manufacturing companies (37 per cent) admit this is a challenge for them. Industry 4.0 requires existing technologies and installations to be adapted and in some cases need entirely new IT infrastructure.
With skills required for the jobs changing faster, companies across the world are facing challenges in finding skilled workforce for their Industry 4.0 transformation. Technology is evolving faster than ever before and hiring new talent is becoming more and more challenging. About 30 per cent of global manufactures face this difficulty. The situation is even more severe in the GCC chemical industry. Only 15 per cent of GPCA member companies feel they have effective recruitment process in place to attract digital talent.
While most of the industries and organisations agree that Industry 4.0 is one of the most impactful trends and CEOs and company leadership should be the driving force behind the digital transformation, one third of manufactures (30 per cent) still face challenges with leadership support. The GCC chemical industry is also facing the lack of prioritisation from executive leadership.
Only 39 per cent of GPCA member companies feel their leadership has prioritised key digital objectives and monitor their status against established goals. The remaining 61 per cent are still challenged with receiving sufficient leadership support.

POST-COVID ERA WILL BE DIGITAL
No recent event has stressed the importance of embracing digital technologies in the chemical industry like the Covid-19 pandemic. It's unsurprising then that embracing the digital transformation will mean the difference between survival or failure for some business.
Based on a survey conducted by Boston Consulting Group (BCG) in October 2020, digital transformation is the most common agenda for companies worldwide.
Some 64 per cent of respondents identified it as the most significant focus area of their company-wide strategic initiatives, ahead of innovation, portfolio review and even cash protection and cost reduction among others.
Similar results emerged from an E&Y survey conducted in November 2020. About 62 per cent of respondents agree their organisations must radically transform their operations over the next two years by employing emerging technologies.
In the post-Covid period companies will continue looking for new ways to drive efficiencies and more chemical companies will start to embrace the digitalisation agenda, including the greater adoption of artificial intelligence (AI), machine learning, robotics, and other cross functional technologies.
Recent data on a global level shows that among the most common investments of the next two years will be in the Internet of Things (IoT), AI and cloud computing, as 67 per cent, 64 per cent and 61 per cent of respondents pointed to these areas, respectively.
For the GCC chemical industry, digitalisation is a crucial step in navigating setbacks of the pandemic and provides opportunities to enhance operations. Digital experts point out there is a great potential in hybrid operating models that blend physical and virtual operations. Analytics offered by advanced technologies can also support regional producers in customer service, and in finding new growth opportunities in emerging markets.
Additionally, considering the GCC chemical industry's aspirations to expand towards specialty and value-added chemicals, advanced technologies and digitalisation will be essential to supporting new customers and serving new markets.

CONCLUSION
Since the industrial revolution, the chemical industry played an important role in the economic and industrial transformation, providing innovative intermediates to various industries. The industry has survived many storms from economic and market downturns, trade wars, political disruptions and climate disasters.
But the current challenges require chemical companies to develop a new way of thinking to survive and thrive in the new reality defined by the digital revolution. No other function is better placed than digitalisation to support businesses' evolution to new products, services, markets, and business models.
Established in 2006, the Gulf Petrochemicals and Chemicals Association (GPCA) represents the downstream hydrocarbon industry in the GCC. It has more than 250 member companies from the chemical and allied industries, accounting for over 95 per cent of chemical output in the Gulf region. The industry makes up the second largest manufacturing sector in the region, producing over $108 billion worth of products a year.
The GPCA manages six working committees: Plastics, Supply Chain, Fertilisers, International Trade, Research and Innovation, and Responsible Care. It also organises six world-class events each year.