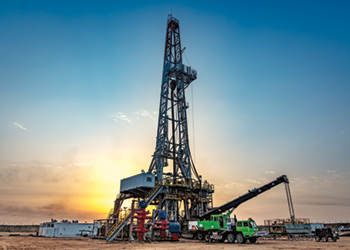 Baker Hughes aims to deliver greater drilling efficiencies and better well economics
The company is investing locally in sustainable energy and digital technologies to accelerate the adoption and deployment of new fuel sources and emission solutions to decarbonise energy, Regional Vice-President Zaher Ibrahim tells OGN
In its commitment to drive localisation in the UAE, Baker Hughes continues to establish manufacturing facilities and training of locals as part of its focus on the country's in-country value (ICV) programme.
The company has worked closely with customers and partners to provide the latest technologies and solutions to help meet the country's ambitious energy needs and support it on its path to a net-zero and a sustainable energy future.
In an interview with OGN, Zaher Ibrahim, Vice-President, Middle East, North Africa, Turkey and India, Baker Hughes, tells Abdulaziz Khattak how its investments in the UAE bode well for the entire region and not just one country alone.
He also looks into how energy transition and digital adoption are changing the energy landscape in the region, and Baker Hughes' three-pillar strategy to drive sustainable growth in the region.

Last year, Baker Hughes shifted its Surface Pressure Control (SPC) business to Abu Dhabi. This follows the establishment of several other facilities in the UAE. How significant have these moves been for your business and customers in the region?
Ibrahim ... focus on decarbonisation in region

Ibrahim: The Middle East is a key market for Baker Hughes with a lot of growth potential for our SPC business, and the relocation of our SPC headquarters to Abu Dhabi in 2020 reflects our continued commitment to the region and focus on supporting the in-country value (ICV) requirements of the markets we operate in.
This move helps deepen collaboration with regional leaders for technology and R&D in the oilfield equipment space, enhance local skills and bring more operational expertise to the UAE, contributing to the region's manufacturing, engineering, and sourcing capabilities.
Additionally, it brings the SPC headquarters closer to one of its largest pressure control manufacturing sites in Saudi Arabia.
Abu Dhabi is the oil and gas hub for the UAE, and this move enhances our ease of doing business because of its strategic location and connectivity to other major markets in the region. This move will help us serve our customers better as we expect to achieve reduction in shipping time, delivery schedules and supply chain logistics.

These business units show Baker Hughes' commitment to regional localisation. What are the company's achievements regarding localisation thus far?
Ibrahim: Baker Hughes is committed to supporting localisations initiatives across the region, including in countries like the UAE, Saudi Arabia, Qatar and Oman. These countries have strong programmes with clear goals that we help support through local manufacturing, supply chain and ecosystem development, knowledge transfer, capability building, and job creation.
If we take the UAE as an example, in addition to relocating our SPC headquarters to Abu Dhabi, we have eight facilities and three offices focused on manufacturing, assembly, maintenance, services, operations, and training. All these facilities serve our customers across the globe, while leveraging local vendors and contributing to exports.
Additionally, we formed a strategic partnership in 2018 with Adnoc Drilling, where Baker Hughes is a 5 per cent stakeholder, to support its transformation to a fully integrated drilling and well construction provider. This includes providing more than 900 training days to Adnoc Drilling employees and drilling more than 200 wells to date.
In 2021, we also launched the Early Career Hire Program, which onboards young Emirati talent for a one-year intensive training programme to develop their leadership and technical skills. To date, we have onboarded 10 participants in the programme and are working on increasing those numbers.

What notable key projects and partnerships does Baker Hughes have underway currently in the region?
Ibrahim: We are constantly looking for opportunities to support our customers' needs in the region. Although we cannot share specific projects underway, today we are focused on exploring opportunities related to driving the energy transition across the region.
Our energy technology helps industry advance on the path to net-zero and a sustainable energy future; and that is a common goal we share with our customers.
We are in discussions around projects related to hydrogen, carbon capture, use and storage (CCUS), emissions management, artificial intelligence, non-metallics, clean integrated power, and geothermal.

Baker Hughes has a diverse business portfolio, including a chemical manufacturing facility in PlasChem Park, KSA; a drilling company in UAE with Adnoc; LNG deals in Qatar. Does Baker Hughes have appetite for more business ventures?
Ibrahim: We always have an appetite for new business ventures, and in fact our diversified portfolio enables us to enter those ventures. As an energy technology company, we can provide solutions and innovative technologies for energy and industrial customers in the region. Additionally, our portfolio allows us to serve customers in the upstream, midstream, and downstream sectors, which give us an advantage to support customer needs across the value chain.

After Adnoc increased the IPO offer in Adnoc Drilling to 11 per cent from the original 7.5 per cent, will Baker Hughes seek to increase its stake from the current 5 per cent?
Ibrahim: There is no impact on our partnership or stake at Adnoc Drilling due to the IPO. We are very proud of this partnership and we continue working with Adnoc Drilling to deliver more competitive well completion times, greater drilling efficiencies and better well economics.

What is Baker Hughes's strategy to achieve profitable and sustainable growth in the region?
Ibrahim: Our strategy to drive sustainable growth in the region is based on three key pillars. The first is transforming our core capabilities to provide our customers with future-proof technology and delivering with executional and operational excellence, while ensuring cost competitiveness. Examples include our focus on driving localization initiatives across the Gulf, our leadership in executing LNG projects in Qatar and subsea gas developments in the Mediterranean, and deployments of our remote operations solutions to customers in the UAE and KSA.
The second pillar is investing in new areas, such as chemicals, non-metallics, industrial power and digital solutions, to drive our growth. Today, we are executing our non-metallics joint venture with Saudi Aramco and our chemical plant in Saudi Arabia. We are also exploring opportunities for clean industrial power in industries, such as paper, textile and fertilisers.
And the third pillar focuses in exploring new frontiers such as hydrogen, geothermal, CCUS, and energy storage that can help drive decarbonisation of energy and industry.
These include projects like our flare gas recovery project in Iraq and piloting our digital solutions flare.IQ technology for emissions management with Adnoc. Additionally, we have signed several MoUs to explore CCUS opportunities across the region.
What energy trends do you see emerging across the region, and how is Baker Hughes aligning itself to capitalise on those trends?
Ibrahim: Driving the energy transition and digital adoption are two key trends we are seeing across the region. These trends are in response to the changing market dynamics and environmental needs.
Our customers are looking for solutions that are more environment-friendly, optimise performance and production, and deliver higher efficiencies while reducing costs.
Most national oil companies (NOCs) and industry leaders in the Middle East and North Africa are putting decarbonisation and digitalisation at the forefront of their strategies. In fact, reaching net-zero has become a goal that we are seeing governments drive across the region. The good news is that we share the same goals and are on the same journey.
Baker Hughes was the first oil and gas company to make a commitment to reach net-zero emissions by 2050. Additionally, we are investing in sustainable energy technology for tomorrow to accelerate the adoption and deployment of new fuel sources and emission solutions, to decarbonise energy.
On the digital front, our BakerHughesC3.ai alliance provides artificial intelligence solutions to energy operations to improve reliability, reduce carbon emissions, enhance supply chain, and optimize production.
However, to drive the energy transition, we need to solve for the largest sources of Scope 1 and 2 emissions in energy operations today and invest in sustainable energy technology.
We also know that oil and gas will continue to play an important part of meeting global energy demand, especially in the Middle East. Therefore, we need to continue exploring opportunities to increase efficiency.
And finally, collaborations and partnerships are critical success factors to driving the energy transition. We believe energy producers, technology and service providers, energy buyers, policymakers, and the community at large need to work closely together to achieve our collective ambitions.
As an energy technology company, Baker Hughes is keen on taking energy forward along with its customers and partners in the region, making it safer, cleaner, and more efficient to people and the planet.

Are companies finding the transition to digitalisation difficult?
Ibrahim: Change is not easy; however, the challenges the industry faced over the last two years due to the pandemic and the drop in oil prices cemented the fact that necessity will drive digital adoption.
However, digital adoption will not only improve efficiency for economic reasons, it is also a key pillar driving decarbonisation and the path to net-zero.
Our customers and partners in the region have a strong appetite to drive digital adoption across their operations. A recent example is Baker Hughes' executing its largest ever remote operations deployment in Saudi Arabia across over 200 Saudi Aramco sites.
With these trends in mind, we believe there will be an increase in adoption of scalable, flexible digital solutions that enable leaders to meet both needs.