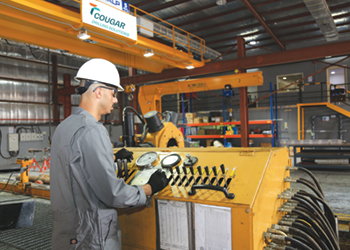 Cougar Drilling Solutions ... has offered drilling services in Turkey, Pakistan and Saudi Arabia
'The new brand identity marks a significant milestone for TAQA as it symbolises everything that the company stands for and everything that we aspire to become as we move forward into an exciting future,' says Eng Khalid Nouh, TAQA's CEO
Empowered by its ambitious and progressive strategy, the Industrialization and Energy Services Company (TAQA) headquartered in Dhahran, KSA, has recently launched its new brand identity, signifying the bold, energetic, and forward-looking culture of the company, with key elements that convey its orientation for growth, drawing from past experiences and expertise while remaining true to its longstanding reputation.
The new identity inspires TAQA as it continues to provide leading edge energy solutions to customers and symbolises the sustainable future the company is committed to achieve.
The new brand identity reveal took place late September during a launch event the company held in Riyadh, and was attended by its key customers, stakeholders and government officials.
"Our new logo and visual identity are inspired by our core values and our stakeholders, who are the driving force behind our success and accompanied through our growth journey. It's an exciting era for TAQA. The new brand identity marks a significant milestone for TAQA as it symbolises everything that the company stood for and everything that we aspire to become as we move forward into an exciting future," said TAQA's CEO, Khalid Nouh, in his speech during the event.
With a strategy that is focused on creating value for its stakeholders, who include shareholders, customers, and people, TAQA is committed to being a partner of choice to its stakeholders through the expansion of its service offerings, to cover a wide spectrum of energy services, thereby enabling its stakeholders to efficiently harness the full potential of their investments.
As part of TAQA's strategy to expand its portfolio, the company holds 51 per cent equity in the Arabian Geophysical and Surveying Company (ARGAS).
ARGAS has contributed to over 700 projects in KSA, UAE, Kuwait and Oman
ARGAS was founded in 1966 to explore, evaluate, and develop the communities' natural resources and add economic value to where it operates in.
ARGAS is a leading international geophysical partner of choice, offering a wide range of solutions to international independent and national clients in different industries.
Having surveyed the region's most important natural field, including oil and gas fields and minerals, ARGAS deploys state-of-the-art technology in geophysical data acquisition, processing, reservoir analysis, and estimation services. During the past 50 years, ARGAS has contributed to over 700 projects acquiring over three million square kilometers of exploration in Saudi Arabia, the UAE, Kuwait and Oman.
ARGAS is at the forefront of developing unique solutions by deploying and integrating various advanced geophysical survey and acquisition methods such as data acquisition capabilities covering land, shallow marine, transition zone, and ocean bottom applications, in addition to collecting both seismic and non-seismic data and availing other services.
ARGAS provides the best subsurface imaging, modeling, and R&D services to help clients realise the most value of their resources.
With its vast experience within the Middle East and North Africa, the company has performed operations in some of the most challenging environments, enabling it to build up an extensive portfolio of best practices and procedures to complete projects no matter the challenges presented.
ARGAS has a proven record in executing and delivering high-quality seismic data along with its processing and interpretation. The following are part of its seismic services:
• Seismic data acquisition land, marine and transition zone.
• Seismic data processing and imaging - both time and depth domains.
• Unconstrained blended land seismic data acquisition.
• Seismic interpretation, G & G Data Analysis, AVO, inversion, and reservoir characterization.
• QC of seismic data at various stages of the seismic value chain.
• Cutting-edge technology like DAS (Distributed acoustic sensing), Uphole and VSP.
ARGAS believes in energising the world through natural resources in oil and gas and beyond through geothermal, mining, hydrology, geotechnical, and geo-hazard surveys.
To further expand its service offerings, TAQA fully acquired Cougar Drilling Solutions in 2019.
Cougar Drilling Solutions is a global provider of downhole drilling tools and directional drilling services, established in 1969 in Edmonton, Alberta, Canada.
This milestone has been a catalyst for increased growth, expansion of products and services offerings and introducing a new partnership with Oliden Technology, resulting in expanding TAQA's capabilities in the wellbore positioning and evaluation space, enabling the company to enter new markets and enhance its offerings within its existing and new markets.
Upon inception, Cougar provided top tier downhole drilling products to the oil and gas industry in Western Canada including drilling jars, shock tools and stabilisation.
Over the years Cougar's downhole tools offerings have expanded into a holistic portfolio, including drilling motors, jar boosters to proprietary technology such as the Mechanical Thruster, a tailor-built compression-based tool engineered to reduce downhole dysfunction such as shock and vibration while creating consistency in downhole parameters from torque to weight-on-bit and differential pressure.
In the early 2000s, Cougar entered the directional drilling services market across the Middle East region, beginning with directional drilling and measurement while drilling in specific countries.
As of today, Cougar offers directional drilling services, measurement while drilling and logging while drilling services in Turkey, Pakistan and Saudi Arabia.
Cougar is dedicated and committed to being the most reliable, capable, and consistent provider of downhole drilling tools and directional drilling services globally.