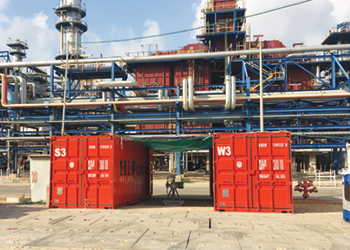 Twenty-foot containers can be mobilised as a tool repair facility or a mobile
Bolted joint integrity is considered one of the most significant issues in the industry today, and the Hi-Force On-site Bolting Services Division aims to provide bespoke solutions that will assist companies in the implementation of bolted joint integrity management
Hi-Force, a leading manufacturer of high pressure hydraulic tools, offers an extensive range of hydraulic bolt tensioners for topside and subsea applications, operating at maximum pressures of 1500 bar (21,750 psi), as well as special design tensioners made to exacting customer specifications.
Hydraulic stud bolt tensioners are the most efficient method of accurately tightening bolts, to a predetermined and known bolt load, to ensure an even clamping force on all stud bolts within the joint.
This is particularly critical for bolted joints, on pipelines and pressure vessels, in the oil, gas and petrochemical industries, where correctly sealed joints are essential for the safe movement and processing of hydrocarbons, typically under high pressure.
The multiple use of hydraulic stud bolt tensioners, to tension 25, 33, 50 or in some cases 100 per cent of the bolts simultaneously, ensures an even pull down of the joint faces onto the gasket, ensuring the correct gasket compression to achieve a leak free joint, first time every time.
Available with imperial bolt sizes from ¾ inches to 4 inches and metric bolt sizes from M16 to M100, the SBT spring assisted and STS manual piston retraction topside tensioner ranges offer up to 26 imperial and 32 metric models.
Both ranges are designed primarily for topside operations in a wide variety of applications including pipeline flanges, heat exchangers and pressure vessels.
The SBT range offers the additional feature of the spring assisted return piston, which reduces bolt tensioning cycle times considerably.
Once the hydraulic pressure is released, the tensioner piston automatically starts to retract, thus removing the need to manually wind down the threaded puller.
Hi-Force hydraulic bolt tensioners ... doing the job efficiently and accurately
The STU subsea tensioners are designed and manufactured to suit the demanding requirements of divers operating in harsh subsea environments.
With an easy to operate two-piece design comprising of a quick fit/release threaded puller and a hydraulic load cell with integral bridge, the STU series offer a reliable and cost effective method of tensioning sub-sea imperial bolted joints up to 3 ½ inches and metric bolted joints up to M90.
The modular design of Hi-Force hydraulic stud bolt tensioners enables the user to adapt each model, to cover more than one stud bolt size, by simply ordering additional accessories.
This greatly reduces investment costs, for users, that require tensioning multiple sizes of stud bolts, whilst optimising their investment costs.
Suitable pumps for the bolt tensioner ranges include the AHP275BTU and AHP2-237BTU air driven pumps as well as the HPX1500BTU manually operated pump.
Each pump operates at a maximum working pressure of 1,500 bar and is supplied complete with a pressure gauge and quick connect couplings for ease of use.
With the best available technology, world-class manufacturing principles and the accredited ISO 9001:2015 procedures, quality control is assured in the Hi-Force brand.
Headquartered in Daventry, England, Hi-Force operates from a state-of-the-art manufacturing facility that houses everything from product design, through to manufacture, assembly, testing and certification, of an extensive range of bolting tools, as well as many other types of high pressure hydraulic tooling.
"All the components of the hydraulic bolt tensioners are designed, produced and tested at our manufacturing facility on a fleet of twelve DMG Mori CNC machines and using only the highest quality materials. All our products are issued with a unique serial number which gives us the ability to identify precisely the material certification, machining batch numbers, heat treatment process and finally the build and testing information," says Chris Dickinson, Hi-Force Group Operations Director.
Hi-Force is also committed to offering technical support and hydraulic expertise to the market.
During construction and commissioning of new facilities, the issue of correct bolt up of critical and non-critical joints can often be overlooked, resulting in costly, and potentially catastrophic leaks.
Bolted joint integrity is considered one of the most significant issues in the industry today, and the Hi-Force On-site Bolting Services Division aims to provide bespoke solutions to plant owners and contractors, guaranteeing bolted joint integrity.
This service offering includes pre-start on-site surveys, comprehensive analysis of bolted joint needs and requirements, development of correct procedures, including all required bolted joint load calculations, on-site supervision, ECITB approved bolted joint integrity training courses for the nominated contractors technicians, full flange management control and of course, high quality UK manufactured bolting tools.
In addition, bespoke twenty-foot containers can be mobilised to site, fully equipped, as either a bolting tool store and tool repair facility or a mobile on-site training facility, incorporating all the necessary training equipment, to deliver bolting training courses, to the highest possible standard.
Hi-Force's product range extends to hydraulic cylinders, manually operated and powered pumps, jacks, mechanical, pneumatic and hydraulic torque equipment, nut splitters, flange spreaders, hydrotest pumps and many other industry specific tools.
In addition, Hi-Force offers complete after sales and service support, through all of its strategically placed regional offices and authorised distributors, in almost 100 countries worldwide.