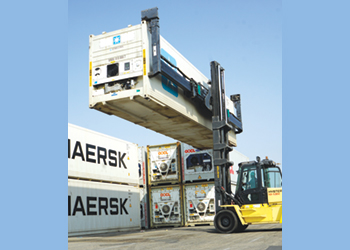 Basrec ... looking to expand its Container Repair Division
With the volume of containers having increased considerably over the decades, the company's future goal is to expand the Container Repair Division, which will add value to Bahrain's economy and create job opportunities for Bahrainis
Bahrain Ship Repairing and Engineering Company (Basrec), a leading ship repair yard and engineering company in the region, is looking to expand its services and facilities, amongst them its Container Repair Division (CRD).
The current CRD was established in 1990 and is a fully integrated third-party logistics provider.
During the decades, the volume of the containers has increased considerably and Basrec's future goal is to expand this division to provide more services. This will not only add value to Bahrain's economy but create job opportunities and employment for Bahrainis.
Basrec is also in an advanced stage of negotiations to award a contract for the construction of a new floating dock with more than double the capacity of the existing one.
The new floating dock will be Basrec's biggest investment in financial terms for a single project in its history.
The current floating dock is 120 m by 18.5 m and has a lifting capacity of up to 6,000 tonnes dead weight. It is equipped with two travelling cranes each with a 2.5-tonne capacity, and shipyard has two tower cranes with a maximum lift of 30 tonnes and jib length of 30 m. These provide cover for vessels alongside, on the slipways and in the floating dock.
Basrec operates two slipways each 80 m in length and having a capacity of 1,000 tonnes. In addition there are two repair quaysides with 7 m minimum water depth and can accommodate vessels up to 170 m in length.
Overall, the shipyard has in the recent past awarded contracts worth a total of BD5 million ($132 million), to improve its facilities and services, modernise its existing equipment and increase its capacity to further support the ship owners' requirements.
The shipyard continues to be in compliance with Integrated Management System (IMS). The recertification audit for ISO 9001:2015 (Quality Management System) was successfully completed in March 2021. Additionally, surveillance audits for verification of compliance towards ISO 14001:2015 (Environmental Management System) and ISO 45001:2018 (Occupational Health and Safety Management System) were also successfully completed in the same month. These audits were carried out by LRQA (LIoyd's Register Quality Assurance).
Basrec has satellite divisions for small boat repairs; Marine and Industrial Pump Repair, with its team of highly skilled professionals carve the way towards providing first grade services in pump repair and maintenance giving the highest quality results to its clients in the region; and TEAMS (Bahrain), the technical engineering and marketing services providing sales of high quality of electrical and mechanical products in Bahrain.
During the span of 59 years, Basrec has provided continued support for repair services for all types of marine crafts, and is recognized as one of the best ship repair yards within its capacity in the GCC.
Basrec also establised a specialised modern fully equipped independent workshop for repair and overhaul of all types of marine diesel engines, and negotiations are underway with well-known diesel engine builders in the international market in this regards.