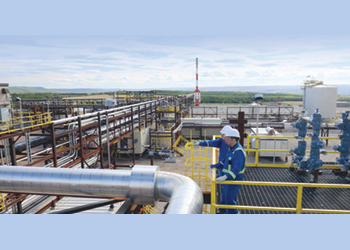 Sensia combines the expertise of Schlumberger with Rockwell Automation's
Rockwell Automation will return to this year's Abu Dhabi International Petroleum Exhibition and Conference (Adipec) to demonstrate how digitalisation and automation can address the challenges faced by the oil and gas industry.
This year, Rockwell Automation will be exhibiting with Sensia, the joint venture launched in 2019.
Sensia combines the deep oil and gas domain knowledge of Schlumberger with Rockwell Automation's rich automation and information expertise.
At the event, Sensia will present its portfolio of data-driven solutions, services and products that can help stakeholders across the oil and gas industry drive efficiency and increase safety, from the reservoir to the refinery.
Commenting on the event, Sebastian Grau, Regional Vice-President Sales at Rockwell Automation, said: 'We are excited to be participating at this year's edition of Adipec in Abu Dhabi, joining the global oil and gas industry once again. Returning to the in-person format of the event after two years presents the perfect opportunity for our teams to reconnect with our customers and exchange ideas with industry colleagues.
'Now more than ever, reconnecting with customers is key, because at Rockwell Automation, we use an outside-in approach, using our customers KPIs and objectives to drive our own. With our integrated asset management solutions, we drive efficiency, optimised productivity, and safety, with a consistent focus on sustainability.'
Event attendees visiting the Rockwell Automation and Sensia exhibition stand will have access to live product demos, customer success stories and be able to learn about the full portfolio of solutions offered by both companies.
While oil and gas organisations continue to grapple with the intricacies of recovery from the pandemic, global initiatives around digitalisation, sustainability and decarbonisation continue to gain momentum.
At Adipec, the teams from Rockwell Automation and Sensia will explain how companies can reduce operational costs, improve the safety and security of operations, and drive action to reduce carbon emissions, all in alignment with the global transition towards a low-carbon economy.
'The needs of the oil and gas industry are evolving. Customers must manage costs, extract the most value possible from current assets, as well as ensuring safe, reliable operations. Effective technology is required to accomplish these goals. It's crucial in developing a connected enterprise and operational excellence. From Edge to Enterprise, Sensia and Rockwell Automation bring a wealth of industry knowledge and expertise to help customers achieve the full potential of their oil and gas assets,' said Allan Rentcome, CEO of Sensia.
With a client-centric approach, both organisations aim to utilise their collective capabilities to support companies in deploying and optimising the next generation of oil-field technologies, control systems and intelligent devices.
'In an industry so easily susceptible to macroeconomic shifts, policy developments, and changing consumer attitudes and requirements, we place our clients' unique objectives at the forefront, helping them thrive in a period of rapid transition,' added Emmanuel Guilhamon, EMEA Sales Manager, Strategic Accounts, Heavy Industries at Rockwell Automation.
'Digital transformation presents an attractive, yet largely untapped opportunity to address many challenges across the entire oil and gas value chain, from drilling operations to refinery. A robust digital blueprint can help implement and control processes from the onsite infrastructure to remote technologies and facilitate greater process efficiency. Ultimately our goal is to make a positive step change in efficiency and safety while drastically reducing costs and downtime.'