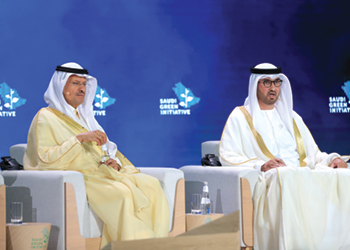 KSA Minister of Energy Prince Abdul Aziz bin Salman with Al Jaber at SGI
The country has set on a daunting task of achieving net zero by 2050 while ensuring economic growth at the same time. With a growing diversity of energy sources and higher investments, the target seems very achievable
The UAE has stressed that investment in its energy sector will continue in order to meet growing demand and ensure stability in global markets. However, there will be investments simultaneously in unconventional energy as well.
The country became the first in the region to set a net-zero target by 2050 weeks ahead of the crucial UN climate change summit, COP26, in Glasgow, pledging to play its role in combating climate change. The UAE has even offered to host COP28 in Abu Dhabi in 2023.
Official pledges to support its advocacy for climate change have started pouring in. Mohammed bin Rashid Al Maktoum, the Prime Minister of UAE and Ruler of Dubai, announced investments of $165 billion in clean energy by 2050.
On the national level, the UAE's 'Energy Strategy 2050' provides a roadmap as to how this will be done. The contribution of clean energy in the total energy mix will be doubled by 2050, and the carbon footprint of power generation will be significantly reduced.
Considered the first unified energy strategy in the country that is based on supply and demand, it encompasses the state, corporates and individuals to meet national goals.
The strategy targets an energy mix — renewable, nuclear and clean energy sources — of which 44 per cent power will be generated from clean energy, 38 per cent from gas, 12 per cent clean coal, and 6 per cent from nuclear.
With government investments of Dh600 billion ($163 billion) by 2050, the return on investment is expected to be Dh700 billion in savings during that period.
These steps will strengthen the UAE's position as one of the largest energy providers in the world and drive a low carbon strategy.
BOOSTING OIL, GAS OUTPUT
The hydrocarbon industry holds a lot of significance for the UAE's future growth and it doesn't seem the country will reduce its output of oil and gas. In fact, state oil firm Adnoc is expected to increase production to 5 million bpd from the current 4 million bpd.
At the Saudi Green Initiative (SGI) Forum in Riyadh last month, Sultan Al Jaber, CEO of Adnoc, called on people to be "a bit mature and sober" in discussing the energy transition, insisting it will take time and must include oil and gas.
"We can't just come out of nowhere and all of a sudden speak about energy transition and completely ignore or underestimate the impact of oil and gas in helping meet global energy requirements," Al Jaber said, noting that 80 per cent of total energy requirements currently come from fossil fuels, with 60 per cent of that oil and gas.
He pointed out that the current energy crisis is a wakeup call for the need to invest more in the sector to avoid another energy supply crunch.
The country recently announced new oil and gas discoveries, such as a natural gas field in the area between Seih Al Sedirah and Jebel Ali, and non-conventional and recoverable crude oil in Abu Dhabi.
These developments will help attract foreign direct investments to the UAE and contribute to the In-Country Value (ICV) programme.
However, the country aims at reducing its carbon footprint with clean energy initiatives alongside.
These include developing its solar, hydrogen and carbon capture, utilization and storage (CCUS) capacity over the years.
Adnoc already produces 300,000 tons of hydrogen a year, and with its existing infrastructure, commercial-scale CCUS capabilities and customer base, the UAE can become a major player in the developing blue hydrogen market, says Tayba Al Hashemi, CEO of Adnoc Sour Gas.
"The recent announcement of a million-ton blue ammonia production facility at the Taziz industrial hub in Ruwais, as well as the sale of cargoes of blue ammonia to Japan – demonstrates early action and underlines the market opportunity," she says.
Separately, Adnoc and Emirates Water and Electricity Company (Ewec) launched a landmark clean energy partnership, the largest of its kind in the oil and gas industry, which will see up to 100 per cent of Adnoc's grid power supplied by Ewec's Nuclear and solar clean energy sources.
This partnership will make Adnoc the first major oil and gas company to decarbonise its power at scale. It also supports the company's goal to remain one of the lowest carbon intensity operators in the industry, and underscores how hydrocarbons, clean energy and advanced energy sources can complement each other in the energy transition.
In regard to solar energy, the UAE today operates three of the largest and lowest cost solar plants in the world and has invested in renewable energy projects spanning 70 countries across five continents.