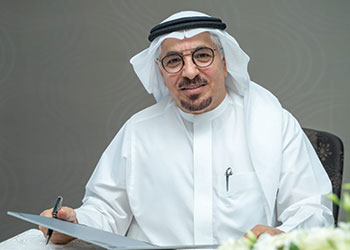 Al Zahrani ... visionary leader
In alignment with the Saudi 2030 Vision, SRG is committed to diversifying its portfolio to support the planned economic growth through projects in different sectors by establishing new companies, joint ventures, and mergers and acquisitions, Saeed Raddad Al Zahrani tells OGN
The Saeed Raddad Group (SRG) clearly realises that the challenges of the ever changing energy landscape requires sector companies to evolve equally fast or risk losing out due to the disruption.
In exclusive interviews, Saeed Raddad Al Zahrani, Chairman, Saeed Raddad Group (SRG), and Benyamine Taboukouyout, Managing Director of Saudi Napesco (an SRG company), tell Abdulaziz Khattak from OGN energy magazine how they are positioning themselves in the transition for the long-term and how to stay relevant.

Does SRG have a net-zero plan in place?
Al Zahrani: Yes it does. In the next three years, we plan to invest in the latest technology for energy efficiency (including LED, air-conditioning and cogeneration). In addition to carbon monitoring, recording and reporting of direct oil and gas operations, manufacturing, and indirect emissions from our suppliers, we also plan to invest in renewable energy, including solar energy for existing facilities.
Our 10-year plan is to invest in energy efficiency projects through energy performance contracting in the Middle East and South East Asia, in addition to investment in renewable energy projects (both small and large) through power purchase agreements.
We're also aiming to be part of the carbon credit investment and to research carbon capture, utilisation and storage (CCUS) technologies.
Is SRG's net-zero strategy aligned with the national net-zero goals of the country?
Al Zahrani: As Saudi Arabia ushers in a new era to reach net-zero by 2060, we at SRG are aligning our strategy with the Kingdom's goals. Net-zero is also one of SRGs contribution to global environmental initiatives.

What new areas of investment are you planning in renewable energy?
Al Zahrani: At Saudi Napesco (an SRG company), we're entering the solar and hydro plant energy segments, and bringing electric vehicle (EV) technologies into the Kingdom through global joint ventures.
Meanwhile, other companies under SRG are planning to implement renewable energy in their projects and manufacturing. For example, Manifa Petroleum Services Company offers comprehensive and modern solutions to the environmental and waste management sectors through partnerships with international partners.
And in Sraco Construction, we have done three projects in Jubail with the Royal Commission for Jubail and Yanbu using renewable energy. We supplied and installed a 33-kVA hybrid photovoltaic solar system, which intelligently switches between using solar power, battery storage and grid power. The system saves money by avoiding using grid power at peak prices.
We also supplied and install solar water heater (SWH), which heats water using sunlight via solar thermal collectors.
Finally, we supplies and installed all in one solar street lights (40 W, 70 W and 120 W).

What challenges does the fast changing global energy landscape present Saudi energy companies in general?
Al Zahrani: Energy companies need to be agile considering the many challenges on this transition journey. For instance, there is a gap in energy consumption awareness, and understanding of the policy and administrative direction. We made sure we are prepared for this by engaging with the policy makers such as the National Environment Center in Saudi Arabia.
In addition, a challenge is the sourcing of renewable energy materials. We are overcoming this by creating joint ventures with international manufacturers to localise production and increase the supply of such materials in the Saudi market.
Finding skilled personnel is another challenge. However, we are taking this as an opportunity to establish training programmes and global knowledge exchanges to improve human resources and also benefit the next generation.
What is SRG's strategy moving forward?
Al Zahrani: With the Saudi Arabia 2030 Vision, SRG is committed to diversifying its portfolio to support the planned economic growth with projects in different sectors through establishing new companies, joint ventures, and mergers and acquisitions. We currently have 18 companies under the Saeed Raddad Group that serve different sectors. We are also striving for expansion locally and geographically.

Saudi Napesco leads global tech into Kingdom

What are the new developments at Saudi Napesco's manufacturing facilities?
Taboukouyout: In the past 15 years, Saudi Napesco has greatly developed its manufacturing facilities and services, and increased its capacity and manpower.
We have signed an agreement with the Saudi government to invest $100 million in establishing a manufacturing facility at the King Salman Energy Park (SPARK) to manufacture oil and gas drilling equipment and provide maintenance and repair services.
Last year, we renewed our API Q1, API 5CT and API 7-1 licences for manufacturing, and added a new API 6A licence. We also acquired NOV GP XT and GPDS licences for proprietary connections for tubulars and premium casing connection locally developed by AMJ.
Napesco offers six services: downhole tools and technology, fishing and remedial, hardfacing and milling, manufacturing and machine shop, gyro services and tubing running services. Our human resources department is working in tandem with all these segments and is aiming to acquire expert employees.
We are also training the young generation to be professionals and be part of Napesco's expansion.
Benyamine ... boosting local manufacturing
How much has local manufacturing reduced dependence on imports and downtime?
Taboukouyout: Before Saudi Napesco started manufacturing in 2010, equipment was imported, and our personnel were trained to operate them in order to meet clients' needs. However, local manufacturing has reduced the dependence on imports.
Our local manufacturing team follows all specifications needed to fabricate every single tool.
We are working to attain complete self-sufficiency, and Saudi Napesco's Spark manufacturing facility is part of that initiative, which will quadruple its capabilities in terms of manufacturing and repairing of oil and gas equipment as 'Saudi Made'.
What are the ways Saudi Napesco has contributed to the Saudi economy?
Taboukouyout: Local manufacturing boosts the economy and generates more economic activity than other sectors. By undertaking manufacturing, we have created more jobs, reduced dependence on imports, and used local sources in our facilities thus benefitting local vendors and suppliers.
We plan to go international and will export our local made equipment. This will help boost Saudi Arabia's supply chain.
What emerging technologies is Saudi Napesco introducing into the Kingdom?
Taboukouyout: Saudi Napesco has created a joint venture with a top international company that specialises in solar and hydro energy and in EV technologies. We are planning a joint venture with another company that offers products and services in the waste water treatment and solid treatment segments. These ventures will allow us to transfer technology to our local and international clients.
Meanwhile, our research and development team (R&D) is looking into developing new technologies in downhole tools services to address clients' contemporary needs.
Additionally, we're acquiring technology patents for manufacturing at our Spark facilities.
How much of your In-Kingdom Total Value Add (iktva) goals have you achieved so far?
Taboukouyout: Our recent iktva achievement value is 70 per cent, which we consider a breakthrough. We aim to reach 75 per cent this year.
What are the major projects you are executing in Saudi Arabia?
Taboukouyout: We are proud to partner with Saudi Aramco as a dependable service provider. Saudi Napesco offers an array of services specific to the Saudi market and tailored to address Aramco's requirements.
We offer downhole equipment that are an integral part of drilling bottom hole assemblies, well services such as casing/tubing running services and gyroscopic/magnetic survey services.
How much is your total local workforce and how do you develop their capabilities?
Taboukouyout: Saudi Napesco strongly believes in promoting and nurturing local talent, and we are constantly working on acquiring local professionals in various business functions. Currently, we enjoy platinum status with 45 per cent Saudisation.
Our in-house organisational development and training programmes allow young engineers to follow a career path that ensures constant learning and professional growth within the Company.
We plan to partner with Saudi Petroleum Services Polytechnic (SPSP) to support recruiting young Saudi talent and attract trainees to our organisation.