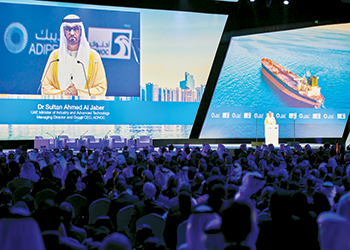 Dr Sultan ... leading the global energy transition
While climate change activists can't wrap their heads around the decision to appoint a serving head of a national oil company (NOC) as president of the 2023 United Nations Climate Change Conference or 28th Conference of the Parties (Cop 28), they keep forgetting that they live in imperfect but real world.
COP28 President-Designate is Dr Sultan Al Jaber, the Managing Director and Group CEO of the Abu Dhabi National Oil Company (Adnoc), Chairman of Masdar, and the UAE's special envoy for climate change.
That's seems like a mouthful but something Dr Sultan has been trying to justify ever since his appointment. He has spoken at many key local, regional and international events reiterating his country's commitment to net-zero, energy transition and the Paris Agreement, and that he is the best man for the job.
That job, however, requires a lot of hard work, starting with home.
According to the Climate Action Tracker (CAG), the UAE's 31-per-cent emissions reduction target by 2030 is 'insufficient' compared to modelled domestic pathways and 'critically insufficient' when compared to the UAE's fair share.
The CAG said the UAE will not be able to achieve its Nationally Determined Contributions (NDCs) with current policies and would need to implement additional policies and significantly reduce its 2030 emissions if it is to reach its target.
'We estimate that the UAE's 2030 emissions are set to increase by 30–35 per cent above 2010 levels,' the website said.

ADNOC LAYS OUT STRONG NET-ZERO PATH
But despite what naysayers say, the country remains committed to its net-zero by 2050 target, and more than any other entity, Abu-Dhabi based NOC Adnoc is driving that undertaking as it accelerates transformation and leverages technology to continue delivering low carbon growth across its energy value chain.
The company has allocated $15 billion for several diverse projects, including investments in clean power, carbon capture and storage (CCS), expanding electrification of its operations, energy efficiency, gas flaring.
Since January 2022, Adnoc has received 100 per cent of its grid power supply from Emirates Water and Electricity Company's (EWEC) nuclear and solar energy sources.
It has also concluded a $3.8 billion deal to build a first-of-its-kind, sub-sea transmission network in the MENA region, connecting Adnoc's offshore operations to the onshore power network, with the potential to reduce Adnoc's offshore carbon footprint by up to 50 per cent.
Dr Sultan said: 'Adnoc continues to take significant steps to make today's energy cleaner while investing in the clean energies and new technologies of tomorrow. Now, more than ever, the world needs a practical and responsible approach to the energy transition that is both pro-growth and pro-climate, and ADNOC is delivering tangible actions in support of both these goals.'
Adnoc's expansion of CCS is planned to support the significant scale-up of hydrogen and lower-carbon ammonia production capabilities. To-date, the company has already delivered test cargoes of low-carbon ammonia to Europe and Asia.
Adnoc's expansion of its new energy portfolio will largely be delivered through its stake in Masdar, the UAE's clean energy powerhouse with over 20 gigawatts (GW) of clean energy today and plans to increase its capacity to 100 GW by 2030. Masdar is also spearheading the UAE's drive to develop a leading position in green hydrogen.
Throughout 2023, a suite of new projects and initiatives will be announced, including a first-of-its-kind CCS project, innovative carbon removal technologies, investment in new, cleaner energy solutions and strengthening of international partnerships (more reports on Pages 4).
Late last year, Adnoc set a new upstream methane intensity target of 0.15 per cent by 2025, and the lowest in the Middle East. That put the company in the Gold Standard category by the UN-backed Oil and Gas Methane Partnership 2.0 (OGMP 2.0).
At the same time, the NOC is wary of rising global energy demand and has maintained that investment in oil and gas critical for energy security and economic progress.
In line with this policy approach, Adnoc brought forward its 5 million barrels per day (bpd) oil production target from 2030 to 2027.
Additionally, following its value creation and maximisation strategy, Adnoc has offered growth opportunties to domestic and international investors through stakes in its coveted subsidiaries.
Last month, it listed Adnoc Gas on the Abu Dhabi Securities Exchange (ADX), its largest to date and the fifth in as many years. Others in the past include, Adnoc Distribution (2017), Adnoc Drilling Company (2021), Fertiglobe (2021), and Borouge (2022).

COP28 PRESIDENCY
The UAE started the year with the declaration of 2023 as the 'Year of Sustainability', which will culminate in the most important climate event of the year, COP28 UAE.
COP28 UAE will take place at Expo City Dubai from November 30–December 12, 2023 and is expected to bring together over 70,000 participants, including heads of state, government officials, international industry leaders, private sector   representatives, academics, experts, youth, and non-state actors.
As mandated by the Paris Climate Agreement, COP28 UAE will deliver the first ever Global Stocktake – a comprehensive evaluation of progress against climate goals.
Dr Sultan said the UAE will lead a process for all parties to agree upon a clear roadmap to accelerate progress through a pragmatic global energy transition. His case for a pro-growth, pro-climate agenda supports an inclusive energy transition that leaves no one behind.
He has also been explicity clear about the Paris Agreement 'Let me make one thing absolutely clear: the goal of keeping 1.5 alive is non-negotiable. It is also clear that business as usual won't get us there. We need a paradigm shift in our approach to mitigation, adaptation, finance, and loss and damage.'
Dr Sultan said: 'The UAE will strive to make COP28 one of solidarity and action. It will listen, engage, and build partnerships with all parties who seek to play a constructive role in the clean energy transition. It will bridge the global north and south and include public and private sectors, scientists and civil society, women and youth. And it will raise ambitions and move from goals to concrete action.'
He emphasised that the step change in the climate progress needed cannot happen without accessible and affordable capital, noting that trillions, not billions, are required.
Dr Sultan also underlined the complexity of the energy transition as a system-wide rewiring of global economies and noted that despite the impressive growth of wind and solar power, renewable energy by itself would not be sufficient, particularly to transition hard to abate industries.
In the words of, Mariam bint Mohammed Almheiri, the UAE's Environment Minister: 'We need the oil and gas sector to be with us. We need to shift the way they are doing business and we need to decarbonise what they are doing. We need to then phase out oil and gas in a just way.'
By Abdulaziz Khattak