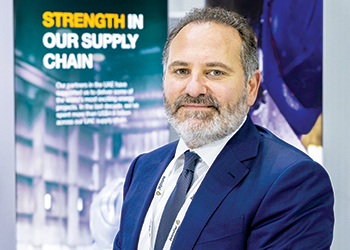 Osseiran ... prioritising the ICV strategy for Petrofac
In the Middle East, ICV has always been and will continue to be a vital component of the company's supply chain strategy and operational success, Karim Osseiran, Group Head of Supply Chain at Petrofac, tells OGN

Petrofac, a leading international service provider to the energy industry, has a group-wide in-country value (ICV) strategy at the heart of its operations.
The ICV strategy is not only a contractual and regulatory requirement but it is also a priority for Petrofac and a focal point of its environmental, social, and governance (ESG) strategic framework.
With over 52 per cent of Petrofac's $2 billion average annual spend going directly into the economies of the countries it operates in, Petrofac is committed to supporting local supply chains, employing local people, developing local capabilities, and stimulating local economies.
By doing so, Petrofac has emerged as a pioneer in the field, with its model of local execution to global standards setting it apart from competitors.
"By sourcing and procuring a large proportion of goods and services locally, we build and nurture strong local supply chain relationships with an extensive network of local businesses and suppliers, including manufacturers and contractors. We also help emerging companies by providing guidance and support for them to have all the necessary skills to succeed," says Karim Osseiran, Group Head of Supply Chain at Petrofac.
Petrofac helps manufacturers and contractors by sourcing and procuring
a large proportion of goods and services locally
In the Middle East, particularly in the UAE and Oman, where Petrofac has been operating for decades, ICV has always been and will continue to be a vital component of its supply chain strategy and operational success.
Petrofac's projects play an important role in the socio-economic growth and development of both countries.

EMPOWERING THE WORLD WITH THE UAE'S ENERGY
Petrofac's strong legacy in the UAE began in 1991, and since then, the company has played a vital role in the country's development by contributing to the local economy through the development of infrastructure and upskilling talent.
The company's success has enabled it to harness the UAE's energy and leverage it to empower its people, the region, and beyond.
Petrofac's flagship buildings in Sharjah's Al-Khan district have become an iconic symbol of the company's growth, serving as a large operational base supporting regional and international projects.
The company has successfully delivered several high-profile energy assets in the UAE and provided operations and maintenance support to numerous facilities.
The company's dedication to investing in local talent and resources is evident in its spending of over $4.6 billion with local suppliers and vendors in the last decade.
By collaborating with its in-country partners, Petrofac is creating opportunities for the next generation of Emirati engineers and leaders to build a brighter future, and accelerate the UAE's progress and reinforce its status as a top destination for people and investment.

INVESTED IN OMAN
For over three decades, Petrofac has been supporting Oman's energy industry by designing, building, operating, and maintaining facilities, as well as generating over $3.6 billion in-country value.
Petrofac integrates the procurement of locally made goods and services, the use of local vendors, the development of local workforce competence, and the employment and training of Omani nationals into every project.
As a result, Petrofac has helped to create a diverse supply chain, providing opportunities for small and medium enterprises (SMEs) to compete and grow in the market.
This approach has been appreciated by the Oman government, which has awarded Petrofac with the Omanisation certificate for its commitment to the training and development of Omani nationals.
Petrofac's commitment to ICV is also deeply rooted in its engagement with the Omani community.
The company has integrated into Omani society by leading many social initiatives, including beach cleanups, sports ground construction, and IT equipment donations to schools.
During Cyclone Shaheen, Petrofac rallied its people together and raised over $130,000 towards the repairs of vital infrastructure and delivery of emergency supplies. These actions demonstrate Petrofac's unwavering commitment to the people of Oman, beyond its projects and contracts.
"Developing national talent and working with local companies means we build stronger relationships with in-country stakeholders and that helps us bid on challenging projects. We want our teams to become more representative of the societies in which they work, so our local country managers are tasked with maximising ICV," says Osseiran.
Petrofac provides great opportunities for the next generation of engineers and leaders in the Middle East.
As the energy industry continues to evolve and adapt to changing market conditions, Petrofac's ICV strategy has positioned the company for long-term success, enabling it to deliver value for its clients, shareholders, and the communities in which it operates.