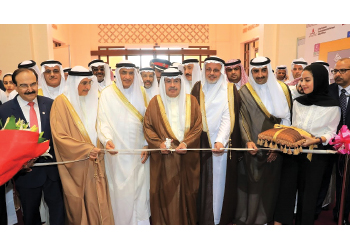 GDA International Downstream Conference and Exhibition 2018 Inauguration
The GCC is striving to increase its refining and petrochemical capacity, and an increased focus on integrating the downstream operations with adequate flexibility will allow the industry to respond to fluctuating demands
The GCC's downstream sector will continue to be a major global player in the years ahead. More investments are expected into the sector as the region takes on mega projects to increase its refining and petrochemical capacities despite the economic and geopolitical challenges.
Currently, the region's refining output stands at around 7 million barrels per day (bpd), with this figure rising to 8 million bpd by 2023. These make up 7 and 8 per cent of the total world capacity respectively.
As such, the oil and gas downstream sector—which constitute refineries, marketing and products distribution outlets, petrochemical and NGL fractionation—will continue to fuel economic growth in the region and the world since it serves a wide variety of demands, Audah Al Ahmadi, Secretary General, Gulf Downstream Association (GDA), tells Abdulaziz Khattak of OGN.
He says the sector is investing heavily in processes to derive maximum value from the bottom of the barrel.
Al Ahmadi ... 'sector will overcome challenges'
"They (refineries) are building flexibility into their processes so they can better manage uncertainties in fluctuating product demands," Al Ahmadi says.
Further elaborating, he says the refinery segment is building integrated facilities, targeting zero emissions and implementing circular economy (reduce, reuse, recycle), embracing IR 4.0 technologies, building future work-force through innovative means of knowledge transfer from retiring work-force to the young engineers.
Al Ahmadi says almost every GCC country is striving to increase its refining and petrochemical capacity, and there is an increased focus on integrating the downstream operations with adequate flexibility, such that the industry can respond to fluctuating demands and feedstocks availability at favourable prices.
He says the downstream industry is fully supported by government entities in various GCC countries in its growth and sustenance.

CHALLENGES & TRENDS
External training ... high performance resilience at work
The downstream sector is facing challenges on many fronts. Trends such as growth in the non-hydrocarbon sources of energy, shared mobility, electric vehicles, IR 4.0 technologies disruptions and geo-political uncertainties are shaping the downstream industry.
However, they also open new doors of opportunities, says Al Ahmadi.
Some of these challenges and respective opportunities include:
• Sustaining a healthy margin.
• Training workforce to adapt to IR 4.0 technologies.
• Reducing environmental impacts through circular economy and carbon capture and use.
• Improving operational efficiencies through automation and Artificial Intelligence (AI).
• Reducing maintenance costs through advanced predictive analysis.
• Knowledge transfer from retiring experts to young engineers at a fast pace.
• Improving capital efficiencies of mega projects.
• Reducing material and equipment inventories among GCC operators through mutual collaboration.
• Building digital twins to simulate various scenarios and prepare adequate response plans to address any uncertainties.
• Collaborate with developing countries to build energy securities for them.
One commonly perceived threat to the sector is renewables. However, Al Ahmadi thinks otherwise and sees renewable sources of energy will complement fossil fuel.
He says: "The downstream industry will co-exist with the renewable energy sector as the latter grows and becomes more feasible."
"Additionally, as the global demand for energy increases due to rise in population—and especially the middle class in expanding economies like China and India—there will be a need for all sources of energy including renewables."
In fact, refiners plan to use renewable sources of energy to cater to some of their own energy consumption, says Al Ahmadi.
The downstream also fully understands the important role of information technology (IT), which is now ingrained in all operations of the sector leaving hardly any area untouched by it. Similarly, IR 4.0 technologies will take IT to yet another level for which all refiners have planned, says Al Ahmadi.

VISION, MISSION AND OBJECTIVES
Members of the project management technical committee at a meeting
The GDA's primary aim is to promote innovation and continuous development of the downstream industry through sharing of best practices among its members so they can build 'best-in-class' practices for their own organisations, says Al Ahmadi.
A key objective of the GDA is to develop tools, initiatives and spearhead efforts to support and champion the industry and become a common voice for its members.
The association's membership portfolio now includes operators, manufacturers, designers, consultants, technology providers, service providers, training providers, academic institutes of high repute; international associations/professional societies and related governmental entities, such as the Organisation of Arab Petroleum Exporting Countries (OAPEC).
The GDA was established to gather the wealth of knowledge scattered across the global downstream industry and use it to accelerate development and as a catalyst for strong and sustainable industry growth in the Gulf region and worldwide.
In this regard, the GDA plays a leading role in supporting the local, regional and international industry through sharing of knowledge, experience and best practices by creating a common platform for all players to meet, exchange and interact among themselves to enhance this sector for it to excel.
It has established nine technical committees covering the entire spectrum of downstream operations from 'people' to 'process'. These committees, made up of 96 subject matter experts (SMEs) from among GDA members, specialise in HSE, Leadership and People Development, Operational Excellence, Project Management, Plant Reliability and Integrity, Energy Management, Industry Trends, Technologies and Commissioning, and Start-up.
Collectively, these committees share 1,680-man years of experience amongst themselves. The SMEs meet once every quarter to discuss various topics and have held a total of 70 quarterly meetings as of January 2020.
The GDA also has its very own 'Knowledge Hub' with 11 interactive portals that contain over 270 items covering a range of subjects like best practices, articles, white papers, presentations, and ask the experts, to name a few. It serves to promote knowledge and experience sharing amongst employees of its member companies.
Al Ahmadi says the Knowledge Hub is rapidly building a rich repository of vital industry knowledge which would benefit the industry and the future generations.
Other modes of knowledge sharing includes the use of social media platforms (twitter, LinkedIn, Instagram, WhatsApp, etc), internal and external trainings and people development, and technical and strategic events and representation.
To further learning and experience sharing, the GDA has provided six in-house complimentary courses by the SMEs, arranged over 14 site visits to GCC refineries and operating facilities, 3 webinars and 6 industry surveys.
Various collaboration agreements are in place with most major technology providers. This has resulted in 12 external technical training courses for members, 2 symposiums, and 2 workshops, where the outcomes are captured in white papers for further implementation.
Through these platforms, GDA champions sustainability, which is the critical need of the hour for the downstream industry. Key questions regarding the subject are debated by industry experts from GDA members.
A major achievement of the association was the first edition of the GDA International Downstream Conference and Exhibition. Al Ahmadi says the event provided a great platform for the downstream industry players to discuss and review challenges and issues for possible solutions, network and showcase their abilities to a total of 2,525 unique participants, 1,706 conference attendees, 820 exhibitors and visitors, 298 students, 122 speakers from 476 companies representing 27 countries, in addition to 42 media representatives.
For this year, GDA aims to carry on with its quarterly meetings of all technical committees in different locations in the GCC, conduct webinars and industry surveys, various in-house trainings, symposiums/workshops, facilitate further industry/refinery visits, and organise external trainings with major technology providers.
And along with co-hosting or participating in other events, such as MERTC 2020, Adipec 2020, IP Week London 2020, MPGC 2020, etc, GDA will host the 2nd edition of its signature event, 'GDA Downstream International Conference and Exhibition 2020' from October 20-22 in Bahrain.
It also plans on establishing a new technical committee on 'Digitalisation'.
GDA has five founding companies, Saudi Aramco, Kuwait Petroleum International (KPI), Bahrain Petroleum Company (Bapco), Kuwait National Petroleum Company (KNPC) and Abu Dhabi National Oil Company (Adnoc)—which are major National Oil Companies (NOCs), and a total of 67 member companies from the GCC and around the world as of January 2020.