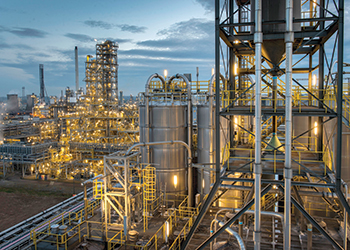 A Sabic manufacturing site in the Netherlands
Undeterred by challenges, Sabic continues to invest across businesses to leverage its manufacturing and innovation competencies and ensure it remains competitive
In the midst of an increasingly turbulent business and economic environment, Sabic remains committed to delivering on its vision to be the preferred world leader in chemicals with its diverse product portfolio of chemicals, commodity and high performance plastics, agri-nutrients and metals.
However, there is no denying the fact that the pandemic has devastated businesses worldwide, resulting in a moderation in global growth. Sabic, nevertheless, continues to invest across its businesses to leverage the advances of its manufacturing and innovation competencies and ensure it remains competitive. It has placed full confidence in the long-term growth prospects of the industry, expecting global demand to increase due to global megatrends.
The challenges posed by the global spread of Covid-19 has not deterred its support for profitable innovation and its commitment to community welfare. In fact, Sabic's innovative solutions were part of an essential industry, playing an integral role in global efforts to overcome the pandemic. Its support to help the global response totaled more than $50 million, including donations and materials that are high in demand to manufacture sanitisers, medical equipment, preventive products and supplies for frontline medical and healthcare workers.
Just before the pandemic took root in late 2019, Sabic began construction on its third joint venture with ExxonMobil in Texas. The project remains on track for a 2022 start-up, with a 1.8 million metric tonne ethane cracker that will feed three production units – a monoethylene glycol unit and two polyethylene units. In Europe, Sabic has placed an increased focus on its assets, enhancing its structural competitiveness and improving operational performance. In Asia, Sabic has carefully reshaped and recalibrated its operations to better address customers' current and future needs.
At the same time, the global Sabic brand has grown stronger, reflecting the increasing perception of the company among its customers and other stakeholders. Its brand value increased by 9.3 per cent from $3.96 billion in 2019 to $4.33 billion in 2020 as recognised by the independent brand valuation consultancy, Brand Finance.
TECHNOLOGY AND INNOVATION
Sabic CEO Yousef Al Benyan in the lead
Sabic is fully aware that its future growth and development is largely dependent on creating solutions for the issues that society faces. That is why it puts such a high price on technology and innovation. It knows that innovation can drive the petrochemical industry forward and create the markets and products that will ensure its future success.
The company's technology and innovation investments run across its innovation hubs in five key geographies — the US, Europe, Middle East, South Asia and North Asia. Through its research-driven strengths, it remains committed to developing the right portfolio, including processes, assessments, and metrics, toward becoming a market-focused innovation powerhouse.
Sabic works with peers, customers, the broader value chain, and other external partners to develop new processes and products that help address emerging needs, from improved efficiency to performance enhancements to sustainability. For example, it works closely with automakers who continue to seek lighter materials with no compromise in high strength and performance, for their fuel economy and environmental benefits. One such manufacturer, Land Rover, worked with Sabic to develop their new Defender model. This iconic vehicle now incorporates Sabic's thermoplastic solutions in more than 70 applications.
Further examples of Sabic innovation are its new Cycolac and Cycoloy ABS resins, produced globally for many applications across a wide range of industries. They have a new sustainable formulation, which improves product quality while reducing reaction cycle times around seven percent, decreasing up to 100 tonnes per year equivalent of hazardous waste production, and cutting energy consumption.
SUSTAINABILITY A CORE VALUE
Sabic sees sustainability as a core value and as an integrated strategy for responsible business and growth. By putting sustainability at its core, the company's governance and transparency have improved, as have inclusion and diversity. Its suppliers have raised their standards helping the environment to get cleaner, and its bonds with communities have grown – among many other benefits.
The company has adopted the United Nations' Sustainable Development Goals (SDG), selecting the 10 most relevant goals to its business. It assessed initiatives across the company, uncovering 20 impact opportunities with the greatest potential for business growth. With operations in 50 countries, it can promote these goals throughout its global footprint. While doing so, Sabic hopes to bring economic advancement and good jobs to key markets and growth areas.
Sabic is driven by concern for plastics in the environment, and is collaborating in the search for new ways to reuse and re-purpose materials, especially in packaging. These priorities have led to investments in circular product-solutions and its ability to accept chemically recycled feedstock.
It is a founding member of the Alliance to End Plastic Waste, a new, non-profit organisation, consisting of global chemicals and plastics companies dedicated to this matter. Sabic has taken a lead in addressing the impact of plastic waste, both through corporate investments and through the ingenuity of its people.
On the circular economy, Sabic has embraced the groundbreaking Trucircle initiative. Its solutions encompass the company's circular materials and technologies, including certified circular polymers from the chemical recycling of mixed plastic waste, certified bio-based renewable polymers, mechanical recycled products, and design for recyclability. Sabic's certified circular polypropylene – part of its Trucircle initiative – has been selected by Magnum, the renowned ice cream brand, to manufacture more than seven million tubs in Europe. Following this initial rollout, the tubs will be launched globally from 2021 onwards. The launch represents the world's first tub within the ice cream industry that contains Sabic's recycled plastic, contributing toward the challenge of keeping plastic waste out of the environment and in the value chain.
Sabic continues to explore the use of renewable energy as part of the energy mix for its manufacturing operations and sees CO2 as a potential feedstock. It operates the world's largest CO2 recovery and purification plant at its manufacturing affiliate, Jubail United Petrochemical Company (United), and uses purified CO2 to make urea and other chemical products.

SOCIAL RESPONSIBILITY
Through its corporate social responsibility (CSR) programmes, Sabic supports social and environmental initiatives that benefit communities where it operates. This benefit is multiplied by its employees, who volunteer their time to many different causes for people and places in need.
The company's CSR initiatives focus on four strategic priority areas: science and technology education, environmental protection, health and wellness, and water and sustainable agriculture, contributing to Saudi Vision 2030 and 10 of the United Nations' Sustainable Development Goals. The company is committed to community giving, helping those who are most in need.
Sabic contributed a total of $15.6 million through CSR programmes globally in 2019. Its global initiatives comprised of 185 programmes in 103 cities and 22 countries, focusing on science and technology education, environmental protection, health and wellness, water and sustainable agriculture. Through these important programmes, 2,531 Sabic employees dedicated 10,874 volunteer hours

ENABLING VISION 2030
While Sabic is a global company operating in more than 50 countries, it has never lost sight of its roots in Saudi Arabia and its national responsibilities. It is fully committed to supporting Saudi Arabia's ambitious Vision 2030 programme by leveraging its production and technological capabilities and global reach. Its contribution to the development of the Saudi economy, both directly and indirectly, is well established and widely recognised, but Vision 2030 calls for a completely new level of commitment.
Sabic's strategy in support of Vision 2030 embraces its Nusaned programme – a core initiative designed to promote growth, diversification and job creation in support of the Vision.
Nusaned is a localisation engine to catalyse local industry development. It aims to establish common ground among Saudi industrial development stakeholders, providing financial, logistical and other support for partnerships founded on mutual benefit and sharing a commitment to the goals embodied in Vision 2030.
By the end of 2019, Nusaned had received 882 investee registrations, of which 453 were approved and moved to the pre-feasibility stage; 205 were moved on to the next stage; 132 were approved, having completed their full feasibility studies; and 62 graduated with full support packages, addressing 8 out of 12 targeted clusters of Saudi Arabia's national industrial strategy.
The Nusaned Executive Council has signed a number of agreements under its ExSabic initiative, which seeks to create jobs for Saudi youth by providing on-job training from three to seven months at Sabic sites and affiliates in Saudi Arabia. The initiative aims to qualify national talents to support local companies that contribute to increasing local content in order to meet the objectives of the Vision.
Sabic has also launched a programme that aims to provide small and medium enterprises – including companies benefiting directly from Nusaned – with qualified female recruits whose skills have been built up by training and on-the-job experience in relevant roles within Sabic, with support and guidance from senior colleagues.
As Sabic gears up for new challenges in the coming months and years, it continues steadfastly on its transformation journey – transforming everything it does, the way it is done, to do an ever better job of helping make tomorrow's world better than today's – true to its brand promise, 'Chemistry that Matters'.