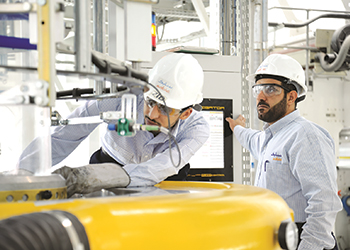 Sabic has charted a robust digital strategy
Digitalisation in the global chemicals industry represents a substantial opportunity for the future, one that will take SABIC to even greater heights, Murhaf Al-Madani, Vice President, Sabic Corporate Digitalisation Program (CDO) tells OGN
Digitalisation is poised to shape the future of the global chemical industry, with its potential to transform value chains, enable greater productivity, and create new revenue work streams.
Sabic has recognised the importance of digital transformation and has launched its digital journey as a corporate programme, spearheaded directly by the CEO, Yousef Al Benyan, and steered by the company's executive committee.
Sabic is leveraging advances in digital technologies to improve its competitiveness and strengthen its leadership in the chemical industry. It is doing this by capitalising on artificial intelligence, machine learning, and becoming a more data-driven and proactive company.
The Corporate Digitalisation Program's first major deliverable was charting a strategy for Sabic's digital transformation, spanning across multiple business domains.
Al-Madani ... leveraging digital technologies
As the manufacturing sector moves further into digitalisation, organisations must leverage existing and emerging technologies to improve their environment, health, safety and security (EHSS) outcomes. The digitalisation of EHSS, where strong emphasis is laid on measuring and managing incidents, signifies a new era of safety, powered by analytics, with the potential to take safety performance to a completely new level.
Furthermore, manufacturing is considered one of the fundamental domains to be digitally transformed. For an asset-based company, initiatives that ensure plant reliability and assets integrity will introduce a great value to the company.
Sabic workers use the latest tools to achieve automation
Whether it is through opening the doors to more outstanding functional excellence, disrupting end markets or creating new business models, digitalisation in the global chemicals industry represents a substantial opportunity for the future – one that we know will take our business to even greater heights.

• Prior to his current position, Al-Madani held the position of Sabic CIO for six years and before that he was President of Sabic Terminal Services Company (SABTANK) for two years. He has held various other positions in the past, including GM, Supply Chain Management, for Sabic Polymers globally covering all outbound logistics, distribution networks and production planning; GM, Logistics, covering global sea shipping (liquid chemicals, solid chemicals, and gases). He was also was responsible for global distribution networks of storage tanks and W/H's in addition to long-term chemical vessels time chartering activities. Before logistics, Al-Madani was Project Manager for Sabic Business Transformation Project (FANAR- Global ERP implementation).