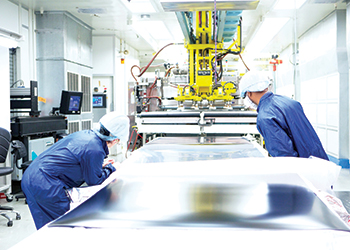 A Sabic manufacturing site in Jubail, KSA
Sabic remains committed to achieving high levels of manufacturing excellence and safety standards in its drive to achieve its vision to be the preferred world leader in chemicals, Ahmed Al-Shaikh, Sabic Executive Vice President, Corporate Manufacturing, tells OGN
Sabic's constant pursuit of excellence in manufacturing performance is a vital ingredient in achieving success. Manufacturing excellence at Sabic is driven by the recognition that the industry is already competitive, but new assets, standards and process technologies are key to enabling the company's manufacturing plants to achieve a new level of efficiency and safety.
The global chemical industry is known for its large-scale assets that are expensive to operate and maintain. Chemical plants also consume enormous amounts of energy in converting large volumes of raw materials into versatile products with diverse industrial and lifestyle applications.
"We believe optimisation is the key driving principle in attaining manufacturing excellence; optimisation of plant operations by leveraging and combining the best work processes and practices, knowledge pool, deployment of competent and dedicated people, and through the relentless pursuit of continuous improvement through innovation," Ahmed Al-Shaikh, Sabic Executive Vice President, Corporate Manufacturing, tells Abdulaziz Khattak of OGN.
"Our quest for manufacturing excellence demands that all of us — from senior leaders to operators and technicians — to be wholeheartedly involved and committed in mobilising and coordinating resources and talent. For global companies as Sabic, world-class manufacturing requires a global manufacturing strategy that will ensure such mobilisation and coordination across geographies and diverse historical and cultural backgrounds."
Al-Shaikh ... in pursuit of excellence
Al-Shaikh says: "Sustainability is an integral part of our manufacturing strategy. We lay emphasis on reducing operating costs and minimising environmental impact through resource and operational efficiency. We continue to drive for optimum energy efficiency at our plants in support of our sustainability objectives."
Sabic carries out opportunity assessments, identifying and evaluating potential conservation measures to reduce our overall footprint. Such assessments play an integral part in the evaluation process for any of its proposed mega projects, to ensure optimal sustainability performance.
Al-Shaikh says the achievement of excellence in all aspects of safety is a top priority for Sabic, adding companies compromising in this regard can lead to enormous damage to the community and environment, and businesses responsible for such failures end up paying dearly.
"This is why environment, health, safety and security (EHSS) continues to be a core value at Sabic. With a strong commitment to achieving industry-leading performance, our global EHSS organisation serves as a centre of excellence supporting all manufacturing operations, business units and corporate functions in continually improving our EHSS performance at sites around the world," he states.
Sabic has initiated a series of management systems to ensure it continues working toward excellence in people development, digital transformation, and risk and operations management.
Al-Shaikh says: "Our Operations Management System (OMS) provides an integrated approach that incorporates EHSS and reliability standards under a single framework and help drives leadership, culture, and business performance to ensure continual improvement and operational excellence."
He adds: "Our Safety, Health & Environment Management (SHEM) aims to identify improvements in several key environment, health and safety processes. We have developed a SHEM Maturity Level concept, supplementing auditing, as the primary means of assessing sites' performance and progress."
Sabic's EHSS Information Enablement (E-SHEM) improves risk identification and management by making key EHSS information richer and more accessible through better aggregation and distribution via efficient web-based platforms and communications. The tough environment caused by the ongoing pandemic presented major challenges to us over the past months, putting our EHSS principles to the fullest test. Employee safety and wellbeing were of primary concern to us, and continue to be so, making our fight against Covid-19 a strongly coordinated effort among our teams globally.
Yes, these are indeed demanding times for Sabic. Nevertheless, we remain committed to achieving even higher levels of manufacturing excellence and safety standards in our drive to achieve our vision to be the preferred world leader in chemicals. We are determined to ensure that our manufacturing activities around the world are best in class, outperforming our competition and meeting the requirements of all of our stakeholders – true to our brand promise, Chemistry that Matters.