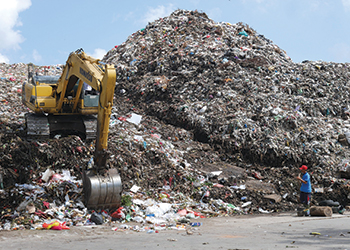 Sabic is a founding member of the Alliance to End Plastic Waste
Sabic works closely with partners across the value chain to advance a circular economy for plastic waste recycling, and has delivered Trucircle solutions to customers and brand-owners alike
Sabic has achieved significant milestones in making the closed loop a reality. It was the first petrochemical company to commit to scaling up the advanced recycling of used plastic, and it is now working with partners across the value chain to considerably increase its supply of certified circular products through the construction of its first semi-commercial plant.
Its Trucircle portfolio and services has helped customers bring more sustainable products to market.
To drive this mission forward, Sabic became a founding member of the Alliance to End Plastic Waste in 2018. The alliance has activated 14 projects across 14 cities in six countries in South East Asia, India and Africa – all at the frontline of the plastic waste challenge.
In its 2020 progress report, the alliance outlined the commitment to project acceleration across its four strategic pillars of waste management and recycling infrastructure, innovation, education and engagement, and clean up. The report also features 55 member-led projects worth $400 million towards building solutions to end plastic waste in the environment.
According to Yousef Al-Benyan, Vice Chairman and CEO, Sabic: "Sabic's involvement in the alliance reinforces our long-held commitment to sustainable development. The Covid-19 pandemic has highlighted the contribution that plastic can play in supporting our global society. Meanwhile, we are acutely aware of our responsibility to drive the circular economy forward and are working hard to drive innovative solutions to close the loop on used plastic and protect our planet".
"We have to act with urgency as lack of action will result in millions of tonnes of plastic waste continuing to leak into the ocean if we do nothing today. The progress the alliance is making in just 18 months is the start of a long road ahead. But we can shorten the road significantly when we act together across industry, governments, civil society and development agencies. The problem is solvable and our strategy is to apply a holistic approach backed by deep technical knowledge and resources from the full plastic value chain," said Jacob Duer, President and CEO, Alliance to End Plastic Waste.
Sabic's sustainability program guides its ambition to be the world's preferred supplier of chemicals by 2025.

ENERGY-EFFICIENT MANUFACTURING
Sabic's manufacturing affiliates in Saudi Arabia are fully committed to complying with the first cycle targets set by the government-led Saudi Energy Efficiency Program (SEEP). Over the last five years, they have taken several initiatives to meet these targets.
Despite several challenges and difficulties, Sabic affiliates successfully reduced approximately 80 per cent of the overall gap from targets based on the performance report issued by Saudi Energy Efficiency Center (SEEC), which is driving the programme.
Sabic has so far completed more than 170 initiatives and projects with a total investment of SR4.6 billion ($1.23 billion). It has also invested in building its competencies and capabilities by certifying more than 100 engineers through its certified energy expert courses, besides providing awareness sessions to more than 250 frontline staff. As part of the capability building, Sabic has developed smart enablers such as advanced simulation tools.
Some of the challenges faced by the affiliates were the continued use of some outdated assets at the plants as well as old technologies that required upgrading to comply with SEEP targets. This required huge investments and game-changing technologies that were unattractive from the business perspective. However, after careful evaluation, the affiliates now have more than six new ongoing mega projects with the potential investment of SR3.2 billion, besides the already-spent investment.
The affiliates are also considering similar initiatives to comply with future targets, including investing in breakthrough technology, renewable energy, integrated cogeneration, digitisation, etc.