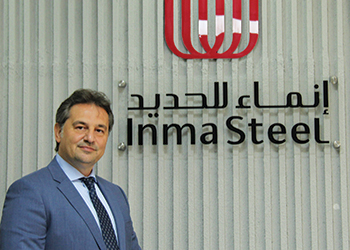 Kalahji ... in pursuit of long-term sustainable improvement
At Inma Steel Fabricators Company, excellence is not only a core value but also the foundation on which the organisation is built.
The subsidiary of Alturki Holding, founded in 1984, is no stranger to the dynamic and fast paced oil and gas industry, which is why it pays special attention to cultivating operational excellence in all its departments.
When asked about its significance, Managing Director Muntaser Kalahji remarked: "For us at Inma, operational excellence is a mindset that nourishes the pursuit of long-term sustainable improvement by producing goods and services that create value for our stakeholders. We are focused on using the right tools and methods to ensure each step of our production and provision of services minimises waste, helps in identifying inefficiencies and in turn creates value."
It's no wonder then that Inma Steel has committed itself to implementing systemic changes in its processes in order to bring it closer to its goal of continuous improvement and value creation.
Commenting on this further, the company's Operations Director, Ergun Yildiz said: "One of the many ways in which we have succeeded in streamlining our processes has been through the implementation of lean manufacturing and deploying TQM tools in our operations. This has helped us to systematically eliminate waste in production whilst ensuring that the highest quality is maintained right from the start. Be it delays, defects or overproduction, we control for all these variables so that any and all waste is minimised.
Inma Steel is implementing systemic changes in its processes
"Also, by organising workflow in the most efficient manner, we are able to not only identify but also rectify any potential problems that might emerge later on thereby enabling us to achieve the best outcome with minimal resources. Additionally, this helps us to successfully avoid any interruptions during the work thereby keeping production tight and the processes running."
On Inma Steel's quality approach, the company's Technical Director, Huzaifa Daudi said: "Customer focus, improvement and process approach are the drivers of our quality management system. Quality is a mindset and way of thinking that exists in every process and transaction being performed at Inma Steel."
Another way Inma Steel is paving the path for its contemporaries is by repeatedly proving itself to be a reliable partner for customers and stakeholders. It does this by heavily focusing on creating value for its clients and understanding their needs and expectations.
Speaking about this aspect, Kalahji commented: "We are an integral part of the value chain of our customers and clients in the industrial infrastructure sectors and, therefore, it is imperative for us to not only understand their needs but also to meet and exceed their demands.
"We value our customers which is why we always go the extra step to satisfy their expectations and always, fulfil our promises. This is how we have built our reputation of being reliable over the years and it is a responsibility that we take very seriously."
Inma Steel's long association with prestigious clients like SABIC is testament to its commitment to value creation and building sustainable relationships that are mutually beneficial and built on trust.
Inma's Supply Chain and Digitisation Director, Mohamed Radi further elaborated: "We follow a continuous improvement approach towards processes whereby all the company's activities and processes are integrated to ensure that the customer is at the heart of all our processes. This ensures the success of our ongoing digital transformation journey, where digitisation becomes customer-value driven rather than a checklist of automated processes."
Inma Steel, based in Jubail, Saudi Arabia, is a market leader in engineered to order process equipment and specialised in industrial preventive and corrective maintenance services; such as, equipment installation, mechanical repairs, and plant turnaround and shutdown services. It services clients in multiple industrial infrastructure sectors namely oil and gas processing, refineries, petrochemicals, fertilizers, power, water and chemical process industries.