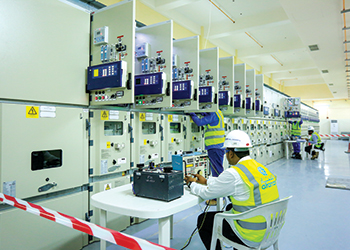 Alfanar Engineering Services provides comprehensive services and solutions
Alfanar Engineering Services' is a one-stop shop for asset lifecycle optimisation and it is highly cognisant of the critical challenges faced by clients, particularly in the oil and gas industry, Amer Al Ajmi, the company's General Manager, Engineering Services, tells OGN
With a whopping 942 critically acclaimed projects including testing and commissioning of critical installations field services, operation and maintenance, Alfanar Engineering Services is a trusted solutions partner for clients in the oil and gas, power, water and heavy industries.
The company, a specialised division of Alfanar, provides comprehensive maintenance and operational services and solutions, which are delivered by a highly skilled team of professionals to varied industries.
As a trusted solutions partner for the complete asset lifecycle, Alfanar Engineering Services provides:
• Installation and testing and commissioning of generation and T&D.
• Steel structure fabrication
• Repairing and rewinding services for motors, transformers and generators
• Advanced technical training with simulation and practical classes
• Comprehensive operation and maintenance solutions
• Calibration services (onsite and lab)
• Only approved manufacturing facility for preformed coils by Saudi Aramco in KSA
• In-house manufacturing of enameled and insulated round and rectangular conductors (paper, enameled and fibreglass).
Alfanar Engineering Services does in-house manufacturing
Alfanar Engineering Services' value of being the one-stop solution for optimising the asset lifecycle is what makes it stay ahead of the competition.
The company is highly cognisant of the critical challenges faced by clients, particularly in the oil and gas industry, to ensure the performance and operation of a new facility or the downtime and availability concerns of assets during planned or unplanned shutdowns.
Its stringent commitment to quality and a timely delivery has made us a trusted partner for the likes of Saudi Aramco, Saudi Electricity Company (SEC), Sabic, Saline Water Corporation Company (SWCC), to name a few.
Amer Al Ajmi, General Manager, Engineering Services, discusses in detail how Saudi Aramco has supported its local partners.
He says: "Our association with Saudi Aramco and its affiliates dates back to the early 1990s wherein we manufactured magnet wires and provided repair and rewinding facilities for low rated equipment. But over the years we have realised the challenges faced by them in getting their equipment maintained on time and with a minimum downtime. Today, we provide manifold services to our clients from our state-of-the art facilities or through field services in the remotest facility areas."
When asked how important the services Alfanar provides to clients are, he explains: "Not long ago, clients from critical installations faced lot of uncertainty, particularly with maintenance of their expensive equipment. Shutdowns had to be planned months in advance so as to allow the equipment to be shipped overseas for maintenance. But now, with a capability to repair and rewind static and rotary equipment, such as transformers up to 200 MVA, motors up to 27,000 HP and generators up to 1,200 MW, the maintenance departments of our clients have these solutions at their doorsteps."
Al Ajmi adds: "We dedicate our growth to our key clients, and our commitment to them is reflected through the advanced technical training that we conduct to empower the new generation with hands-on technical training courses in asset management, which is in line with the requirements of their day to day work life as engineers and technicians.
"The trainings are uniquely structured, starting with analysing the needs of the trainees and preparing them accordingly. In addition, we also conduct free training from time to time for fresh graduates in a wide range of technical topics."
The global Covid-19 pandemic has been one of the challenges that has crippled a lot of activities, both individually and institutionally. However, Alfanar Engineering Services acted as the front line support for its clients' maintenance requirements by operating in full force and making its facilities and services available continuously. This has further cemented its trust among clients.
Alfanar Engineering Services has established a global footprint, offering services beyond Saudi Arabia, including the GCC, Iraq and Jordan. The company is providing testing and commissioning and technical training services for a host of clients in the UAE.
In the near future, Alfanar plans to set up workshops in multiple countries including Abu Dhabi and Iraq as well as engage in manufacturing LT motors at its multiple facilities in the Eastern Province of Saudi Arabia.