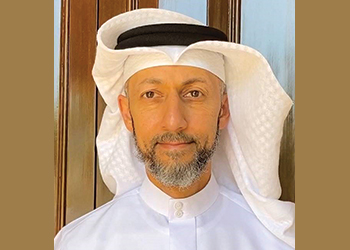 Kanoo ... putting the company on a growth path
Kanoo I&E's products and services portfolio is enormous and varied, but to stay in the lead, the company continuously adopts new technological innovations and always includes smart and new solutions in its offerings
For over 60 years, Kanoo Industrial and Energy (I&E), a business division of YBA Kanoo, has dedicated itself to bringing the best engineering products and services across industries to KSA and the wider GCC region.

"Whether it's the oil and gas sector, power and water, mining, petrochemicals, marine, and manufacturing industries in general, the company's team of experienced engineers offer unique value-added solutions to technical problems through a well-developed network of international companies and associates," says Ali Abdullah Kanoo, President Kanoo I&E.

Over the years, Kanoo I&E has yielded a large GCC client base, which includes Saudi Aramco, Sabic, Ma'aden, Abu Dhabi National Oil Company (Adnoc), Abu Dhabi Gas Industries (Gasco), Bapco and PDO Oman.

Tripathy ... customer focus
Specifically serving the oil and gas sector is Kanoo Oil and Gas, a major division of Kanoo I&E. With four main arms: Products, Services, Projects, and Manufacturing, the division's areas of expertise include drilling (supplies and services), flow control (valve assembly and repair), process solutions and instrumentation and chemicals.

Kanoo I&E's products and services portfolio is enormous and varied, and covers lifting and material handling equipment, heavy plant rentals, drilling muds and fluids, control and instrumentation, rotating equipment, electrical, NDT equipment and inspection services, marine equipment, combustion equipment, process equipment, analysers, power and motor diagnostic equipment and services, transformer services, turbine parts and maintenance services, corrosion control, pipeline equipment, safety supplies and fall protection systems, security systems, and general industrial supplies.
Furthermore, Kanoo I&E is also an IK-Manufacturer for safety relief valves and pres-vac valves and will be extending soon to ball valves, G-G-C valves and control valves in collaboration with its overseas partners.

All its supplies are backed up with extensive aftersales and OEM services, says Manoj Kumar Tripathy, CEO Kanoo I&E. "We carry huge inventory of spare parts at critical locations, provide mobile services with a battery of factory trained Service personnel available on call. We take up electro-mechanical contracts, painting contracts and pre-commissioning works. We execute lump sum turnkey jobs for shutdowns and T&I," he adds.

YBA Kanoo's offices in Saudi Arabia
To stay in the lead, Kanoo I&E continuously adopts new technological innovations and always includes smart and new solutions in its offerings.

Tripathy says here: "Although the oil and gas sector is slower than other sectors with regard to digitalisation, digital disruption and transformation is nevertheless now the key focus of every global oil industry conference."

He adds: "Over the past year, however, Big Oil and many companies in the upstream and downstream segments have started to adopt a growing number of digital solutions to seek cost cuts through innovation and new technologies.

"Many oil and gas firms, especially the world's biggest, are already using data analytics, cloud computing, digital oil fields, digital twins, robotics, automation, predictive maintenance, machine learning (ML), and artificial intelligence (AI)."

Needless to say, Kanoo I&E's manufacturing partners utilise smart and disruptive technologies and provide on-line support when needed.

YBA Kanoo's offices in Bahrain
It has ushered in products and services that undergo required changes to be suitable and perform on the latest technological platforms they are meant to be on.

"Our primary aim is to cater to our customers' requirements and demands of the industry. We provide inputs to our specialists and partners, who incorporate those into the design, and sometimes surprise our clients with the results.

The company does its own designing based on client requirements for specific jobs and product modifications in the Kingdom.

For Yusuf bin Ahmed Kanoo Group (YBA Kanoo), which turned 130 this year, the journey from humble beginnings to becoming a conglomerate is nothing short of an epic voyage. The group tackles complicated challenges by introducing the right mix of diverse activities tuned to the dynamics of the industrial development witnessed in the region

The key to success is its 'customer-focused' approach, wherein it owns the requirements and problems of its customers and thus engages the right professionals to provide the best and most viable solution. Learning and fine-tuning to the market never stops at YBA Kanoo.

YBA Kanoo has established solid, long-term joint-venture partnerships with many of the world's leading companies, making it the partner of choice for regional businesses. It has done so through a reputation earned by consistently adhering to the best international standards and by operating at optimum levels of productivity.

The group has greatly contributed to the Kingdom's development and has for years successfully run the joint ventures it set up in the country.

Commenting on the group's role in relation to Saudi Arabia's Vision 2030, Ali Abdulla Kanoo says: "We've promised ourselves to continue contributing to the economy, create job opportunities for locals, and develop the leadership and entrepreneurship capabilities of the younger generations.

"It is very encouraging to find that today our vision is endorsed by the government as well as all major Saudi companies including Saudi Aramco, since diversity and localization are key to the Kingdom's future. "
Covid-19 PANDEMIC
Like all businesses, YBA Kanoo was not immune to the situation caused by Covid-19 either. But the team has helped the group effortlessly sail through the rough weather to cope with and stand up to the expectation of our clients.

Ali Abdulla Kanoo says: "In line with our existing business continuity planning (BCP), we quickly responded to the situation by creating back-up functional blocks in our services, garnered available local knowledge, roped in alternative resources, adapted to 'work-from-home' operation to maintain business continuity required.
"True, our project executions were paused for a short while but having coped with and understood the situation well, we once again resumed with determined precautions based on health directives from the authorities, HSE audits, etc."
He believes every situation "only makes you stronger".

"Like they say when the going gets tough, the tough get going. You either succeed or end up learning. But it will nevertheless leave you always prepared for the next. This is an experience of a kind and hope it ends soon," Ali Abdulla Kanoo concludes.