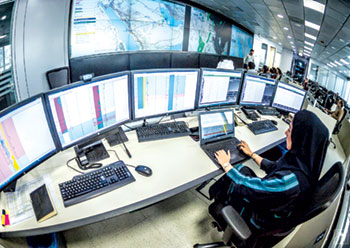 The Expec Arc Geosteering Centre
Empowering employees with development and mentorship opportunities has always been a mainstay at Saudi Aramco, and the Expec Arc Technician Development Programme is a prime example of that commitment paying dividends
Saudi Aramco's Exploration and Petroleum Engineering Centre – Advanced Research Centre (Expec Arc) Production Technology Team has successfully completed the technology development of the world's slimmest, most compact hydraulic tractor, jointly developed with Western Well Tools (WWT).
The new technology was trial tested with the support of Northern Area Production Engineering and Well Services, and the Northern Area Reservoir Management departments. This new generation of slim, compact but strong tractors was recently trial tested with major success in Manifa field.
This success represents a major breakthrough with global implications in small diameter extended reach wells. The technology is cost-effective, as it is rigless.
Extended reach wells in the Manifa field can go up to 24,000 feet in length. Available technologies to stimulate these wells cannot reach the full well depth as the coiled tubing (CT) units have a maximum reach depth before they lock up (buckle), and therefore, the pipe cannot be pushed farther.
Subsequently, there are tractors that can pull the CT unit and help reach deeper depths. What makes existing technologies unusable in Manifa is the well architecture, which has a limited access of about 2.3 inches.
The reason is the presence of what is called a Y tool, which has an electrical submersible pump in it. Although there were several trials throughout the industry to develop similar slim hydraulic tractors, the pulling force of those developed tractors was insufficient to reliably pull the CT to total depth in the extended reach wells.
With this small diameter, there was no tractor in the market that could pull the CT deep enough. Expec Arc took the challenge and developed this technology to address this business need.

CHALLENGE ACCEPTED
A collaborative research and development project was started by the Expec Arc Production Technology Team with WWT in 2013. Several concepts were tested to design and manufacture the world's slimmest, most compact, and most powerful tractor.
Throughout the past couple of years, the project progressed through a series of development and operational milestones until the recently executed field trial. The tractor is now the world's slimmest, most compact CT tractor (2.125 inch outer diameter, 20 feet in length), and it's a key enabler for intervention in horizontal extended reach open hole wells that have small inner diameters.
The new technology will help the engineers inject stimulation chemicals deep into the well. More stimulation means more oil production. The tool will also be modified to enable pulling logging tools deeper to areas that were otherwise inaccessible.
Automotive technologies on display
It should be noted that the tractor does not require electric power to operate. It is run by the hydraulic power generated by water that is injected through the CT. Water runs through uniquely designed subs creating the required mechanical energy to operate the tractor arms, which grips the rocks and pushes the tractor
 forward.

MAXIMISING PRODUCTION
This new technology provides significant impact in supporting Upstream's goal of ensuring Saudi Aramco operations' cost efficiency, as well as maximising production from extended reach wells.
The Slim, Compact, High Pull Force Tractor allows reservoir engineers to have the ability to manage the reservoirs at the lateral level in terms of acidising operations and ensure maximum pay zone coverage. It also provides production engineers with an enabler tool to more reliably conduct intervention operations, knowing with confidence that intervention will be possible in more complex, restricted extended reach wells.
"One major aspect of this new technology is how it was uniquely designed to go smoothly through the smallest restrictions, then expand downhole to much bigger diameters and provide reliable and safe powerful performance in cased and open holes. This was clearly reflected in the industry record pull force and tractoring results of the field trial," says Abubaker Saeed, the project leader and member of the Expec Arc production technology team.
"Major endeavours, such as the Slim, Compact, High Pull Force Tractor, are representative of the collaborative research and development projects Expec Arc strives to achieve – not only to address our Upstream challenges but also to strengthen our industrial position as a leader in technology development and deployment," says Ali A Al-Meshari, manager of Expec Arc.
With an eye on empowering and engaging young employees, the Exploration and Petroleum Engineering Centre – Advanced Research Centre (Expec Arc) has launched several development programmes over recent years targeting diverse niche groups (e.g., young researchers, women employees, etc.) with the goal of expanding their skill sets.
The latest initiative incorporated into the department's umbrella talent programme is tailored for Expec Arc technicians. Technicians are a significant population of laboratory employees who play a pivotal role in the success of Expec Arc technology research and development, testing, and developing solutions in the laboratories.
Half of Expec Arc's technology divisions rely on key skill sets of technicians to succeed in delivering technology solutions to Upstream proponents. The latest initiative, incorporated into the department's umbrella talent programme, is tailored for Expec Arc technicians. As a significant population of laboratory employees, technicians play a pivotal role in the success of Expec Arc technology research and development, testing and developing solutions in the laboratories.
Half of Expec Arc's technology divisions rely on key skill sets of technicians to succeed in delivering technology solutions to Upstream proponents.
The Expec Arc Technician Development Programme was created in collaboration with the Professional Development Department/ Talent Assessment and Coaching to address technician development. It also includes improving management's soft skills to better engage and empower employees.
To launch the programme, Expec Arc held the first town hall meeting in July with over 100 early career employees to acknowledge their contributions in Expec Arc's success, emphasise their role in achieving Expec Arc's vision, and seek their support in accomplishing even more.
A lively question-and answer session resulted in technicians asking questions, voicing concerns and suggesting improvements especially in human development. The following showcases examples of the impact and how technicians contribute to Upstream's success.

EXAMPLES OF SUCCESS
Mohammed L. Subhi and Ahmad Al-Humaidi, with the Advanced Technical Services Division Drilling Fluids and Cement Unit, illustrate the high-impact role that technicians play. They took the initiative to conduct intensive research, innovative thinking, and comprehensive lab testing to develop the cement oil-based mud (OBM) spacer formulation.
"As technicians, we are empowered to take initiative. We observed the increasing proponents' demand for OBM and the high cost, and decided to investigate whether we could develop something better in-house to provide cost savings. And with the freedom to innovate, we did," says Subhi.
The OBM spacer has achieved an outstanding record of over 250 field deployments, along with remarkable cost savings and field performance. It provides effective fluid separation during the cementing operation to prevent high fluid viscosity mixtures from forming, leading to a successful cement job.
"Localisation and cost efficiency are two of the main drivers in our drilling operations. The locally sourced Saudi Aramco OBM spacer is a perfect example of how the innovative minds in Expec Arc are providing cost-effective solutions to our cementing operations," says Najeeb I. Abdulrahman, manager of the Exploration and Oil Drilling Engineering Department.
"Communications with our proponents are essential and a rewarding part of my job," notes Al-Humaidi. "Drilling and Workover were continuously asking us for a cement spacer for oil-based mud, so we designed the technology to support their specific technical challenges in Saudi Aramco fields."
As the newest addition to the Reservoir Engineering Technology Division In Situ Sensing (ISI) technicians, Hussain A. Shateeb has contributed to almost all ISI projects. He learned to handle several experimental procedures and spectroscopy techniques in a short time.
Shateeb's lab contributions with the Advanced Tracers project earned him his first technical publication as coauthor and participation in two field deployment tests; his work on contrast agents for the magnetic nano-mappers project made him a co-inventor on a patent.
"Since joining Expec Arc, I have learned new instruments and techniques to improve data collection," says Shateeb. "Working directly with engineers and senior researchers has allowed me to learn much about our nanotechnology projects. Such new skills have helped me develop as a person and as a technician."
He is also heavily involved in nano-surfactant coreflooding testing to evaluate the new class of surfactants in enhancing oil recovery. Abdullah M. Al Boqmi of the Reservoir Engineering Technology Division is a coauthor of four Society of Petroleum Engineers (SPE) conference papers and two SPE journal papers covering research in bio-based chemical enhanced oil recovery, gel-based conformance control, and SmartWater/polymer synergies.
He is a co-inventor of two patent applications related to determining trace amounts of oil via spectroscopic absorption. Such work serves as a clear indication of Al Boqmi's mastery of experimental techniques and strong contribution to the team.
"For me, the need to regularly think outside the box is most motivating. When we face a problem with the research or a lab experiment doesn't go as expected, we need to apply our innovative creativity to discover a new way to solve it. It is truly a satisfying field of work," commented Al Boqmi.
Abdul-Aziz Al- Ghamdi's work in developing a new procedure to enhance the hydrogen sulphide testing procedure in the Formation Damage and Stimulation labs led to his abstract for Lab Tech 2017. Another paper for the SPE International Conference and Exhibition covers product evaluation, which correlates laboratory investigation to field trials. His lab work has supported the deployment of many technologies, including seawater- based fracturing fluid and a new acid recipe that improves well productivity.
"With citizenship being one of our top values, I take pride in delivering highend technological inventions," Al-Ghamdi says proudly. "It is a really rewarding experience to be part of the high-impact solutions that help our country's economy. And to contribute to that cause is, on its own, a reason to wake up energised every single day." Al-Ghamdi was recognised for his overall high performance with the outstanding employee award in his division's annual meeting.
Badr H. Zahrani contributes to reservoir technology development and is an expert in assessing select surfactant and polymer (SP) potential impacts on production facilities and the efficiency of separation of produced fluids resulting from chemical flooding operations. He is a key technician in the evaluation and development of SP formulations and has completed the screening of over 35 formulations.
"I have grown in my career due to two things: Finding out what training I need, and pursuing it. No one cares about my career as much as I do, and Expec Arc provides the support and tools that allow us to direct our careers and development to best match our interests," says Zahrani.
He has also assessed the Beijing Research Centre's experimentations for SP interaction effects prior to laboratory commissioning and coauthored several publications.
Mustafa R. Satrawi is one of the main developers in many reservoir technical areas and also takes a lead in safety initiatives. Since joining Saudi Aramco in 2015, he has contributed to the successful completion of projects from the laboratory to the field and developed high standards of laboratory safety.
"Expec Arc provides a challenging environment that requires technicians to continuously gain knowledge and hands-on training. The work drives me to become a confident, self-motivated technician who actively contributes to the rewarding success of new scientific research projects," he says.
Satrawi created and manages the lab safety bulletin board and updates the monthly safety tip to raise the standard of daily lab activities, and he implements daily safety exercises within the Pore Scale Physics focus area. Salman M. Al-Qathami provided technical support and field testing for the Pyrolytic Oil Productivity Index (POPI) technology, including troubleshooting electronic components and computer software. He trained colleagues and service companies in implementing POPI technology in the field for geosteering, the use of GC-ROX software and interpreting data.
Al-Qathami coauthored four abstracts, provides expertise with the sulfur sequential extraction lab, and has improved methods to analyse elemental sulfur in the Wasit Gas Plant. "I didn't imagine a career in lab work would take me to the field, but the POPI project has required extensive involvement on-site. Geochemistry research has grown tremendously, bringing many exciting challenges and opportunities for me to lead, challenge myself, and grow professionally," says Al-Qahtami.
He improved protocols for controlling black powder in sour gas fields, and protocols related to geosteering applications using GC-ROX software.
Ali M. Al-Safran is a co-inventor of over 10 drilling technology applications related to localisation research. His reliable work in resin helps the team expeditiously achieve all required lab testing, and his skills in calculation, measuring, and deploying technologies are valued by proponents. Al-Safran has coauthored several papers related to drilling fluids and cementing, and he develops lab procedures and required testing to simulate field conditions for deployment.
"Being a key contributor to drilling fluid technologies has instilled a great deal of confidence in me and made me eager to work on more cutting-edge technologies," he says.