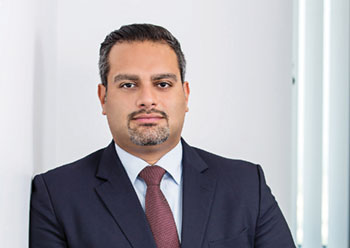 Vezvaei ... achieving milestones
Established in the region for over half a century, the company has been committed to delivering solutions that are enhancing energy sustainability and providing state-of-the-art operational excellence
Bilfinger, a leading global player in engineering and process plant services, has rolled out innovative products such as BCAP digitalisation solution, BMC, as well as the artificial intelligence-powered PIDGRAPH that go hand in hand with the Saudi Arabia's drive for increasing efficiency and productivity under Vision 2030.
"This has been the hidden internal source of profitability for the kingdom's massive industrial sectors, from hydrocarbon and energy utilities all the way to smaller industrial base and production units," says Ali Vezvaei, president & CEO, Bilfinger Middle East.
Established in the region for over half a century, Bilfinger, has been committed to delivering solutions that are enhancing energy sustainability, providing state-of-the-art operational excellence, implementing world-class and practical train-to-hire programmes designed to address the job market's white spots and drive innovative digital solutions aimed at increasing productivity and profitability, he says.
The BCAP digitalisation solution
"As part of our strategy for the kingdom, in harmony with the Vision 2030, we have defined some key milestones. One was to further expand our footprint in the kingdom, which we have successfully accomplished. With presence extended from the Dammam on the east coast to Yanbu and Jeddah on the west coast, we uphold our commitment to be close to our customers. The other one was the train-to-hire programme that was launched early this year and is developing very nicely. We have seen great interest from young Saudis and are committed to continue building upon this momentum," Vezvaei says in an interview with OGN.
Vision 2030 is an honest and fast forward reflection of the future for a nation that is determined to drive sustainability, to excel and to grow its economic prosperity beyond the hydrocarbon molecules. Such a grand plan naturally includes developing skilled resources and putting them to work, building and fostering local eco-systems to create those opportunities and diversify the existing industrial base by embracing technology and digital transformation, he explains.
"These very well resonate with our strategy and what Bilfinger Middle East brings to the table," he adds.

Excerpts from the interview:
As Saudi Arabia moves towards digitalisation, how will it (digitalisation) pave the way for Bilfinger's overall growth in the kingdom?
Bilfinger has been at the forefront of digitalisation for some time with the natural advantage of having been associated with both the Capex and the Opex worlds for many decades. This integrated  knowledge enables us to look along the lifecycle holistically with focus on finding areas of optimisation and improvement. From the state-of-the-art design and engineering solutions such as the AI-powered PIDGRAPH, to assets' digital twin all the way to the world of big data lakes with our innovative BCAP, Bilfinger is all in on digitalisation.
We strongly believe that in today's more than ever competitive and volatile business world, this is the next chapter of industrial development, where optimising assets' life cycle costs, beyond Capex into Maintenance and Opex, offer tremendous opportunities and upside. You can call this "the productivity per molecule, where it is no longer that the big beats the small, but the fast beats the slow". That is why we have established a dedicated digital company within Bilfinger to further our agenda here and unsurprisingly we named it "Bilfinger Digital Next"!

How is Industry 4.0 changing the face of automation in Saudi Arabia and the region?
Digital transformation has several pillars. It began with Industry 4.0, where connectivity, automation and data intelligence converged into doing things more efficiently and at a lower cost. The latter is what the industry across the GCC would surely benefit from in better positioning itself in the global market place. It also supports the progress on the Vision 2030 on two fronts: on the one hand, creating interesting jobs for young regional and Saudi talents, and on the other hand enhancing the competitiveness and productivity that are the essential components of a successful investment base export industry.
We at Bilfinger are no strangers in this field. For many years, we have been innovating our way with solutions ranging from standard automation in factories all the way to sophisticated multi-layer systems in the hydrocarbon industry.

As part of Saudi Aramco's In-Kingdom Total Value Add (IKTVA) programme, what targets have you set for yourself? How much has been achieved so far?
In my view, Aramco's IKTVA is an integral part of the Vision 2030 not only by design but also by DNA. Without a well-developed local eco-system of manufacturers, suppliers and service contractors, connected to the largest source of capital spent in the country, the required sustainability and momentum would not be there. In addition, IKTVA motivates a lot more than just "Made in Saudi Arabia". It involves developing the local capabilities and a competitive landscape that are conducive to growing direct investment in the country, fostering the much-needed SME sector.

How has your relationship with Saudi Aramco evolved over the years? What are the new Aramco projects that you are executing?
We have always enjoyed a trustful and collaborative relationship with Saudi Aramco. I must admit from personal experience as well that they are a very good customer to work with. You might use the phrase "firm but fair". What I really like about Aramco's culture is that they do not see themselves on the opposite side of the table. They are usually ready to come in and help if the contractor's relationship and dialogue are transparent and trustful.
We have recently been entrusted by Aramco to upgrade the Berri Gas Plant air compression system. A complex project that needs to be done brownfield and without any operational interruption. Work is moving on nicely as planned.

How do you plan to expand your Opex business in Saudi Arabia, where the kingdom's aging industrial plants represent great opportunities for optimisation?
This is certainly a very interesting era in kingdom's industrial optimisation, where the quest for extra efficiency and drive for enhanced productivity are front and center. The pressure from ever more competitive and volatile global markets on the one hand and the momentum created by the reforms along the Vision 2030 and privatisation on the other hand are reshaping the Opex sphere. Considering the number and size of industrial assets in the hydrocarbon industry itself, the opportunities are significant; for the asset owners to squeeze more cost out of their value streams and for Bilfinger to enable clients achieve those objectives with world-class solutions such as BMC and BCAP. Our focus are predominantly on transforming maintenance from its traditional and reactive mode to the prescriptive, while capitalising on the enormous amount of data that is already available.

How do you plan to strengthen cost competitiveness in your operations in Saudi Arabia?
This is an area of continued focus, where we spend considerable time and effort including innovation in processes, integration of working platforms and above all the use of most competitive resources. The latter has, in light of Vision 2030 and associated reforms, been pivoting more and more towards the use of local resources. It includes local hire, local value chain including local fabrication and production. It is challenging at times, but like any other reform it will get to a steady state.

Can we look at some of the achievements and new contracts of Bilfinger in the region during 2017-18?
As I mentioned earlier, we have been an integral part of the region's fascinating development for more than half a century. Helping our clients produce many gigawatts of power every day to feed the consumers here in Saudi Arabia without interruption, taking care of the entire air compression upgrade at an aged large-scale gas plant so that it can reliably deliver to its critical mission of processing strategic molecules to other downstream industries, helping the world's largest ethane cracker maintain its furnaces in best shape year after year are amongst a few examples of flagship projects we have the honor and pleasure to be associated with. The list is 50 years long…

Do you plan to expand and invest further in the region? If so, kindly elaborate?
We are well established in the region with several thousands of colleagues in Saudi Arabia, Kuwait, United Arab Emirates, Oman, Bahrain and also now in Egypt providing engineering as well as maintenance modification and integrated projects; In short – Engineering and Maintaining Plant Performance.