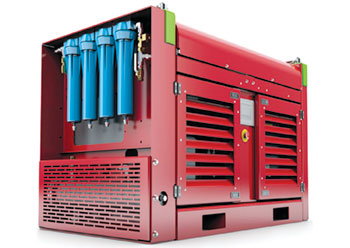 Bauer's Cascade
Blow out preventer, blanketing and inerting are the applications, where the nitrogen generator SNG 4S plays a vital role
Bauer Kompressoren, the world leader in the manufacture of high pressure breathing air and industrial compressor systems, has launched the newly developed nitrogen generator Cascade, which supports critical applications on a rig.
Blow out preventer (BOP), blanketing and inerting are the typical applications, where this nitrogen generator SNG 4S plays a vital role, says a company spokesperson.
Not having nitrogen at high pressure on a rig could be as risky as causing the explosion of the rig, she says.
Transporting Cascade to city might not be possible in case of heavy rains or storms. SNG 4S can top up Cascade at 5000 PSI without having to ship them back and forth in the city.
This unit takes instrument air available on the rig through air separation membranes and delivers high purity nitrogen (98 per cent) at high pressure (5000 psi).
Bauer's product range is defined by the following parameters: Pressure 350-7000psi; (25 - 500bar) medium: air, nitrogen, helium, argon, hydrogen and natural gas. Flow Rate: 4-940scfm (6-1600m3/h). The compressors are used for breathing air and multiple industrial applications.
The Bauer Kompressoren facility in the UAE incorporates a sales office, service department and workshop facility. With its experienced service engineers, Bauer is able to provide fast and reliable service, maintenance and spare parts supply.