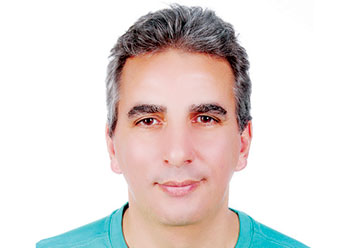 Yassin ... adding new capabilities
The company's vision and motivator is the thirst for a greater knowledge of the well system, which combines the well completion and reservoir
TGT Oilfield Services, the market leader in through-barrier diagnostics for the oilfield, has grown year-on-year even during the downturn and the company expects to see an improvement in both activity levels and pricing as the industry stabilises further.
"Despite the drop in oil price, the demand for TGT diagnostic services grew significantly. Our focus on technology and applications that diagnose the performance and integrity of existing wells is exactly what our clients needed during the tough budget years.
"We expect that need to continue. We protect our market share and growth by continuing to fund technology development despite the market climate. Customers recognise the depth of our technical and sub surface knowledge, which has been built up over the last 20 years," says Maged Yassin, business unit manager, TGT Saudi Arabia. The company's vision and motivator is the thirst for a greater knowledge of the well system, which combines the well completion and reservoir. This speaks for itself when one considers that more than a third of its headcount is dedicated to R&D and technology development, says Yassin.
Recently, TGT migrated its sensors to a custom-built 'low-noise' hardware – Indigo – designed to operate at 'low noise' so not to interfere with its acoustic-based 'spectral' and electromagnetic-based 'EmPulse' diagnostic systems.
Additionally, the company added a real-time capability to its fleet of through-barrier diagnostic systems. The new real-time technology enables well data to be viewed and analysed at surface during the execution of well diagnostic programmes without compromising on measurement fidelity. "We never stop, continuously improving our services and our offerings," says Yassin.
TGT provides a wide range of through-barrier diagnostics. Patented technologies are deployed on any conveyance and sense beyond the well bore to answer multiple reservoir flow and well integrity questions. The company offers these services in Saudi Arabia via in-country assets, geoscience and advanced interpretation as well as business development and field operations. TGT was founded on research and development. "Our technologies include advanced flow profiling deep into the reservoir, unconventional and fracture flow, multi annuli leak detection and multi barrier corrosion among others. We pride ourselves not only on equipment technology but also advanced geoscience and interpretation capabilities," he says.
"Saudi Arabia represents one of our most significant markets," he says. TGT has in place a stringent Saudisation development plan and technical knowledge transfer through academia alliances. Referring to Saudi Aramco's In-Kingdom Total Value Add (IKTVA) plan, he says the published target is 35 per cent by 2020.
"TGT will comply with or exceed these targets on all fronts (equipment, human capital, safety and environment) as we establish ourselves further in the kingdom," he asserts. On the company's relationship with Saudi Aramco, he says Aramco is a highly sophisticated organisation, with a strong emphasis on strategic planning to optmise operations.
"Our relationship, like with all our customers, is built on a foundation technical competence, respect for the accuracy of the results we provide and our service delivery. We ensure we understand the customer's challenges before designing a bespoke programme to determine the answers they seek," he says.
Referring to business growth, Yassin says business has gradually improved in the last two years in terms of activity.
Pricing of services remains a challenge. The significant rebound of oil price will soon cascade to the market to ensure continued technology development and growth.
"TGT Saudi Arabia is one of our key dedicated business units, supported by a solid global infrastructure. While we continue to expand our global footprint, we will ensure we stay focused on our customers, proving the quality of our diagnostic results, striving to set ourselves apart from our competition," he says.