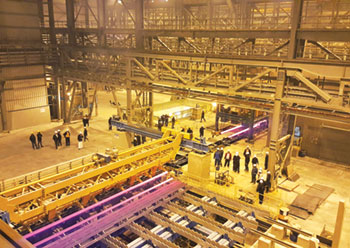 Al Qaryan ... accelerating growth strategy
The company, headquartered in Dammam, is accelerating the execution of its growth strategy while continuing to build on the strength of its talented workforce and its dominant position in the market
Headquartered in Dammam, Al Qaryan Group is a leading metal recycling, processing and trading company with strong regional and global presence.
Founded in 1988, the Al Qaryan Group has developed an extensive knowledge and expertise in the field of recycling and waste management and has successfully positioned itself as one of the leading metal recycling, processing and trading companies in the region.
The Al Qaryan Group initially diversified its business into transportation and logistics, heavy equipment, freight forwarding, general contracting, steel manufacturing, re-rolling, wooden pallet manufacturing and waste management.
It also executes dismantling and demolition projects with full adherence to quality, health, safety and environmental practices. All the company's services and activities are aligned with Saudi Vision 2030.
The company is accelerating the execution of its growth strategy while continuing to build on the strength of its talented workforce and its dominant position in the market.
"We have successfully transitioned from a single facility company to a reputable diversified organisation, garnering business from across the region, while earning the trust of our customers, suppliers and partners locally and internationally.
"Moreover, we have managed to expand our business in emerging markets, which has now become synonymous with our commitment to our credibility in the market. We are pleased with what we have achieved since our inception and even more excited about our outlook for an equally promising and rewarding future."
Diversification is critical to an organisation's ability to innovate and adapt in a fast changing environment, he says. That is why the Al Qaryan Group has developed an unparalleled expertise across a diverse range of specialised disciplines, from metal recycling, processing and trading to waste management services, taking full accountability for every project from start-up to final delivery.
This diverse portfolio of skills has allowed the group to evolve and mature into one of the industries' most sought-after and respected organisations, establishing a leadership position in every market and geographic region it serves.
The company's key customers include Saudi Aramco, Sabic and 26 affiliates, Saudi Telecom Company, the Royal Commission for Jubail and Yanbu, Saline Water Conversion Corporation, Saudi Electricity Company, Saudi Cement, Samref, Sadara and Satorp.
The Al Qaryan Group is an expanding business, eager to face the business challenges within the ever growing market and with a strong sense of commitment to its own future development, he says.
Saudi Arabia has been witnessing rapid industrialisation, high population growth and fast urbanisation which have resulted in increased levels of pollution and waste.
Waste management is becoming a big challenge for the government and local bodies every passing day.
Al Qaryan Group has taken the initiative to fix the problem using innovation and proven methodology.
Everywhere industry meets the environment, Al Qaryan is onsite, providing premier environmental, energy and industrial services. "Our turnkey approach to providing bulk transportation and waste disposal services provides liability protection, and our wide variety of logistic options, supported by our system of bulk waste disposal and management facilities, is unmatched in the entire kingdom.
The company provides an assortment of recycling, treatment and disposal options for hazardous and nonhazardous wastes. Additionally, it has numerous transportation methods to move bulk waste to the disposal centres.
Al Qaryan On-Site Services is a branded on-site/in-plant service delivery programme through which it provides a full range of environmental, industrial and waste management offerings. This signature programme is built on safety, quality, efficiency and integrity and has been offered by the group for over a decade now.
Meanwhile, the Al Qaryan Steel plant is planned to be expanded in future to produce a further 300,000 tonnes per year of billets. Al Qaryan Steel has installed the "coreless" induction furnace which is considered to be the more popular type.
The ladle furnace facility allows for the correct treatment of the steel (both analysis and temperature) resulting in economic, quality and productivity benefits. The plant, established in Dammam, 2nd Industrial City, Saudi Arabia, takes advantage of the availability of high-quality scrap from the Al Qaryan Group and the growing demand for steel in the kingdom and other GCC countries.