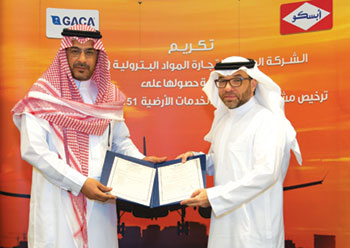 Engineer Azzam Qari, fuels director, APSCO, receives the licence
The firm's commitment to have all of its facilities inspected to JIG standards has been much appreciated and recognised by the entire JIG leadership and GACA. APSCO also accredited two of its employees as JIG inspectors
The Arabian Petroleum Supply Company (APSCO) has become the first company to acquire the licence for ground services operators 'GACAR part 151' from the General Authority of Civil Aviation (GACA) to supply aircraft with fuel in Saudi Arabia, which is aligned with the latest aviation international standards and in line with the kingdom's 2030 Vision. This new GACA licensing was recently implemented and enforced, and APSCO was the first to adhere to it, says a company spokesman.
In order to meet the required standards, the company has embraced sophisticated operational systems and conducted tests for department managers, including the adoption of the following operational manuals:
• Aviation Fuel Quality Control and Operations Manual (AFQCOM);
• Compliance with the rules and systems of aviation security;
• Aviation Training Manual (SM) and Aviation Safety Management System Manual (SMSM); and
• Aviation Quality Control and Site Operating Procedure Manual (AFQC & SOPM).
In addition, The Joint Inspection Group (JIG) introduced a new process, 'Inspected to JIG Standards' (IJS) and APSCO became an early adopter of the process, whereupon approved JIG inspector inspects each facility every year to ensure consistency and compliance with the highest aviation standards, he says.
APSCO's commitment to have all of its facilities inspected to JIG standards has been much appreciated and recognised by the entire JIG leadership and GACA. APSCO also accredited two of its employees as JIG inspectors, further highlighting its commitment to the new standards.
In line with its objective of delivering top quality plane services to customer airlines by complying with GACA regulations and the industry standards set by JIG, these steps were taken to continue to set high-level industry standards and maintain an elevated safety benchmark.
APSCO assures its customer airlines that it keeps developing its business, delivering state-of-the-art services that comply with the best industry standards that are in adherence with work rules. Additionally, APSCO ensures safety and accuracy are values that are upheld when dealing with all partners, including legislators and local and international aviation operators.