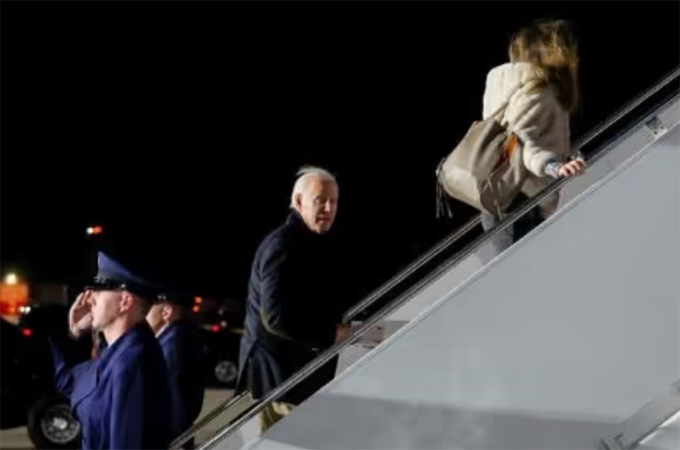 US President Joe Biden's administration will approve a major and controversial oil drilling project in Alaska, according to a source familiar with the matter.
The decision to move ahead with the project by authorising three drill sites in northwestern Alaska would come a day after Biden announced sweeping curbs on oil and gas leasing to protect up to 16 million acres of water and land in the region.
The Willow project, led by energy giant ConocoPhillips, would be located inside the National Petroleum Reserve-Alaska, a 23 million-acre (93 million-hectare) area on the state's North Slope that is the largest tract of undisturbed public land in the US.
Earlier on Sunday, the US Interior Department unveiled actions to make nearly 3 million acres of the Beaufort Sea in the Arctic Ocean "indefinitely off limits" for oil and gas leasing, building on an Obama-era ban and effectively closing off US Arctic waters to oil exploration.
In addition to the drilling ban, the government will put forward new protections for more than 13 million acres of "ecologically senitive" Special Areas within Alaska's petroleum reserve, the administration said in a statement on Sunday.
The area includes the Teshekpuk Lake, Utukok Uplands, Colville River, Kasegaluk Lagoon and Peard Bay Special Areas.
The developments unfolded as Biden tries to balance his goals of decarbonising the US economy with calls to increase domestic fuel supply to keep prices low.
Willow has support from the oil and gas industry and state officials eager for jobs, but it is fiercely opposed by environmental groups who want to move rapidly away from fossil fuels to combat climate change.
An environmental group said the new protections announced on Sunday did not go far enough and the government should stop oil and gas developments to help fight climate change.
"Protecting one area of the Arctic so you can destroy another doesn't make sense, and it won't help the people and wildlife who will be upended by the Willow project," said Kristen Monsell, a senior attorney at the Center for Biological Diversity. -Reuters