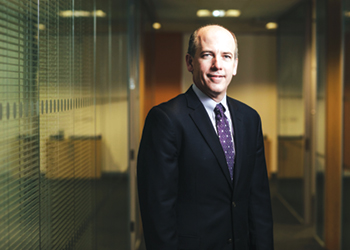 Shugart ... offering reliable valves
Hydraulic control valves need to display high levels of durability when safely dealing with fluids containing damaging debris, says SCOTT SHUGART, President, Drilling Controls, Proserv, a leading global controls technology company for the energy sector
We've all seen glossy brochures extolling the virtues of products that are 'world-class' and 'guarantee reliability' as part of their sales pitch," observes Scott Shugart, President, Drilling Controls, Proserv, a leading global controls technology company.
Such words can be overused at times but in hazardous industries such as oil and gas, these terms really need to mean something substantial. Drilling outfits and original equipment manufacturers, seeking to balance the tricky equation of cost management alongside maximum safety and efficiency of vital parts, want assurance that when they sign on the dotted line for a consignment of hydraulic control valves to support key roles within the blowout preventer (BOP) system, they can have absolute conviction that these components will do their jobs, he says.
The Middle East region, and the Arabian Peninsula in particular, have thankfully not experienced any major blowout incidents. Indeed, such occurrences are very rare, due to the multiple layers of safety mechanisms in place, but they do inevitably emphasise to the industry just how crucial it is to prioritise the robustness and reliability of components, Shugart notes.

TELLING STATISTICS
A Proserv Gilmore Mark IV Shuttle valve
Data released last year by the US Bureau of Transportation Statistics in its 2017 Annual Report: Blowout Prevention System Safety, covering BOP equipment failures on marine drilling rigs in the Gulf of Mexico Outer Continental Shelf found that 18 out of 25 operators associated with rig operations in the region reported a total of 1,129 equipment component failure events.
Only 14 of the 59 rigs operating at this time did not report some sort of failure event, further demonstrating that choosing the right parts and equipment is vital.
In the subsea valve segment, there were more than a dozen valve failures with two occurring as in-operation events and one leading directly to an unplanned stack pull, where the entire drilling operation had to be shut down in order to deal with the on-going issue.
Clearly, any reputable valve manufacturer needs to make sure the durability of their products is front and centre of the main arguments for end-users to acquire them. Proserv manufactures its Gilmore valves to perform functions topside, subsea and also downhole, each either helping to move fluids around safely and effectively or being able to rapidly flow fluid when a malfunction is threatened.

TRULY TESTED
Shugart says: "To ensure we know our products will do what we claim they will and so that rig operators have confidence in our valves, we perform rigorous testing to emulate what the parts will go through while in subsea operation.
Proserv's Gilmore facility in Houston, Texas
"We have been in the vanguard of working with industry groups such as the International Association of Drilling Contractors to advance regulations and we are now applying our knowledge and the latest standards to our valves." The current industry standard (API 16D) requires Proserv to cycle test one valve 1,000 times. Proserv is now exceeding this standard, qualifying its new "Gen 2" valves to 2,500 cycles to demonstrate their robustness. At present, this is an industry leading degree of scrutiny for control valves.
From a commercial perspective, exceeding the required standards of testing is undoubtedly advantageous for the company, but Proserv believes that when valves and other components undergo such extremes of pressure and flow rate, while handling fluids often containing damaging debris, then they need to display a greater amount of durability, from both a safety and efficiency standpoint.

RELIABILITY MATTERS
This also resonates with the prevailing mood in the oil and gas industry at present. Upstream operators and their service providers are now adjusting to a more streamlined and cost-efficient philosophy. The focus is much more on maximising returns and extending the life of assets. So component failures and rig downtime are red lines that should not be crossed.
If a critical valve leaks, then the BOP may have to be pulled and this would inevitably lead to multiple days of lost drilling time. The associated costs of this inactivity would soon spiral as the outlay of running a rig can exceed $700,000 a day, while the operator suffers higher costs and downtime is a further delay to actual oil production.
Proserv's testing of its Gilmore valves is industry leading
In the current market, it is also quite typical for offshore rigs to work intermittently and then revert back to a warm-stacked status for several months, depending on the likelihood of imminent future work. Such operational cycles are consequently having a detrimental effect on valves and other components, as the exposure to stagnant seawater can damage them.

NEXT GENERATION VALVES
It is the challenge for forward thinking valve manufacturers to direct their skills in design and innovation towards addressing these relevant issues facing their customers.
"We believe supplying proven, tested valves subsequently removes concerns over rig downtime and forced stack pulls for the end-user. In the same vein, if we utilise high performance alloys in our next generation of valves, that are far less likely to be corroded by stagnant seawater, then it stands to reason drillers and operators will be very interested in them," he says.
Reliability is undoubtedly a defining factor and all valve manufacturers have to recognise this is the bottom line. Drillers must know how long their equipment will operate effectively without failure, and ideally with greater longevity, thus reducing the frequency of valve change outs.
Gilmore's next generation of upgraded valves are now being designed to meet the demands of five years of maintenance free service in the harshest of offshore environments. Delivering valves of this durability will create heightened confidence in the industry, so contracts can be signed with greater certainty that there will be both fewer failure events and costly periods of inactivity.
To achieve this goal Proserv is designing, and investing in, industry leading labs to reliability test its valves ten times the present industry standard.
Ultimately, drilling firms need to know that the hydraulic control valves they are buying have not only benefitted from the design expertise and capability of engineers, but the finished product has been comprehensively tested to make it fit for use. These are the necessary steps to develop products that are truly world-class.