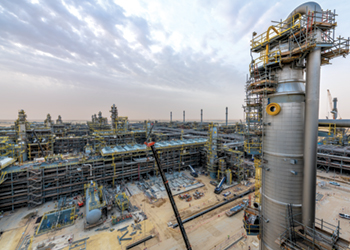 The Kingdom plans to significantly increase gas production
A long-term strategy aims to boost gas production and in turn free 1 mbpd of oil

Saudi Aramco is undertaking the largest investment programme in its history, demonstrating the company's growth ambitions.
Aramco aims to increase capex to SR187.5 billion ($50 billion) in 2022, compared to $31.9 billion last year.
Amin Nasser, President and CEO, says in Aramco's H1 2022 financial results that the approach is to invest in the reliable energy and petrochemicals that the world needs, while developing lower carbon solutions that can contribute to the broader energy transition.
One of Aramco's biggest and transformational projects is the $100-billion Jafurah unconventional onshore gas project in the upstream
The unconventional gas project is part of the country's long-term strategy to boost gas production and free up almost 1 million bpd of oil from domestic use, boosting export capacity.
Aramco has planned a phased development at Jafurah, which is expected to produce up to 2 billion cu ft per day (bscfd) of gas by 2030.
Jafurah is one of the largest shale gas fields outside the US with an estimated reserve of 200 trillion cu ft of gas.
This project will start initially with the construction and design of the Jafurah Gas Plant, which has a planned processing capacity of 3.1 bscfd of raw gas, expected to be completed in two phases by 2027.
Several global companies have been awarded contracts, including Worley, Saipem, Larson & Toubro, Samsung Engineering, Hyundai Engineering and Hyundai E&C.
Last November, Aramco announced the award of 16 subsurface and engineering, procurement and construction contracts worth $10 billion for the Jafurah gas plant and gas compression facilities, as well as infrastructure and related surface facilities.
Work is also underway at the Hawiyah Unayzah Gas Reservoir Storage and is at the advanced stage, with the injection phase nearing completion.
Once complete, the field is expected to produce 2 bscfd of natural gas by 2024.
Hawiyah Unayzah is the first underground natural gas storage project in the Kingdom, which will help manage seasonal changes in demand and in turn improve asset utilisation and cost efficiency.
Saudi Arabia's dry natural gas production exceeded 4 trillion cu ft for the first time in 2020.

Energy giant committed to net-zero goals
ARAMCO is working to increase production from multiple energy sources, including oil and gas, as well as renewables, and blue hydrogen.
Last year, Aramco published its first sustainability report, which outlines plans to achieve net-zero Scope 1 and Scope 2 greenhouse gas emissions across its wholly-owned operated assets by 2050.
The report also sets interim targets, including capturing, utilising, or storing 11 million metric tons of CO2 equivalent annually by 2035, and investing in renewables with an aim to generate 12 GW of solar and wind power by 2030.

These and other initiatives will support the company's ambition of reducing more than 50 million metric tons of CO2 equivalent (CO2e) annually, and the reduction of upstream carbon intensity by 15 per cent — from 10.2 kg CO2e per barrel of oil equivalent (boe) to 8.7 kg CO2e/boe — by 2035.