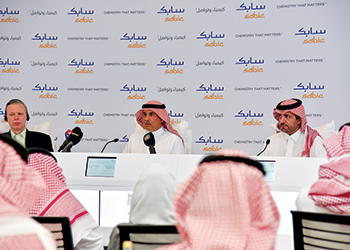 Sabic, a global diversified chemicals company, announced revenues of SR198.47 billion ($52.92 billion) for the full year of 2022, a 13 per cent increase over 2021.
Its net income for the full year, however, fell 28 per cent, to $4.41 billion, compared to $6.15 billion in the previous year.
For Q4 2022, Sabic saw net income fall by 84 per cent compared to Q3. It made only $80 million in the said quarter. Meanwhile, the company's revenue in the same quarter reached $11.46 billion, a decrease of 8 per cent compared with Q3 2022.
Abdulrahman Al-Fageeh, Sabic's CEO, said: "Sabic 2022 results remain strong despite challenging market conditions. Our sales volumes continue to grow, exceeding the previous year's sales by 9 per cent and driven by growth projects, improved reliability, inventory optimisation and synergies with Saudi Aramco".
In major projects, Sabic is studying the establishment of a 400,000 barrels per day complex to convert oil and liquids into petrochemicals in Ras Al-Khair, Saudi Arabia.
It has also signed a partnership with BASF and Linde to build the world's first demonstration plant for large-scale electrically heated steam cracker furnaces.
Elsewhere, Sabic and ExxonMobil announced the successful startup of Gulf Coast Growth Ventures world-scale manufacturing facility in Texas. The operation will include a 1.8 million metric tonne per year (mpta) ethane steam cracker, two 1.3 million mpta polyethylene units, and a 1.1 million mpta monoethylene glycol unit.
Sabic continued to be a leader in sustainable solutions over the course of 2022, leading and collaborating on several new milestones in its journey toward carbon neutrality, including Bluehero™.