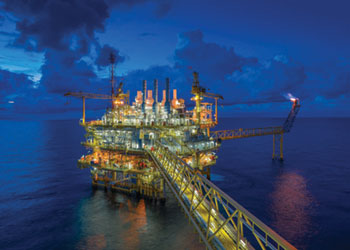 Unprecedented growth in Angola's energy sector is set to provide unparalleled opportunities for service companies in one of the most lucrative and prospective markets on the continent.
Angola's upstream market is projected to grow more than 1.5 per cent between 2022 and 2027.
Increased government focus on the development of hydrocarbons assets coupled with the discovery of new reserves are poised to drive market growth in the coming years.
As such, Angola's upstream activities have seen the participation of service companies, including Halliburton, Baker Hughes, FMC Technologies, Oceaneering International, Weatherford and SLB.
In the midstream, especially refining, Angola's capabilities remain well below domestic demand despite its position as a leading oil producer on the continent.
To address this, the government has demarcated refinery development amongst its highest stated priorities, opening up new opportunities for service companies.
Upgrades to the country's sole operating facility in Luanda to the tune of $235 million will be supported by engineering, procurement, and construction (EPC) contractor, KT-Kinetics Technology. Meanwhile, three new refinery projects in Lobito, Soyo, and Cabinda are in the pipeline.
To attract private investment for natural gas production, plans are underway for a second combined cycle plant in Soyo, with a capacity to produce 500 MW of energy.
To boost Angola's power generation sector, the government has implemented an ambitious infrastructure plan to achieve its targeted 9.9 GW of installed generation capacity and 60 per cent electrification rate by 2025.
Part of this plan has included the expansion of the government's budget dedicated to electricity production, transmission, and distribution from $482 million in 2021 to $490 million in 2022 while plans are currently underway to expand the grid from its current length of 3,354 km to 16,350 km by 2025.
Power generation and solutions companies active in Angola's energy sector include General Electric (GE), Cummins, Caterpillar and Westinghouse Electric Corporation.
Endowed with significant solar potential, various projects have been approved for development by the government as part of the country's Angola Energy program, which aims to install 800 MW of solar energy capacity by 2025.
A project led by MCA Group will develop the country's flagship 370 MW solar power project, which will comprise seven photovoltaic plants, consisting of approximately one million solar panels.
Separately, the 35 MW Quilemba Solar Power Station – planned to begin commercial operations by 2024 – is being spearheaded by TotalEnergies in partnership with Sonangol and Greentech.
Other development companies active in Angola's solar energy space include solar project developer, AfricaGlobal Schaffer, and clean energy solutions company, Sun Africa.
Meanwhile, the Ministry of Energy and Water has identified approximately 100 locations for the development of small-scale hydro projects capable of producing up to 600 MW of renewable energy.
The country's 960 MW Cambambe I and 700 MW Cambambe II hydro power projects have seen the participation of service companies such as Novonor, Andtriz Hydro, Voith and GE Renewable Energy.