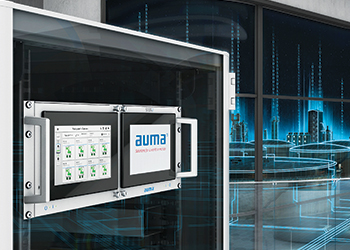 The SIMA² Master Station can supervise and control large numbers of valve actuators
By optimising communications between field devices and the host system, the SIMA² Master Station simplifies all aspects of configuring, controlling and managing valve actuators and other field devices over the plant's lifecycle
Electric actuator specialist AUMA has launched its new SIMA² Master Station, providing high-performance actuator control and supervision via open fieldbus standards.
By optimising communications between field devices and host system, the SIMA² Master Station simplifies all aspects of configuring, controlling and managing valve actuators and other field devices over the plant's life cycle.
While suitable for any type or size of petrochemical plant, SIMA² Master Station is particularly beneficial for extensive sites with a large numbers of actuators, such as tank farms and refineries.
"Our new high-performance Master Station strengthens AUMA's position especially on the oil and gas market", says Sascha Loth, Product Manager at AUMA.
"We have already supplied SIMA² to numerous reference projects worldwide, and it really is proving its performance. Our customers are enthusiastic about its ease of use and its extremely reliable and high-speed communication."
The system is powerful: One SIMA² Master Station can manage up to 988 actuators in four independent networks, arranged as loop or line topologies. The total cable length without external repeaters can be up to 296 km per network.
SIMA² has proven high-speed fieldbus. The system exclusively uses standardised, proven fieldbus protocols to ensure high-speed and reliable communication as well as long-term security of investment. It supports Modbus RTU and Modbus TCP/IP to communicate with the host, linking to the actuators via either Modbus RTU or Profibus DP. Cycle times are extremely short, enhancing process efficiency.
Furthermore, integral ethernet and OPC UA interfaces facilitate data exchange, ensuring future-proofing for The Industrial Internet of Things (IIoT) applications.
Also, the Modbus RTU loop topology with built-in redundancy ensures communication even in the event of a cable break, for instance, while hot-standby architecture provides redundancy at system level. Comprehensive diagnostic functions facilitate fault-finding and asset management.
SIMA² allows communication parameters to be set easily, and fieldbus networks configured, commissioned and tested, directly from the Master Station, thus speeding up commissioning. During normal plant operation, SIMA² coordinates all actuator commands and feedback signals, reducing host communications to an absolute minimum.
Operating the SIMA² Master Station is intuitive and convenient, whether using the large integral multi-touchscreen or an external web browser. The compact and ergonomic design of the SIMA² Master Station minimises installation time and cost. Housing options include 19-inch rack mounting or turnkey solutions, within a control cabinet or for outdoor installation.