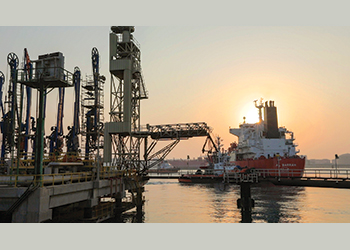 40 tons of blue ammonia shipped
Saudi petrochemicals giant Sabic and its partners Saudi Aramco and the Institute of Energy Economics, Japan (IEEJ) created history when they made the world's first blue ammonia shipment from the Kingdom of Saudi Arabia to Japan recently.
The Saudi-Japan blue ammonia supply network overcame challenges associated with the shipping of blue ammonia to Japan for use in power plants, with 30 tons of CO2 captured during the process designated for use in methanol production at Sabic's Ibn-Sina facility and another 20 tons of captured CO2 being used for Enhanced Oil Recovery (EOR) at Aramco's Uthmaniyah field.
The transaction also shows Sabic and its Japanese partners having taken a significant step towards a sustainable hydrogen usage and a circular carbon economy. Some 40 tons of high-grade blue ammonia have been dispatched to Japan for use in zero-carbon power generation. The announcement comes amid growing appreciation of the role hydrogen will play in the global energy system.
Sabic and Mitsubishi Corporation, which is represented on the IEEJ study team involved in the project, are overseeing the transport logistics in partnership with JGC Corporation, Mitsubishi Heavy Industries Engineering, Mitsubishi Shipbuilding, and UBE Industries.
This milestone highlights one of several pathways within the concept of a global Circular Carbon Economy, a framework in which CO2 emissions are reduced, removed, recycled and reused – as opposed to being released into the atmosphere.
Commenting on the milestone, Dr Fahad Al-Sherehy, Vice President of Energy Efficiency and Carbon Management at Sabic, says: "At Sabic, we can economically leverage our existing infrastructure for hydrogen and ammonia production with CO2 capture. Our experience in the full supply chain along with integrated petrochemicals facilities will play an important role in providing blue ammonia to the world."
For nations like Japan, which cannot utilise carbon capture and storage (CCS) or EOR, carbon neutral blue ammonia/hydrogen will help overcome this regional disadvantage.