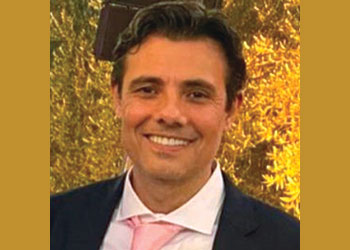 El-Dandachi digitalisation focus
Microsoft is encouraging energy companies to move their applications to the cloud ecosystem so they can reap maximum benefits of the available digital opportunities.
The global technology giant is investing heavily to bringing in the right technologies and solutions to empower oil and gas companies achieve their objectives of sustainability and to reduce carbon emissions in their energy transition journey.
"The oil and gas sector has long been a focus for Microsoft. Twenty years ago, we started with collaboration tools and platforms, and in the past few years, we have moved to more industry priority scenarios and industry use cases, such as operational excellence, which is more specific to the oil and gas industry," Ahmad El Dandachi, Microsoft Enterprise Lead for UAE, tells Abdulaziz Khattak of OGN energy magazine
Empowerment for Microsoft  is much more than throwing in technologies; skilling people is an component of that process. "Because in the end, it's all centred around how people are going to leverage this to drive this transformation," El Dandachi says.
And in all of this, security is at the heart of Microsoft's strategy especially when it comes to cloud services since that is a primary concern in digitial transformation.
Microsoft's stand at Adipec 2022
To that end, Microsoft announced a massive investment of $20 billion in its security platforms and products. This shows the level of commitment it has on bringing the right security solutions to help customers make the confident move to the cloud
"This investment will make certain Microsoft offers all the technologies, including proactive platforms, and services that will enable businesses to ensure they are operating on a secure platform."
Furthermore, last year at the Adipec 2022 Exhibition and Conference in Abu Dhabi, Microsoft made three announcements. The first is Microsoft Energy Data Services, a cutting-edge cloud-based OSDU Data Platform created specifically for the energy sector in driving actionable insights, enhancing operational effectiveness, gaining global scalability and reducing operational costs.
Also introduced was the Microsoft Sustainability Manager, which gives energy companies the tools needed to manage their environmental effect by giving them a precise, thorough, and up-to-date view of the footprint of their entire value chain.
In addition, Microsoft announced the launch of HoloLens 2, a metaverse and mixed reality tool that will enable workers in the field be more effective and productive.
Microsoft's collaboration has been with major corporations like Honeywell, Schlumberger, Halliburton, as well as regional and local organisations like Adnoc, Aramco, and Qatar Energy. "So we have all these partnerships happening in the region, and we're looking forward to continuing those partnerships," says El Dandachi.