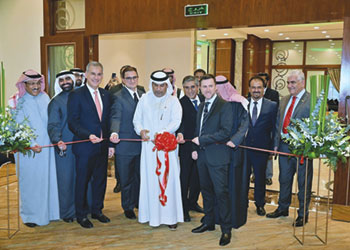 The opening of the ESF Mena in Bahrain earlier this year
ESF MENA – Middle East Energy and Sustainability Forum is expected to pave the way for crucial discussions and transformative changes within the downstream industry.
Supported by Sabic, leaders from the oil and gas downstream industry will gather in Riyadh, for the region's event dedicated to decarbonisation and sustainability from October 16-18.
Working together for a more sustainable, diverse and profitable downstream industry, the third edition of the event will have a strong focus on Saudi Arabia as the kingdom ushers in a new era with aims to reach net-zero by 2060 and the wider Vision 2030 ambitions to accelerate the energy transition, driving new waves of investment.
Stefan Chapman, VP of Euro Petroleum Consultants (EPC), said the forum is well-timed for the region. "It is clear to all that the downstream industry is faced with a number of challenges, from ever-evolving changing markets combined with a need for greater sustainability and clear decarbonisation goals. There is a mandate to provide cleaner energy, and this is a priority for all parties involved. What is also evident is that lower carbon refined, and petrochemical products will continue to play a major role in the future energy mix. Saudi Arabia is the perfect venue for these discussions."
The industry trending topics the conference will examine during the three-day event include the implementation of decarbonisation strategies and techniques from pathway to delivery, including integration and retrofits of downstream process equipment, improving reliability and overall efficiency, as well as the role of hydrogen, derivatives, and carbon capture in this transitional journey.
Beginning with the keynotes, the conference will hear from David Edmondson, CEO of Neom Green Hydrogen Company, and leading consultant NexantECA's VP Andrew Inglis, who will present a market overview of how the energy transition is evolving and the barriers and drivers that may impact.
These will be followed by a panel discssion to look at decarbonisation from pathways to delivery. The panelists include Mohammed Al Ruwaidhi, Vice-President Aromatics and Energy, OQ; Zekeriyya Gemici, EVP, Strategy and Growth, TASNEE; Jean Sentenac, President and CEO, Axens; and Ujjal Mukherjee, CTO, Lummus Technology, as they discuss how the region will position itself for the transition and maintain its competitiveness in the energy value chain.
The event is supported by technology companies Axens, Lummus Technology, Honeywell UOP, KBC Process Technologies, thyssenkrupp Uhde, to mention a few.