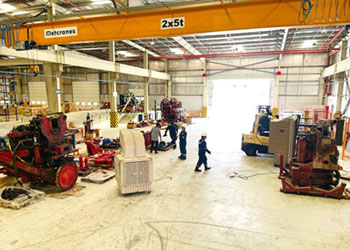 MRDS Group, a leading project management, inspection, repair, and overhaul services provider for oilfield drilling and marine equipment, is on track to experience significant year-on-year growth in the Mena energy sector in Q4 of 2023 and into 2024.
This projection is driven by the rapid expansion of Mena's oilfield services market, estimated to reach $31.69 billion by the end of 2023, with further growth expectations of reaching $41.73 billion in the next five years. These findings are highlighted in the recent Mordor Intelligence report.
MRDS Group experienced a remarkable 50 per cent growth in 2022 compared to the previous year, and has successfully secured new contracts and accreditation achievements, solidifying its position as a trusted service provider in the global energy market.
Additionally, investments in upstream operations aimed at maximising production capacity and profitability in the current high-price environment are expected to further propel the market during the forecast period.
With a dedicated team based in Jebel Ali, MRDS Group has been actively supporting international clients in the UK, Middle East, West Africa, Indonesia, and Malaysia. Notably, the company recently obtained the prestigious American Petroleum Institute (API) Q2 Accreditation, demonstrating its commitment to delivering efficient services to stakeholders.
The API Q2 specification represents the first-ever quality management system (QMS) certification for service supply organisations in the oil and gas industry.
Under the leadership of Ian McGillivray, Managing Director, Marc Currie, Operations Director, and Ryan Coats, Sales Director, the company's UAE branch has transformed from a team of UK-based engineers to a multinational team of highly skilled engineers, and plans to hire more local talents in order to enhance the firm's scope of services.
This strategic move has resulted in several major contracts with international drilling contractors and national oil companies.
With the aim of becoming the leading aftermarket service provider for drilling equipment in Abu Dhabi, MRDS has also signed a contract with Al Yaseah, who will serve as an agent to support the company's growth within Abu Dhabi specifically.
Ian McGillivray expressed his optimism, stating, "The MRDS Group is well-positioned to seize the opportunities presented by the MENA region's oilfield services market, which is projected to reach $41.73 billion in the next five years. We believe that the ongoing development of the market offers a range of expansion possibilities that we can capitalise on to deliver favourable results."
"Since opening our state-of-the-art facility in Dubai's Jebel Ali Free Zone in 2021, MRDS Group has experienced significant growth in our customer base, allowing us to support international clients across the UK, Middle East, West Africa, and Indonesia. With a strong lineup of new agreements, the API Q2 accreditation, and our partnership with the Energy Industries Council (EIC) as a gold sponsor, we are poised to further steer growth in the MENA region's energy sector," he added.
MRDS Group has been collaborating with both international drilling contractors and national oil companies in the UAE, demonstrating its commitment to strategic growth in the region.
The group offers a comprehensive portfolio of services for various vessels, including drilling platforms, jack-ups, turbine installation vessels, semi-submersibles, drill ships, and land-based rigs.
With a senior management team offering over 100 years of combined experience, MRDS Group leads a competent workforce of skilled engineers and technicians specialising in mechanical, hydraulic, and electrical work.
With field service technicians operating across the Middle East, support for special periodic surveys (SPS), equipment recertification projects, equipment installation and commissioning, as well as troubleshooting, MRDS is recognised as an industry leader, both regionally and internationally.
With a strong emphasis on quality, innovation, and customer focus, MRDS Group is well-positioned to take advantage of the energy potential in the region and expand its global reach.
The group's pipeline of projects for 2023 and 2024 further promises a bright future, as it continues to exceed clients' expectations at every turn.