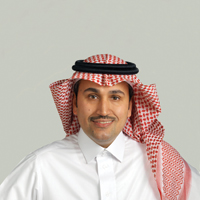 Al Jasser ... smart strategy
HAVING registered a strong growth in 2012, the National Shipping Company of Saudi Arabia (Bahri) is gearing up to meet the challenging times ahead in the shipping industry due to oversupply of vessels, lower freight rates and struggling economies in several countries.
The company hopes to capitalise every single opportunity to improve its performance and gain better financial results in the coming year.
"Bahri will adopt a smart strategy regarding deployment of its vessels, slow steaming to reduce the operational cost, explore new business opportunities, diversify its activities, extend the business relationship with its strategic partners," says Eng Saleh N Al Jasser, chief executive officer, Bahri.
Established in 1979 in Riyadh, Saudi Arabia, Bahri today is at the forefront of offering services like transportation of general cargo, crude oil, chemicals, liquefied petroleum gas (LPG), dry bulk cargo, freight forwarding and ship management.
It presently owns 17 very large crude carriers (VLCCs), 23 chemical carriers; four general cargo vessels and additional 10 ships – four roll-on/roll-off container (RoCon) vessels, five dry bulk ships and one VLCC – are under construction.
During 2012, Bahri's strong growth has been particularly significant, as it has been achieved amidst an economic slowdown in the world, not to mention the relatively low freight rates. The company's net profit increased by 75 per cent compare to the year 2011.
Bahri expects higher demand in light
of the interim arrangements to operate
its VLCCs as part of Aramco's
oil transport programme
According to Al Jasser, during the first six months in 2012, VLCC markets benefited from higher freight rates due to the increase in demand for oil which did not continue in the second half as new oil tankers joined which increased oil tonnage in the market.
"There are indications that demand for oil may increase in this year which in turn will affect the increasing demand for VLCCs. Further, the growing phase-out of old ships from the market creates more trade opportunities for new VLCCs," he says.
The company expects higher demand for its carriers in light of the interim arrangements to operate the VLCCs currently owned by Bahri, as part of Saudi Aramco's oil transport programme. These arrangements have taken effect since January 1, 2013.
Over the last year, the company has seen some major developments:
• The company has signed a definitive agreement with both Saudi Aramco and Vela International Marine (wholly owned by Saudi Aramco) to merge Vela's fleet and operations with Bahri. Works are currently underway on a schedule to complete the necessary procedures to obtain the regulatory approvals in this regard;
• On April 15, 2012, the company launched its trademark (Bahri) which reflects the creative and dynamic nature of Bahri;
• The National Chemical Carriers (NCC), owned 80 per cent by Bahri and 20 per cent by Sabic received four new chemical tankers;
• On August 14, 2012, NCC signed renewable lease contracts for five years for three chemical vessels with the International Shipping and Transportation Co (Sabic subsidiary);
• Bahri Dry Bulk (BDB) owned 60 per cent by Bahri and 40 per cent by Arasco signed contracts to build five Kamsarmax ships for dry bulk shipping with one of the world's leading dry docks. During this interim period, BDB has charted five vessels to transport bulk cargo in order to meet the needs of Arasco, until receiving the new ships;
• On March 21, 2012, Bahri signed a contract with Qatalum to transport large quantities of aluminium from Qatar to the US;
• A strategic cooperation agreement was signed in March 2012 between Bahri Group and the Saudia Cargo to transport Bahri's emergency goods and equipment by air;
• In 2012, Euromoney awarded Bahri as the best managed company in the Middle East under transportation and shipping sector. The State of Maryland awarded Bahri America office one of the Maryland's 16th Annual International Leadership Award winners for 2012. Bahri was selected as of the top six firms in Maryland out of 60 nominees and 150,000 Maryland firms.
• Earlier in 2010, the company was awarded the first prize for transparency by BMG Financial Group.
• On April 4, 2013, NCC agreed with Odfjell to dissolve their 18 ships pool with a capacity of 40,000 deadweight-tonne (DWT) or higher owned by NCC and Odfjell in addition to acquiring the shares of Odfjell in the NCC Odfjell Chemical Tankers (NOCT). Accordingly, NCC will effectively acquire Odfjell's 50 per cent stake in NOCT from June1, 2013.
With a staff of about 1,300 onshore and offshore employees working globally, Bahri has its offices in Jeddah, Dammam and Jubail within Saudi Arabia and Dubai in the UAE as well as in the US and India and an extensive network of its agents in many other countries.