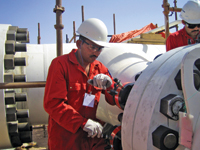 Hi-Force ... offering best solutions
HI-FORCE, along with its exclusive distributor – Al Mojil Supply & Services (MSS) – is focusing on the huge potential of the diverse Saudi Arabian market targeting the oil and gas, construction, heavy engineering, petrochemical and mining industries.
With seven strategically located offices throughout the kingdom combined with support from Hi-Force's Middle Eastern operation in Dubai, MSS and Hi-Force are able to meet the various requirements of customers across a wide range of industries, offering both technical expertise and fast delivery of their extensive product range.
The recent appointment of K Bala as the country manager of Hi-Force Saudi Arabia has further enhanced the company's presence within the Saudi Arabian market. Offering years of experience and exemplary technical knowledge, Bala is working closely with the dedicated employees of MSS to offer technical expertise that is second to none and providing customers with the best solutions to meet their hydraulic tool requirements. This superior service combined with the high quality of Hi-Force's UK manufactured tools has certainly boosted the company's presence and success within this substantial market place.
At its UK headquarters, Hi-Force is manufacturing a range of over 1,800 hydraulic and pneumatic tools using state-of-the-art Mori Seiki CNC machines. Hi-Force's 12-strong fleet of these machines, capable of manufacturing critical and complex parts accurately and efficiently with zero defects, allows it to confidently promote its products as the highest available quality in the hydraulic tools market. The purpose built manufacturing facility where these machines operate is currently being extended to include a further 20,000 sq ft of warehouse space.
Supporting MSS in Saudi Arabia is the regional office in Jebel Ali Freezone, which houses vast stocks of Hi-Force's product range, allowing it to deliver from stock rather than on a forward order basis. This facility also incorporates a fully-fledged workshop, offering services in the repair, testing and calibration of a wide variety of hydraulic and pneumatic tools. The company also carries a large fleet of bolting equipment in both the UAE and Saudi Arabia for rental to customers who prefer not to invest in the purchase of capital equipment. Hi force can even provide turnkey bolting solutions via a combination of rental equipment and its crew of trained and experience technicians in the region.
Hi-Force offers an extensive range of products including bolt tensioners, torque tools, hydraulic pumps and cylinders, jacks, cutters, nut splitters, crimping tools, ToughLift jacking systems, puller kits, moving skates, hole punchers, hydrotest pumps and more.