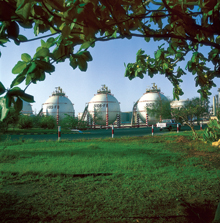 Adnoc ... big investment planned for the next decade
UAE's national oil company Adnoc and its affiliated operating partnerships have disclosed more than $52 billion of investment commitments intended to achieve a government target of raising Abu Dhabi's oil production capacity to 3.5 million barrels per day (mbpd) by 2017 and further by 2020.
The plans coincide with what promises to be a major shift in its concession structure. The investment total includes major contracts already awarded in the past two to three years.
But the bulk of the spending is planned for the next three years, as the UAE's major oil producing emirate intensifies its push to lift output capacity from its current level of, at most, 2.9 mbpd, mostly from aging fields with high depletion rates.
Meanwhile, Abu Dhabi has received strong interest from international firms for participating in its largest oilfields, the UAE oil minister says, as it weighs continuing previous partnerships with Western oil giants or letting big Asian buyers take stakes.
Abu Dhabi National Oil Company (Adnoc) took full control of the biggest oilfields in the UAE when its decades-old venture with four of the world's largest oil companies ended on January 11.
Under the concession arrangement, Adnoc held a 60 per cent controlling stake in the Abu Dhabi Company for Onshore Oil Operations (Adco) oilfields, while ExxonMobil, Royal Dutch Shell, Total and BP, each held 9.5 per cent stakes.
Several companies, including those whose participation in the concession have expired are interested in joining the project with revised terms, UAE's oil minister Suhail bin Mohammed Al Mazroui says.
"Most of the existing partners are involved and expressed keen interest to participate," he says.
"There was a criterion that Adnoc announced. This was based on technology because the challenges moving forward are different than the challenges we had when we started," the minister says.
UAE's concession system allows oil and gas producers to acquire equity in hydrocarbon resources. Adco's output is about 1.6 mbpd.
The western oil majors have partnered Abu Dhabi since decades but several Asian energy companies are keen to take stakes in fields that mostly supply oil to the Asian market. These would offer a chance for UAE to strengthen political ties with its biggest oil buyers such as China, Korea and Japan.
The minister, however, says that western companies have agreed to continue working with Adnoc until new contracts are finalised.
"There is an arrangement between us and those companies to continue until we finalise the contract. Now, Adnoc is responsible for sale of all of the crude," he says.
"Our production goes up and down depending on the market demand. Priority is market should be well supplied of the Opec crude and UAE is doing its role in that context," Al Mazroui says.
Adnoc aims to raise output from its largest onshore oilfields to 1.8 mbpd in two years as the country aims for a 3.5 mbpd export capacity by 2017, he says.
Adnoc has a term contract to supply 230,000 bpd to Indian refiners but actual purchases go up to as high as 280,000 bpd as these companies also purchase from the spot market.
"As some members of Opec like Libya and Iraq are experiencing difficulties, so we are producing as much as we can to ensure that markets are well-supplied," he adds.
The minister also says that the expansion of Ruwais refinery of Abu Dhabi Oil Refining Co (Takreer) will be completed by end-2014. The expansion was earlier planned to be completed in the first quarter of 2014. The minister did not specify the reasons for the delay.
Al Mazroui ... seeking energy efficiency
The Ruwais refinery has a capacity of 415,000 bpd and expansion work is underway to more than double it. The new refinery would process Abu Dhabi's Murban crude oil grade.
Meanwhile, the Abu Dhabi Marine Operating Company (Adma-Opco), which operates a number of Gulf fields offshore Abu Dhabi including the giant Lower Zakum and Umm Al-Shaif reservoirs, has $24 billion in spending commitments from its partners to raise total output to 1 mbpd from 600,000 bpd, a senior official says.
The investment programme is mostly aimed at helping Adnoc hit its 2017 output capacity target, Adnoc deputy director of Strategy and Coordination, Omar Al Suwaidi, says.
Adma-Opco is a consortium of Adnoc (60 per cent), BP (14.67 per cent), France's Total (13.33 per cent) and Japan's Jodco (12 per cent). The group operates a decades-old offshore concession that expires in 2018. It produces crude from Abu Dhabi's major Umm Shaif and Lower Zakum offshore fields in the Gulf and is developing a number of smaller satellite fields, processing and exporting the crude from central facilities on the small Das Island.
The consortium has committed to raising production capacity to nearly 800,000 bpd in 2017 from the current 600,000 bpd and to nearly 1 mbpd in 2020.
Lower Zakum's capacity is to be increased by 100,000 bpd to 425,000 bpd, while the output from Umm Shaif field is to be maintained at 275,000 bpd. Production from both fields started in 1962. A further 65,000 bpd of production is expected from the untapped Nasr field, currently under development.
Planned output from the three fields "will bring the total oil production coming to Das Island for processing, storage and export up to around 765,000 bpd, which is part of the company's overall scheme to increase its production to 970,000 bpd by 2020," Adma-Opco says.
The Adma-Opco announcement also included details of how the planned introduction of a new Das Crude blend in 2014, to replace the existing individual Lower Zakum and Umm Shaif export grades, would help the concession operator raise output capacity by streamlining Das Island operations and making better use of limited space.
"Mixing the two crudes in Das Crude, and consequently storing it in unified tanks, secures the space required for accommodating the additional production and ensures more efficient and flexible shipment programming," it says.
"To ensure loading efficiency, the new mixture will result in saving a considerable fraction of the loading time needed for the simultaneous pumping compared to pumping two different grades into oil tankers. Loading one blend instead of two crudes will ensure more time enhancement and flexibility to avoid keeping the oil tankers beyond the time frame allowed for loading," the group adds.
A senior executive of Zakum Development Company (Zadco), other major operating group responsible for pumping Abu Dhabi offshore crude, says it was planning to raise output capacity to 750,000 bpd by 2017 and to at least 1 mbpd by 2020.
Zadco is owned 60 per cent by Adnoc, 28 per cent by ExxonMobil and 12 per cent by by Jodco. It operates a group of offshore fields that include Abu Dhabi's biggest, Upper Zakum, with an estimated 50 billion barrels of oil in place of which 20 billion are considered recoverable without recourse to enhanced oil recovery.
The field currently produces 585,000-590,000 bpd, the Zadco executive, senior vice president of Development, Ali Al Marzooqi, says.
Adco ... concessions up for bidding
Zadco is planning $15 billion of capital spending to raise output capacity at the field to 1 mbpd from 615,000 bpd.
Al Marzooqi says the group's international partners had committed to a $12 billion-$14 billion investment programme to raise output capacity to 750,000 bpd by 2017.
Beyond that, Adnoc was prepared, if necessary, to fund 100 per cent of a further $1 billion of investment required to increase capacity further to 1 mbpd by 2020.
The current 20-year Zadco concession agreement, dating from 2006 when ExxonMobil joined as a new IOC partner to facilitate major expansion, expires in 2026, but Al Marzooqi says he expected it to be extended to 2051.
Such an extension would be granted if the existing shareholders agreed to secure the sustainability of the new 2020 plateau production target for 25 years. "Hopefully the shareholders will come on board," he says.
The ambitious development programme for Upper Zakum involves eventually phasing out roughly 8,000 wellhead tower rigs currently pumping much of Upper Zakum's current crude output of 585,000-590,000 bpd from a shallow-water platform in the Gulf.
They are to be replaced by up to 1,008 more complex extended-reach wells, with radiating horizontal well-bores, based on four artificial islands. Between 80 and 90 such wells have already been installed, with an additional 250 planned to reach the 2017 production capacity target.
"The main investment will be for sustainability, for the gradual phase-out [of the platform-based rigs] and for topside facilities," Al Marzooqi says.
The island-based project design is expected to increase the efficiency with which Zadco can exploit the roughly 50 billion barrels of oil in place in Abu Dhabi's biggest, but arguably most technically challenging oil field, as well as reducing its environmental footprint.
It allows well design, and critical hydraulic and power systems to be optimised and energy consumption to be reduced, Al Marzooqi says.
Meanwhile, Abu Dhabi Company for Onshore Operations (Adco), has committed to spending $13.6 billion on engineering, procurement and construction projects aimed at boosting production capacity to 1.8 mbpd by 2017 from its 2010 level of 1.4 mbpd, Al Suwaidi says.
Adco's current output capacity stands at 1.6 mbpd, the joint venture's CEO, Abdul Munim Al Kindy, says.
Gas developments account for $25 billion of the planned investment and Abu Dhabi is studying "a whole list of potential reservoirs" in onshore and offshore areas to further increase supply, Sahoo Al Suwaidi says.
Adnoc, seeks to constantly upgrade its exploration, production and refining infrastructure, its director-general Abdulla Nasser Al Suwaidi says. Crude oil output is expected to rise to 3.5 million barrels of oil per day by 2017."
Abu Dhabi has the world's seventh largest oil and gas reserves and its hydrocarbons wealth has given it a GDP per capita of $109,000. Al Suwaidi says the emirate would not rest on its laurels. In the gas industry, Abu Dhabi was able to successfully overcome the challenges related to developing the first unconventional sour gas field, he says.
The Shah Gas field is expected to start production by late 2014, adding to the overall gas supplies in Abu Dhabi.
However, he says: "There is no doubt that the oil and gas industry will continue to face some challenges amid changing consumer trends and fluctuations in global markets. This requires new strategies and skills, as the role of key players in the global energy market develops."
The motive behind establishing the new Adnoc subsidiary, the Abu Dhabi Gas Development Company was to develop sour gas resources at the Shah Field, located some 200 km south of the capital, in the Western region.
The Shah field, processing 28.3 mcm of sour gas and producing approximately 14.2 mcm of lean, sweet gas, will be accommodated and fed into the Abu Dhabi gas pipeline network to be used mainly in the production of water and electricity. The plant will also produce valuable products such as condensate, LPG, and ethane for the petrochemicals industry.
However, satisfying the long-term demand, which is forecast, to continue to rise at a steady rate, remains a challenge.
Although the UAE is not thought to have reached 'peak oil' in terms of reserves, it is popularly thought that the likelihood of further major oil discoveries in the UAE is low. So for now at least, the focus in the UAE's oil industry is very much on improving extraction rates from more mature fields – something it has plenty of.
The emirate will no doubt be hoping that the recovery in oil prices since the onset of the global financial crisis will continue to allow it to pursue this goal.
All of these production targets are set by the Supreme Petroleum Council (SPC), a body which is charged with setting energy objectives for Abu Dhabi.
It is under the SPC's command that the Adnoc and its sextet of subsidiaries implement policy. Despite each of the seven sheikdoms having autonomy of their own oil industry, the smaller emirates all use some form of production-sharing agreements similar to those found in Abu Dhabi – with the exceptions of Dubai and Sharjah, which both have service contracts to manage their declining reserves.
Despite a growing population and increasing consumption levels at home, the majority of Abu Dhabi, and the UAE's oil continues to be exported. As of the end of 2010, the UAE's export tally of 2.1 mbpd ranked it fifth in the world in terms of total exports, behind only Saudi Arabia, Russia, Iran, and Nigeria. But that was then, and this is now.
And that number will have risen higher, much higher. Why so? June 2012 saw the opening of the newest export pipeline in the UAE, the Abu Dhabi Crude Oil Pipeline (AdcoP), which is owned by the state-backed International Petroleum Investment Company (IPIC) and operated by Adco.