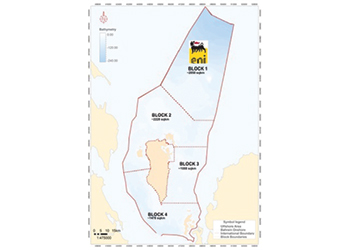 Bahrain's offshore blocks
Tatweer Petroleum has conducted advanced aerial geological surveys of large areas in the kingdom in addition to high-resolution geophysical surveys covering most marine areas
Bahrain's Tatweer Petroleum Company is expected to sign new agreements with international oil companies for offshore oil blocks in early 2021, a BNA report said.
The state-owned company has carried out a series of advanced geological and geophysical surveys, and drilled a number of experimental wells, as part of its intensified efforts to explore oil and gas.
It recently conducted an advanced aerial geological survey of large areas in the kingdom in addition to an advanced, high-resolution geophysical survey that covered most marine areas.
The company's exploration team analysed the results of these surveys, the information about exploration wells, as well as the approved and published regional information and scientific papers, in cooperation with major international consulting companies, and detected some marine areas with potential quantities of oil and gas, the report said.
Based on its findings, Tatweer has completed all technical and logistical preparations and procedures to pave the way for international investment in the marine blocks this year through the signing of exploration and production sharing agreements (EPSA) with foreign companies.
Bahrain signed an EPSA for Block 1 with Italian company Eni. Under the agreement, Eni will pursue exploration activities in the offshore area located in the northern territorial waters of Bahrain. Block 1 covers 2,800 sq km and has depths ranging from 10 m up to 70 m.
Eni It will begin drilling the first experimental well in Bahrain's offshore Block 1 in the first half of 2021, the report added.
In April 2018, Bahrain discovered its largest oil and gas find since 1932 off its west coast, estimated to contain at least 80 billion barrels of tight oil.
Appraisals of the offshore Khaleej Al Bahrain basin by two US firms also suggested the presence of 280 billion to 560 billion cu m of natural gas.