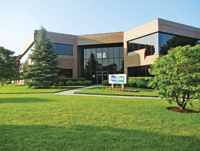 Doosan ... reinforcing its presence
SOUTH KOREA'S Doosan Heavy Industries & Construction Company has won a contract to supply three boilers and three steam turbines for the Yanbu 2 oil-fired power plant in Saudi Arabia. Doosan said that the contract was worth $282 million and had been awarded by South Korea's Hanwha Engineering & Construction Company.
Doosan Heavy Industries & Construction said that it will supply the equipment in 2013.
The 850-MW Yanbu 2 plant is being built at the Yanbu Industrial Complex on the Red Sea coast about 300 kilometres to the north of Jeddah. Hanwha E&C was awarded the $1.05-billion engineering, procurement and construction contract in April 2011 by the Power & Water Utility Company for Jubail and Yanbu ( Marafiq).
Marafiq was formed in 2000 to act as an integrated utility serving the Jubail and Yanbu industrial cities. It is owned by the state-controlled energy company Saudi Aramco, Saudi Basic Industries Corporation, the Royal Commission for Jubail and Yanbu, and the Public Investment Fund. The Yanbu 2 project is a follow on for both Hanwha and Doosan. In 2009, Marafiq awarded Hanwha E&C the $720-million EPC contract for a 500-MW project comprising two 250-MW steam turbines, which were also supplied by Doosan.
Doosan has established a dominance in Saudi Arabia – the region's largest desalination market – winning contracts to build desalination capacity amounting to a total of nearly 3 million cubic metres a day (mcmd). The foundation of its success has been the MSF units that supplied a string of large power and water plants procured by the Saline Water Conversion Corporation (SWCC) since 1993.
It has already started transportation of the first MSF unit for the Ras Al Khair project, the world's largest desalination plant, from the company's production facility in Changwon, Korea.
But despite its success the company now has big plans to pursue MED (multiple effect distillation) – which offers lower energy demands and easier operating requirements – for future projects.
Doosan's Europe, Middle East and North Africa managing director Hyun- Sang Ahn admits the company was surprised MED had not yet taken off as the technology of choice in Saudi Arabia.
"Before Ras Al-Khair, even we thought that MED would be more competitive," he says.
One reason for the lack of development on MED in Saudi Arabia is the conservative approach of offtaker SWCC. On the most recent large desalination tender to come to the market – the 550,000 cu m per day Yanbu 3 project on the Red Sea coast – SWCC required MED bidders to use titanium for all internal pipes on their design. This requirement – seen as unnecessary by some experts – made MED uncompetitive on capital cost.
Doosan is one of two MSF bidders waiting for a decision on Yanbu 3. It was heavily undercut by Fisia Italimpianti on a quote for the plant in July, but a final decision from client SWCC has proved elusive.
MED also faces technical challenges in the kingdom. Ahn says that MED had been held back from dominating the thermal desal market because the need to use more units to reach the same capacity made it harder to fit into the geographically restricted areas available for many new desalination developments. 2011 had marked the start of operations at the experimental 15MIGD (68,190 cu m per day) single-unit MED plant in Yanbu, the contract for which was awarded earlier.