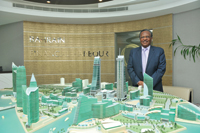 Al Mardi ... seeing a good period of growth
OVER the last decade, the landmark Bahrain Financial Harbour (BFH) has become the location of choice for top banking and financial institutions in the kingdom and across the region, attracting international firms since the foundation stone was first laid in December 2002.
This stunningly ambitious multi-billion BFH development close to Bab Al Bahrain, the historic gateway of Bahrain, has very much redefined the Manama corniche melding a futuristic architecture implicitly linking Bahrain's seafaring and maritime heritage.
As a multi-use complex, BFH embraces ten separate developments providing office accommodation, commercial developments, residential apartments, a planned resort hotel, and also includes cultural and retail facilities. These ten projects comprise 28 parcels collectively offering a total of 820,000 sq m of development.
Omar O Al Mardi has been involved with the landmark development for five years since becoming the managing director of Bahrain Financial Harbour Holding Company (BFHHCO) in 2007.
Overlooking the various phases including [email protected] Harbour, where construction is due to restart quite soon, Al Mardi is in confident mood on the 30th floor of the West Tower as he watches developments that are shaping BFH, looking ahead to enhance Bahrain's sophisticated business and banking credentials.
Al Mardi is witnessing increasing interest in BFH as the development matures with new phases being started and the strategic benefits of the prime location becoming increasingly more apparent to tenants and investors. Moreover, the general development cluster around BFH and the critical mass of the waterfront and coastal strip towards Bahrain Bay are being progressively enhanced heralding a strengthening of the entire master-planned area.
This year has seen notable improvements to traffic access to BFH as various road projects have been completed together with landscaping and beautification. The general confidence in proceeding with additional construction projects on the water front along with many developments due to start soon plus the re-start of some delayed projects in the general cluster surrounding the harbour all bodes well for the future.
With general activity levels rising, the positive value proposition for companies and investors to looking to be an integral part of BFH is increasing fast particularly for companies from Saudi Arabia's Eastern Province as well as international corporates and blue-chip companies looking strategically to enter the region and use Bahrain as the gateway.

Al Mardi first came to Bahrain in 1981 as a corporate lawyer and has ever since applied the strategic advantages of Bahrain's central location to develop his legal practice as well as forge high-level business relations with many Bahrain and Saudi Arabian, Middle East and North Africa (Mena) clients and international corporates for more than three decades.
"My legal practice involves me in many fields of business and this has involved supervisory responsibilities for companies and organisations on behalf of shareholders serving on various boards including energy firms," says Al Mardi.
BFH ... occupancy levels staying firm
The Financial Centre has become emblematic of Bahrain's aspirations and one of the most striking landmarks in Bahrain and across the region. The Harbour Towers, each 53 storeys high, and the Harbour Mall are recognised as high-technology, state-of-the-art business environments commensurate with Bahrain's banking and financial status attracting international and regional banking institutions.
"The vision for BFH is not just an ordinary one. It is a unique idea to build the kind of business community to accommodate all financial institutions in one place and provide them all the necessary services starting from communications, security and services for supporting the various professions such as auditors and lawyers. At the same time, BFH provides the necessary accommodation for their families in nearby buildings together with social requirements including shopping areas, sports clubs and medical clinics. The location itself is very well chosen as it is the literal gateway into and out of Bahrain," he continues.
"The Villamar project will re-start very soon and other similar buildings around it are part of the phased development. We have a fabulous real estate which we reclaimed from the sea, and it has given Manama a new look and a more sophisticated business environment since it has been established. Despite the difficulties of the past year, our occupancy levels have stayed firm and the maximum drop we have had considering a very difficult year in real estate is not more than 10 per cent. We are seeing business starting to pick up again and I am negotiating with one of the European banks which has already applied for a licence for Bahrain," continues Al Mardi.
Al Mardi also mentions that interested parties are viewing BFH to develop additional facilities such as looking at a medical clinic and there also plans for a sports club. Another positive indicator is that although about half of the leases from the initial five-year lease period from 2007 expired in 2012, BFH has renewed almost 95 per cent.
"This is extremely encouraging and makes us very optimistic having renewed almost 95 per cent of the leases. In addition, BFH has a new policy that rather than dropping the rates we provide grace periods for people who are coming. BFH suffered during the last five years from limited access and it was difficult to come back from Seef or go back to Muharraq and we have invested in enhancing infrastructure, landscaping and additional roads to benefit the business community and tenants," he continues.
Al Mardi emphasises that BFH is a private development and that the banking community has fully supported the project.
"Wherever we go to do our presentations while seeking financing or talking to financial people about BFH we do not find it difficult to convince them about what this investment represents.
Local banks are willing to lend because BFH is proving to be a very good project that investors find attractive. We raised $240 million locally and this is a very difficult time when nobody is putting a hand in their pockets to pay anything. Last year, we also managed to pay all the Islamic Sukuk amounting to $150 million," he adds.
Al Mardi stresses the distinct advantages that Bahrain has over neighbouring countries such as the central land registry for property which does not make land ownership an issue here in Bahrain. He also praises the strong regulatory environment and oversight on supervising services and providing the range of bench-marked professional services and expertise, independent agencies, and banking and financial systems all well recognised internationally.
"Bahrain has always been a gateway to Saudi Arabia and I have had the opportunity of working with a number of Saudi families and Saudi businessmen across the causeway over many years. The Saudi Arabian component is very important to Bahrain and the Saudis have deep roots and they are working very closely with their Bahraini partners or even alone here in Bahrain," he adds.

Like the Chinese proverb than translates the word challenge into opportunity, Al Mardi is seeing a good period for growth with lots of opportunities for investors in BFH and Bahrain because this part of the world has the necessary liquidity in comparison to many other places.

"Services in Bahrain are very competitive and the cost of living is better here. We are seeing growth in specific industrial sectors such as energy, metals and petrochemicals based upon the strong strategic partnerships between Saudi Arabia and Bahrain," he adds.
Al Mardi is confident that the developments shaping the next phase including a hotel, residences and other facilities will be attractive to the BFH value proposition. As well as the Middle East, Al Mardi is looking at Asia.
"I have been to the Far East more than six to seven times last year with focus on India and China and I think the opportunities of having a very prosperous relationship between Bahrain and these countries and the wider Far East is very promising. Other ideas for BFH include starting an academy almost like an artist in residence to develop and enrich our cultural interests in the overall development," he concludes.