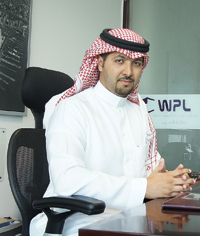 Subaie ... WPL seeks to add value to the logistics services
WITH a higher demand on the supply chain and increased focus on core business, there is a gradual shift from owning to outsourcing of asset-based components such as storage to third party providers.
Warehousing Projects and Logistics (WPL) was initially setup in 2010 to provide the whole range of logistics services to the industry. After a review of the third party logistics services market, the company felt there was a bigger need for dedicated warehousing infrastructure to conduct logistics operations.
The company changed its business model from logistics services to focus mainly on logistics infrastructure. With this approach, the strategy has paid off, by converting the competition in the logistics industry to collaborating on client requirements.
Says Abdulaziz Al Subaie, CEO of WPL: "We became friends with competition and end-users, by recognising the inherent need for warehousing infrastructure to support the supply chain.
WPL seeks to add value to the logistics services by offering a network of pre-built and custom-built warehouses for clients in all industry segments and also to logistics companies who need this infrastructure".
The company acquired pre-built warehousing facilities in Dammam, at a prominent area near to the Seaport and started leasing them to companies. To create a kingdom wide network to support companies operating in various regions, WPL acquired land in the industrial cities of Dammam, Riyadh, Jeddah, Madinah and Arar to build and lease warehouses.
The next step was to suit the client demands for better warehousing. In addition to the right location, clients required the right storage that best fits their industry and product storage. WPL offers custom-built warehouses for clients that have long-term needs of dry, ambient, temperature controlled or specialised storage.
Bringing in changes such as increase in the height of the warehouse for more storage space, and better specifications and standards, WPL now has created an adaptable and best-fit model for end users to depend for their warehousing requirements.
Through strategic partnership with international design and consulting firms, WPL wants to offer international standards of warehousing ready for any supply chain.
The company plans to increase its footprint across the kingdom to cover all the major industrial cities to expand the network of warehousing facilities.