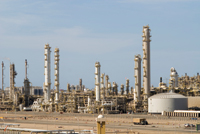 Jubail ... making rapid industrial progress
THE two cities of Jubail and Yanbu, the heart of Saudi Arabia's industrialisation programme, are seeing a steady flow of investments, providing yet another impetus to the kingdom's strategy to rapidly set up hydrocarbon-based and energy intensive industries.
Even as billions of dollar worth of projects are ongoing in the twin cities, the Royal Commission for Jubail and Yanbu (RCJY) has recently approved six more industrial mega projects worth $5.6 billion in Jubail. Commission chairman Prince Saud bin Abdullah Thunayyan, signed the deal at Jubail Industrial City. According to him, these projects are likely to produce employment opportunities for the region.
The deal signed with the Al Jubail Petrochemical Company (Kemya), a joint venture between Saudi Basic Industries Corp and ExxonMobil is for the construction of a $3.2 billion facility for generating ethylene propylene diene monomer, rubber and black carbon used in automobile industry.
Another project was awarded to Jubail Chemical Industries Company (Jana) for establishing an industrial complex for increasing existing industries and adding new products with an annual production capacity of 600,000 tonnes. This deal is worth $800 million. It comprises products utilised in various downstream industries like painting, leather and several chemical industries.
Saudi International Petrochemical Co (Sipchem) was allocated $750 million for a factory, which will take up production of ethylene vinyl acetate and low-density polyethylene. Upon completion this facility is annually expected to generate over 200,000 tonnes of the products.
National Industrialisation Co, or Tasnee, is to construct a plant worth $373 million which will produce 80,000 tonnes of super-absorbent polymers annually. Saudi Arabian Fertiliser Co (Safco) is to increase its urea production operations to 3.67 million tonnes annually in a deal worth a $533 million.
Meanwhile, a high ranking executive of the Royal Agency at Yanbu Industrial City predicts investments at the Red Sea Refinery, now under construction, to reach SR560 billion ($150 billion) over seven stages of completion by the first quarter of 2014.
CEO of the Agency in Yanbu, Dr Alaa Abdul Latif Nassif, estimates that the refinery output at present is 400,000 barrels per day hosting up to SR45 billion investments. Upon completion the refinery will generate a far reaching positive impact on the maritime transport along the Red Sea, also upon the move across the Suez Canal particularly that a dominant portion of the refinery output will be exported abroad.
The RCJY has also signed five infrastructure and operation contracts with a number of local companies to develop projects in the housing sector, rainwater drainage networks and IT infrastructure.
This is besides the massive investments already having being made in these industrial cities, which has as its major objective a reduction in the kingdom's dependence on oil revenues by gaining access to the world's petrochemical markets. This route to industrialisation exploits the kingdom's natural advantages, in terms of cheap energy and cheap raw materials for petrochemical manufacture.
Sadara ... flagship venture in Jubail 2
Prince Saud says the huge investment projects would add more value to national economy. Home to multifarious industries, it is their sheer size that sets Jubail and Yanbu apart from other industrial cities in Saudi Arabia.
The RCJY currently contributes seven per cent of the kingdom's gross domestic product and 60 per cent of the gross industrial product. Jubail and Yanbu account for 70 per cent of the kingdom's industrial exports and 85 per cent of non-oil exports.
Jubail Industrial city is already producing 7 per cent of the world's petrochemicals and contributing 11.5 per cent of the kingdom's non-oil GDP and 85 per cent of its non-oil exports, according to the RCJY. Its petrochemicals yield is an amazing 68.5 million tonnes annually, the hub also contributing 15.5 million tonnes of refined products, 10.5 million tonnes of steel products and 192,000 tonnes of float glass per year.
Sadara, a joint venture between Aramco and Dow, will top up the pile with more than 3 million tonnes of high-value-added chemical products from the many integrated facilities that are being constructed at a cost of $20 billion.
The Sadara complex, to be built in Jubail 2, is among several new ventures in the process of being set up or already operational. Until the Sadara project was launched, the Jubail Export Refinery Project of Saudi Aramco Total Refining and Petrochemical Company (Satorp) captured most attention in energy circles. Satorp is building a grass-roots refinery with capacity to process 400,000 barrels per stream day of Arabian heavy crude oil to produce gasoline, diesel, jet fuel, paraxylene, petroleum coke and fuel oil for export and LPG, liquid sulphur, propylene and benzene for domestic consumption or further processing.
The SR48.7 billion ($12.9 billion) project is being built within Plot 9 of Jubail 2, about 3 km west of the long-established Jubail 1. Saudi Aramco has a 62.5 per cent stake in the venture with Total owning the remainder stake of 37.5 per cent. Commissioning time is late 2012 with commercial operations beginning in the first quarter of the following year.
Other Jubail 2 projects include the Qurain Petrochemical Industries Company (QPIC), which announced recently that it has applied officially to the RCJY for permission to set up a PTA/PET project in Jubail 2 and approvals were expected soon.
Sheikh Mubarak, QPIC chairman, says the company was contacting world-leading consultancy agencies to conduct a detailed feasibility study and engaging with a technical partner to operate the $1 billion project. Idea Soda Ash and Calcium Chloride Company (Isacc) has signed a deal with Jacobs Engineering to provide engineering and project services for the construction of a SR1.1 billion industrial complex in Jubail 2. The project aims to produce 800,000 tonnes of soda ash and calcium chloride annually. Fully fledged commercial production is anticipated to begin in the first quarter of 2015.
Jubail 2 has welcomed the start of operations of Ingenia Polymers Corp's compounding plant. Houston (US)-based Ingenia opened with one production line in October and expects to have the second running before year's end, says president and CEO John Lefas.
Ingenia's facilities are designed to produce compounds based on polyethylene and polypropylene. According to a report in the media, Lefas originally had hoped to open the Saudi plant in mid-2009. Product from the Jubail plant will be exported to the wider Middle East and to India and China.
Sabic ... a major player in the twin
industrial cities
The company operates compounding plants in Houston, Ontario and Calgary (Alberta). Also due to come up in Jubail 2 are a seamless steel pipe factory of Arcellor Mittal, a polysilicon plant of Shoaibi and a plant of Gas company to produce oxygen and nitrogen. According to plans outlined by the Royal Commission, SR20 billion will be invested on basic infrastructure facilities across four stages in Jubail 2. First-stage facilities include gas, feedstock, water and power, wastewater, roads, a pipeline corridor and drainage canals, all of which have been completed at a cost of SR5 billion.
A number of similar facilities have also been completed in Jubail 2's second stage. Also, in line with a Master Plan, the Royal Commission completed by the end of 2010 the new Petrochemical Quay 2, seven additional berths and loading arm structures to meet the future needs of industries in Jubail Industrial City. The new quay has a total area of 800,000 sq m.
While the spotlight has been trained on Jubail 2, which will house new production facilities for some time to come, Jubail 1 has also lately witnessed important developments. Construction is under way at Sabic affiliate Hadeed for facilities to produce 1 million tonnes of steel billets that will take the company's total production capacity to 6 million tonnes of which long products will account for 4 million.
Italian company Danieli has been entrusted with the project for the billets plant and the production line for galvanising long products. The facilities will be ready in the second half of 2012. Meanwhile, most plants of the ambitious Saudi Kayan complex have started production at Jubail 1.
Saudi Kayan has been designed to make specialised chemicals such as aminoethanols, aminomethyls, dimethylformamide, choline chloride, dimethylethanol, dimethylethanolamine, ethoxylates, phenol, cumene and polycarbonate which will provide wide opportunities for downstream industries. This is in addition to ethylene, propylene, polypropylene, ethylene glycol, butene-1 and other products. Sabic in recent announcements said it will produce oleo-chemicals at Saudi Kayan with technology from Lurgi GmbH, which will also accomplish engineering for the project. Startup of the new production line is planned for the end of 2013. It will utilise renewable feedstock technology. Also to go on stream that year is a facility to produce 50,000 tonnes of polyacetal at the Sabic affiliate National Methanol Company (Ibn Sina).
Sabic and ExxonMobil Corporation's 50/50 joint venture partner Al Jubail Petrochemical Company (Kemya) have signed a long-term technology licensing agreement with Continental Carbon Company for its production technology related to the construction and operation of a new greenfield carbon black plant at Kemya's complex at Jubail. Kemya and Continental Carbon have also signed a long-term product off-take agreement. Sabic and Mitsubishi have announced the formation of a 50/50 joint venture company to build and operate two plants, one for methyl methacrylate and the other for polymethylmethacrylate at one of Sabic's manufacturing affiliates in Jubail 1.
Jubail 1 listed 347 registered companies by late 2010 of which 30 were primary complexes, 40 were secondary industries and 277 were light and support industries.
With nearly SR126 billion ($33.6 billion) invested by companies in both phases 1 and 2 of Yanbu Industrial City, the enclave is reasserting its status as a world centre for the transshipment of crude oil and the manufacture and export of hydrocarbon and petrochemical products. Yanbu plays a major role in the industrial development of the region around it which in turn makes a great contribution to boosting the Saudi economy," the Royal Commission for Jubail and Yanbu says.
Yanbu Phase 1 has 85 companies in operation including 14 primary industries, 19 secondary industries and 52 light industries.
There are 44 other companies that are under construction or in the design or proposal stage.In Yanbu 2 companies that have registered number 15 and only six have begun operations including Saudi Aramco's lube oil refinery; Cristal, which makes titanium dioxide; Al Yamamah Steel, producer of steel billets and bars, and Al Hamrani Fuchs, manufacturer of lubricants.
Two major companies that are in the process of setting up operations in Yanbu 2 are the Idea project, which will produce solar-grade polysilicon at an investment of SR2.8 billion, and Alatoun steel factory, which will produce steel billets and bars with a total investment of SR1.3 billion. Total investments of all companies operating in Yanbu 2 are SR4 billion. In the near future, Yanbu 2 will attract more than SR20 billion including projects in all stages – in operation, proposed, under design and under construction, the Royal Commission says.
The Royal Commission at Yanbu has initiated a multi-billion-dollar Phase-2 infrastructure development in industrial and community areas to make it more attractive and useful to industrial investors and to the people who will be living within its precincts.
Investments by companies operating or under construction in Yanbu 1 amount to SR121.60 billion. The primary industries there produce 412,0000 barrels per day of petroleum-based products and 22.077 million tonnes of petrochemicals-related products.
The secondary industries produce 1.02 million tonnes of petrochemical-related products, 297,000 tonnes of chemicals-related products and 1.12 million tonnes of various products annually. Light industrial facilities account for 2.5 million concrete blocks and 6.9 million tonnes of various other products. Included in this sector are annual production of 84,000 cylinders of industrial and medical gases, 600,000 cu m of wood wool, 300,000 cu m of reinforced paneling, 45.3 million plastic bottles for lube oils, 1.3 million cu m of ready-mix concrete and 6 million sq m of plaster board.