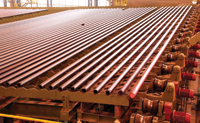 Jesco ... set to grow leaps and bounds
Saudi Arabian pipe manufacturer Jubail Energy Services Company (Jesco) is set to enhance its position as one of the region's most pioneering and vital businesses after agreeing to bolster key processes and decision-making with cutting-edge software solutions from SAP.
The project will initially see the company implement SAP solutions such as Enterprise Resource Planning (ERP) and Business Intelligence to automate fundamental processes such as HR, finance and manufacturing, dramatically improving transparency and an ability to make swift, impactful decisions in real-time while markedly slashing inefficiency across the company.
"Jesco is about embark on a period of growth both in terms of output and employment, which has presented us with an urgent need from improved, real-time visibility and transparency to improve every aspect of our processes, be it human resources or manufacturing," says Zeyad Al Barrak, CFO, Jesco.
"SAP is offering the right solutions at the right time, and we are delighted to add their expertise to our ambitious business plans," he says.
A subsidiary of industrialisation and energy services giant Taqa, Jesco became the first operating seamless pipe mill in the Middle East in 2006 and counts marquee names such as Saudi Aramco and Sabic among its clients.
"The oil and gas industry is the lifeblood of Saudi Arabia's astounding development and the service Jesco provides is absolutely essential to its on-going influence and prosperity," says Sam Alkharrat, managing director, SAP Mena.
"This is a company set to grow in leaps and bounds, and we are proud to play a part in helping it run better," he says.
SAP is teaming up with Jesco at a time of notable success in Saudi Arabia, with a recent study by IDC, the premier global market intelligence and advisory firm for the information technology and telecommunications markets, naming it as country's Enterprise Application Software (EAS) vendor front-runner with a 43.5 per cent market share.