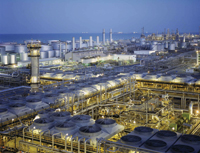 Aramco ... thinking out of the box
SAUDI Aramco is planning several aromatics projects in Saudi Arabia as part of its strategy to leverage its existing assets and diversify its chemicals production.
Fayez Al Sharef, the state-owned group's chemicals director, says the company intends to include aromatics production at refineries in Ras Tanura and Jazan and is studying an aromatics project at its refinery in Yanbu, on the Red Sea coast.
"Aromatics is being considered" at the 400,000 barrels per day (bpd) Yanbu refinery, on the Red Sea coast," he says adding "It is too early to say when the study will be completed".
The proposed Yanbu project is part of Saudi Aramco's plans to leverage its existing assets and promote integration of its assets and businesses. "There is nothing certain in terms of chemicals integration [in Yanbu], but we are evaluating options," Al Sharef says. "Aromatics comes at the top of the list."
Saudi Aramco plans to start up an aromatics unit at its Ras Tanura refinery in eastern Saudi Arabia in 2015. The project, which is in the advanced stages of planning, will have the capacity to produce 1.1 million tonnes per year (mtpy) of paraxylene (PX), as well as benzene, Al Sharef says. It is part of the company's clean fuels programme, involving recovering some of the aromatics in the refinery's gasoline pool.
Aromatics production is also planned at the group's 400,000 bpd refinery project in Jazan on the Red Sea coast. The project will have a combined capacity of more than 1 mtpy for PX and benzene, Al Sharef says.
French technology company Axens announced in September that it has won the contract to design the processing units for naphtha hydrotreating, continuous catalytic reforming for aromatics production, C5/C6 isomerisation and a unit to produce high-purity PX and benzene. Axens said it expects the Jazan refinery project to be commissioned in December 2016.
Saudi Aramco is also building a joint-venture aromatics complex with France's Total as part of their Saudi Aramco Total Refining and Petrochemical Co (Satorp) project in Jubail, Saudi Arabia. Al Sharef says the project is expected to begin operations in the second half of 2013.
The Satorp project will have capacity to produce 700,000 tpy of PX and 140,000 tpy of benzene.
Outside Saudi Arabia, Saudi Aramco and its partners in the Fujian Refining & Petrochemical (FREP) joint venture in Fujian, China, are close to finalising a study to expand the complex, Al Sharef said. FREP, a joint venture between China's Sinopec, US producer ExxonMobilandSaudi Aramco, has the capacity to produce 800,000 tpy of ethylene and 800,000 tpy of polyethylene (PE), plus other products including polypropylene (PP) and aromatics.
Al Sharef says the partners are considering debottlenecking the cracker and adding capacity for PE, PP and possibly ethylene glycol (EG). The study is in the advanced stages, he says.
"We're not far away from making a decision." Stephen Pryor, president of ExxonMobil Chemical, revealed in 2011 that FREP was evaluating options to expand its capacity.
Sadara Chemical, a joint venture between Saudi Aramcoand US company Dow Chemical, has selected Technip technology for its 1.5 mtpy cracker project in Jubail, Al Sharef says. The cracker, part of Sadara's $20 billion petrochemicals project, is expected to begin operations in early 2015, he says.
South Korean engineering company Daelim Industrial was awarded a $920.3 million contract in July to build the mixed-feed cracker.